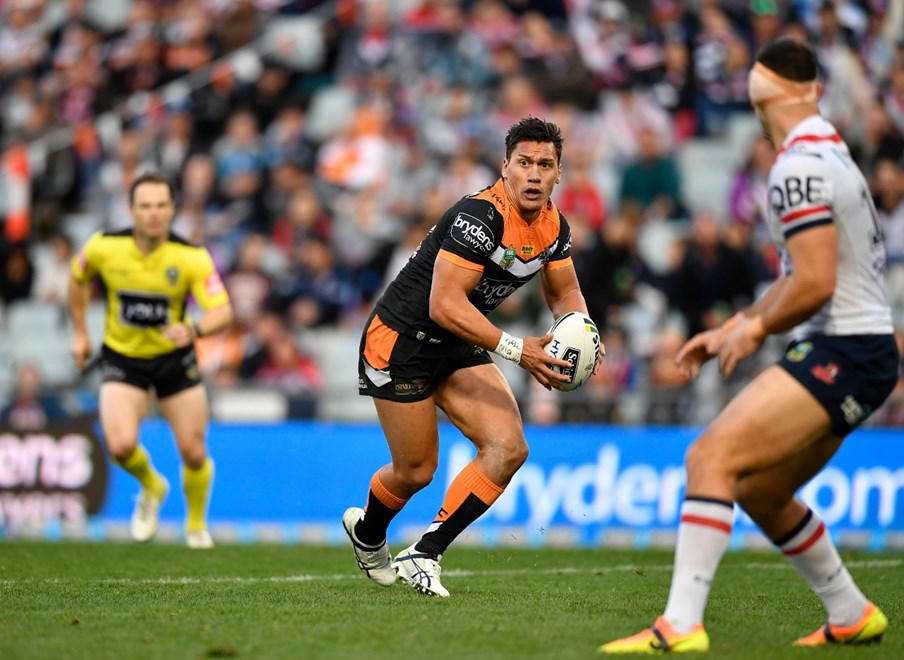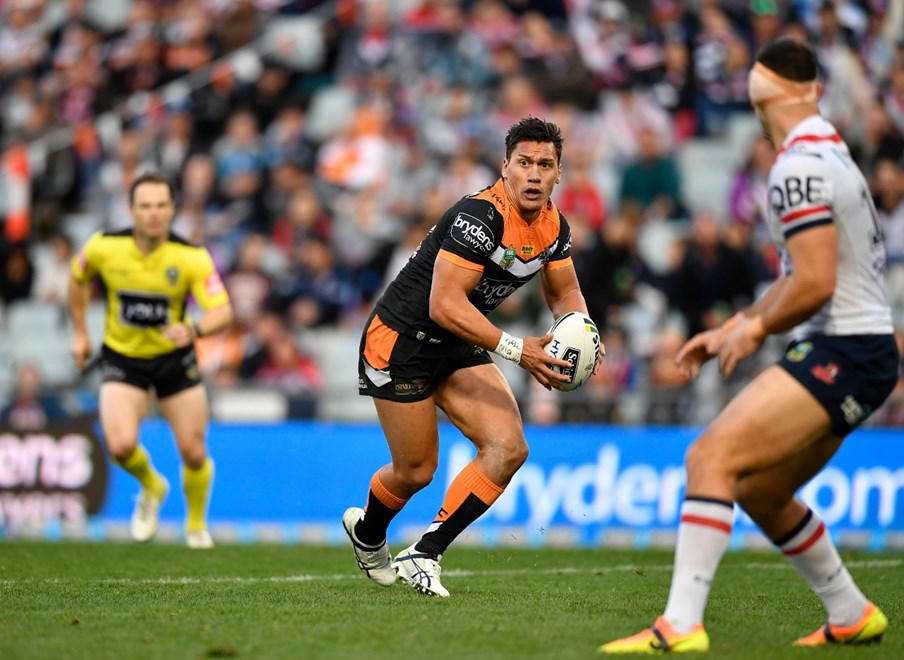 Wests Tigers forward Elijah Taylor says a lift in mentality is needed for the team this Saturday night when they take on the defending premiers Cronulla Sharks.
Having matched it with the high-flying Roosters for the opening 40 minutes of last Sunday's match before collapsing to an eventual 40-18 defeat, Taylor said the team needed to continue to lift their intensity and attitude for the entire 80 minutes — knowing that the signs of success were certainly there for Coach Ivan Cleary's side.
"I thought we started the game really well," Taylor reflected on Sunday's match.
"Our attitude in defence was good and our defensive pressure was good in forcing mistakes, but our defence in that third quarter after half-time was very poor.
"I think our attitude was poor too and something that we need to address.
"There was a lot of good in the game overall, but there was also a lot of things concerning about us in defence which we need to fix for a good Sharks team.
"It's going to be a tough, tough encounter against Cronulla," he continued.
"They're missing some key players, but we have to focus on ourselves. We have to be selfless in defence and work hard for our teammates, and work hard off the ball.
"As a group, we can take the easy option rather than being selfless at times.
"The average fan or media won't see those one percenters, but your teammates do, but doing those things really help get the result and that'll take us a long way this weekend."
With captain Aaron Woods unavailable due to State of Origin duties and vice-captain Chris Lawrence still battling a hamstring injury, Taylor and Tim Grant will be the only two members of the team's leadership group taking the field on Saturday against the Sharks, and said the onus was on the senior players in the group to step up and lead.
"What those young guys are going through now is going to benefit next year and their careers overall, but I'm focusing on this year and not giving up on this year," he said.
"If the boys see me or our senior players putting our heads down and giving up on this year, then they're going to put their heads down too so it's really important for the senior players in the squad to take the situation by the scruff of the neck and lead.
"[Being the captain] isn't something I necessarily aspire to, but if it's a job I've got to do then I've got to do it. If it's a job my teammates want me to do, then I'll do it.
"The reason I play the game of football is for my teammates, and I just want to work as hard as I can and help lead these young guys and help influence them to follow."
See what Taylor had to say in full about this week's game against the Sharks in the video above!
Be there at Campbelltown Stadium when we take on the Titans for Friday Night Football!