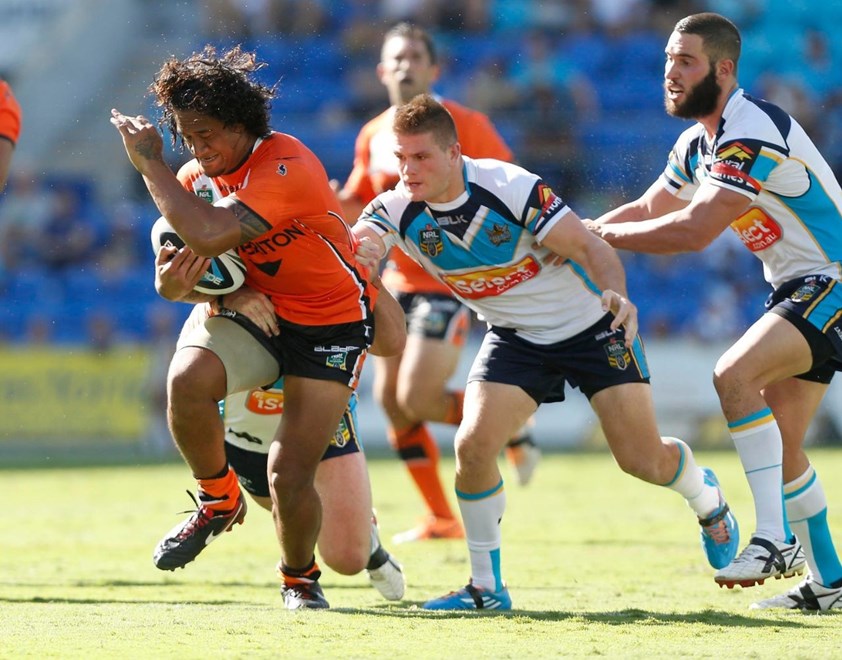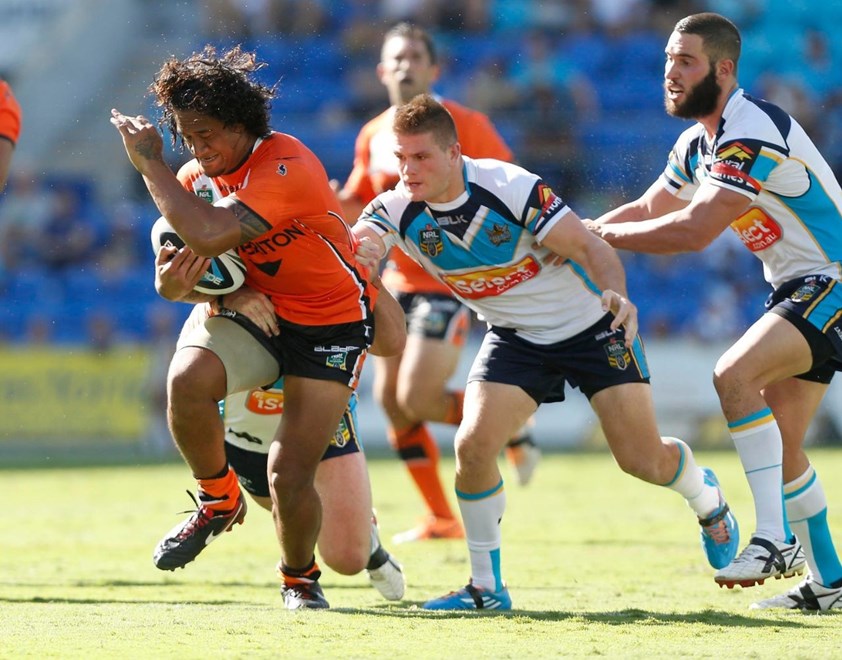 Wests Tigers forward James Gavet is finally starting to enjoy the rewards of his hard work and determination to overcome injury, and he's ready to show just how far he's come when he takes on the team who threw him the lifeline to first play in the NRL.
Signed to the Bulldogs after stints in the New Zealand Warriors' NYC and NSW Cup squads, Gavet made his first-grade debut against the Brisbane Broncos in Round 23, 2012, before injury crippled his chance of cementing a permanent spot in the side.
He then moved on to Wests Tigers for the start of 2013, but didn't get to make his return to first-grade until Round 1 this year as he again battled injury and inconsistency — just to make it back on to the field. Since then, though, Gavet hasn't looked back — only forwards — with one game in particular looming in his mind as a match he simply had to play in.
"Yeah, playing the Bulldogs this weekend was obviously one of the games I've been looking forward to the most this year," said the 24-year-old Gavet.
Be there on Sunday, July 20 when we take on the Bulldogs at ANZ Stadium! There's great pre-sale ticket prices available, so get in quick!
"The Warriors — being back in Auckland as well — was one and now the Doggies. They're absolutely on fire at the moment too, so it'll be a good challenge for me and for the team.
"I know most of the boys there pretty well, so it'll be a nice chance too to try and go up against some old faces and come out on top."
Gavet's luckless run with injury that started back in 2012 again reared it's ugly head throughout the 2014 — suffering a hamstring strain against the Parramatta Eels in Round 7 that saw him miss close to 10 weeks of football.
But the New Zealand-born forward said that going through such adversity has only made him stronger as a person, and more mature as a player.
"When I moved on from the Bulldogs," he said in reflection, "I knew it wasn't like I wasn't good enough to match it with the boys in that team.
"I suffered an injury, but I knew I'd be able to knock it with them.
"Even now. They've got a few international players and they've got the Origin halves too, so I know it'll be a big test, but we're definitely up for it.
"I'm up for it.
"[Returning from injury], my fitness hasn't been too bad. I've lacked it a bit in the legs and the hammy is still a bit sore sometimes.
"But I think heart will carry me when my hammy can't."
"Heart will carry me when my hammy can't..."
As the first player that current coach Des Hasler signed when he moved from the Sea Eagles to the boys at Belmore, Gavet knows full well the importance of building a strong club culture and feeling within the team.
And while his current Wests Tigers team have endured somewhat of a rollercoaster season, Gavet is adamant that the "feeling" that helped them dominate the first few rounds of the competition is starting to return once more.
"We've proven before against the Rabbitohs and the Cowboys that we can take it to the big packs as long as we stick to our guns," Gavet enthused.
"As long as we dont' rely on size, but on hard work... we'll do to the Bulldogs exactly what we did to the Rabbitohs at the start..."
"As long as we don't rely on size, but on hard work and what we've been practicing, we'll do to the Bulldogs exactly what we did to the Rabbitohs back at the start of the year. That's maybe a hard thing to say after last week, but in saying that, we're not too worried about what happened at Brookvale because we know we're starting to find our form again at training.
"It's starting to feel like it did in the first few rounds.
"What our fans should see and we can see as players is that we're definitely a top eight side. We can make it — it's just up to us to make it happen."