Get to know Wests Tigers Women's Strength and Conditioning Coach Shona O'Connell-Shea!
Q. Tell us a little bit about you and how you got involved in Rugby League? 
Rugby League started for me the year after I graduated university. I had missed out on many opportunities and finally got my starting break with Wentworthville Magpies as the leading Strength and Conditioning Coach for the U/21's boys. 
It was definitely a learning curve working with men's rugby league but it didn't take me long to gain and earn their respect. Winning a premiership in the first year was an amazing experience. My coaching relationship and supportive staff — especially Rob McCardle who took the chance on me — saw me staying on for three years.
I then followed him to Cabramatta at the same time I applied for the Tarsha Gale position with Wests Tigers.
It was a busy year working with both squads and also the Mounties women's team.  Now, four years later, I am one of the original staff members of the Wests Tigers girls program. After a strong two years coming in the top three, Tyrone Collins then asked me to take on both squads — Harvey Norman and Tarsha Gale. It has been full-on, but has brought me so much experience in managing a large group of people and working alongside really supportive and inspiring staff.
Q. What is your role within the club and what is your background in strength and conditioning?
I was originally hired as Head Strength and Conditioning Coach of Tarsha Gale, but now oversees programs for both squads. I also run out as the orange shirt for Harvey Norman on game day along with running their social media.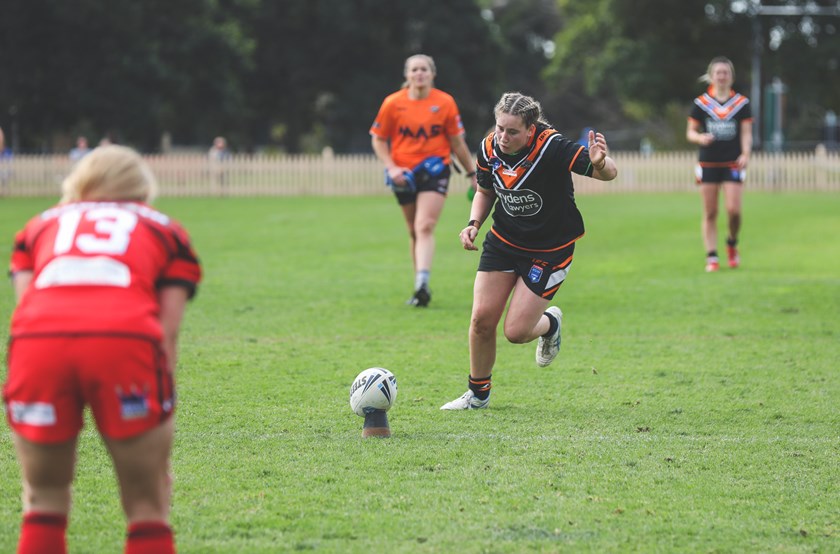 My job is to ensure that the girls are prepared come game day — that they are following recovery protocols and making sure the girls are on top of their return to play programming. With the growth of the game, the need for all areas of training is crucial for their performance and support in reducing injury rate. All areas include, strength training, speed prep and training, agility, and plyometrics. I take a stripped-back approach and teach these girls areas of performance that they wouldn't have learnt previously. 
My background in Strength and Conditioning is the completion of my Bachelor in Exercise Science and continuous short courses upon graduating university through ASCA and others. I have been working full time as a coach and studying part-time my Masters in Strength and Conditioning at ECU. I believe that experience is the best form of education. I spent most of my younger years playing high level basketball and have learnt so much that I never received as a female athlete.
My goal is to ensure that the female athletes I work with get to experience a full performance structure. 

Shona O'Connell-Shea
Q. What do you love about working in Rugby League?
Being a part of the women's program for such a long period of time has given me a new outlook on women in sport. These women and young girls are extraordinary athletes and we have not even seen the best of them yet.
I love helping them be more confident in the gym, helping them learn and develop as players and being with them four times per week. I am a huge advocate of supporting and promoting these girls and look forward to a time when they have the opportunity to sign full-time contracts.
The program has become a family and we are very close. As well as the staff who have helped me in every way possible which has made this journey amazing. I have been with some of these girls for nearly four years so seeing them develop and become some of the top female athletes in Australia has been pretty exciting.
Q. What would be your advice to any women interested in a career in the sporting industry?
I would say don't give up. I have had hundreds of rejections and I still kept trying and putting my name out there. If you're starting out at University, start volunteering for things in your first year to build your CV for once you graduate. Don't be afraid to talk to people and network. Most importantly, have a back up plan. Working in sport is a great area to be in but financially you need to have something else to fall back on.