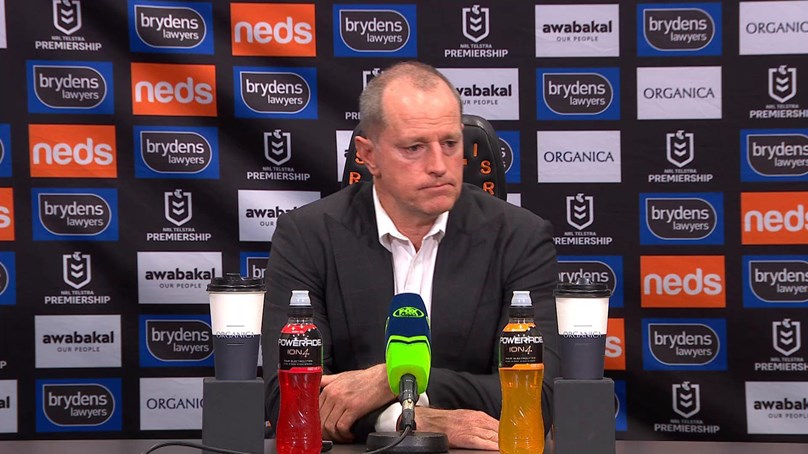 A disappointed Wests Tigers coach Michael Maguire has lamented his side's second-half performance in the 18-16 loss to the Warriors on Friday night.
After holding a 10-0 lead at half-time, Maguire's men were outplayed in the final 40 minutes to suffer a shock loss.
"We're all very disappointed — it was a big moment for all of us," Maguire said after the game.
"First half they executed what they meant to and the second half they went away from that.
"We didn't build any pressure in the second half and we let the opposition back into the game.
"You work every week to continue to give yourself any opportunity, but the second half wasn't what we wanted."
2021 Match Highlights: Rd.20, Wests Tigers vs. Warriors
The disappointing loss was compounded with fullback Daine Laurie suffering a suspected fractured tibia in the opening minute of the match.
"It's a broken leg. He'll have to go to hospital and get it looked at," Maguire said.
"I haven't spoken to the doctor but there's a bit of work to do.
"I think Moses [Mbye] went back there [to fullback] and showed what we were capable of doing … but we didn't put ourselves in that position in the second half."
Although Maguire admitted his team faces an uphill battle to reach the finals, he said he hasn't given up hope.
Doueihi uses his strong running game to close the gap
"It's about the now and where we're going as a club," he said.
"We've got an opportunity there to play again next week and put ourselves back into a potential finals contention.
"It makes it hard, but we'll fight and do everything possible to make sure we get our chances next week."
Match: Wests Tigers v Warriors
Round 20 -
home Team
Wests Tigers
13th Position
away Team
Warriors
12th Position
Venue: Suncorp Stadium, Brisbane