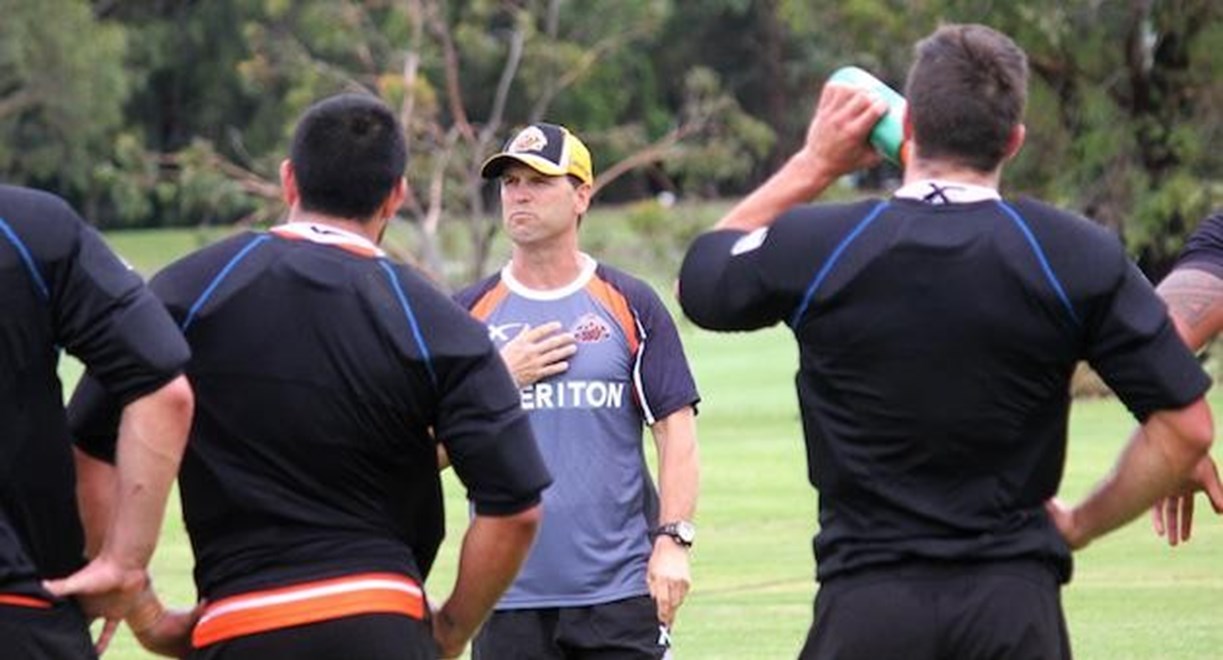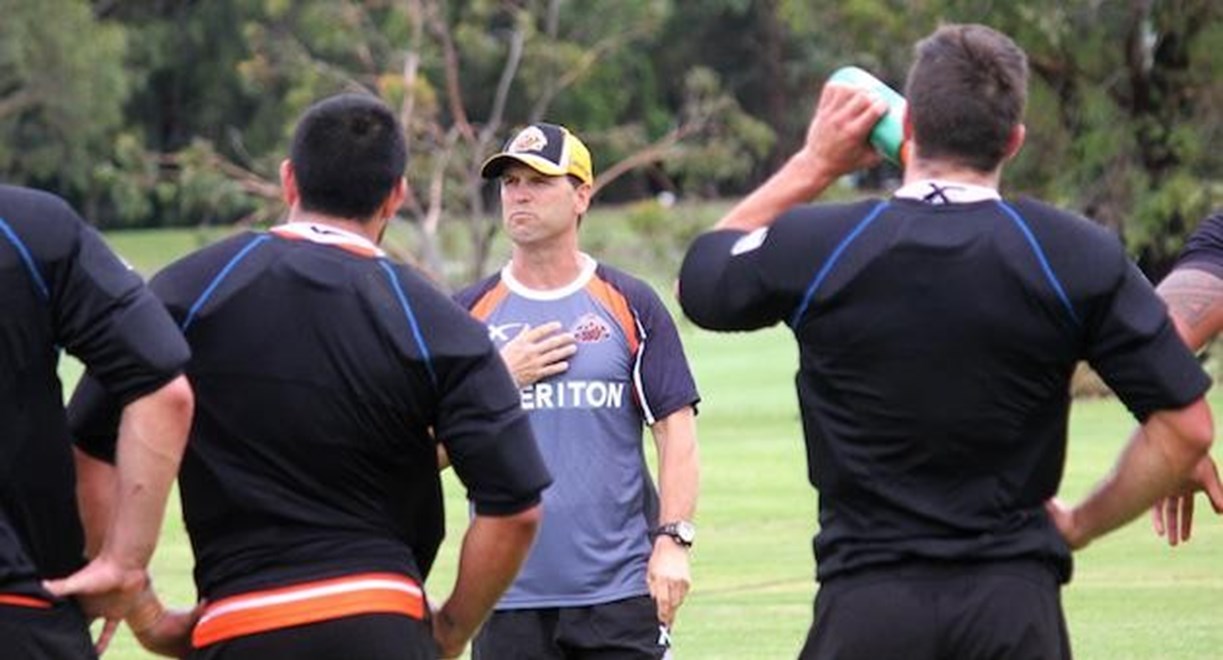 With just three weeks to go until the first trial match of 2014, Wests Tigers Digital spoke to Head Coach Mick Potter about the team's preparations for the exciting season ahead.
Firstly, how are preparations for the 2014 season coming along?
"Everyone is applying themselves and I think that the new players and new staff are blending in well. The most important factor is that they are working as hard as possible and we are pushing them along. I know that they are getting better physically, but we're also covering all areas of the game."
How much of an impact has the new coaching staff had on the players?
"They've got their own roles and I think the players are responding to them in a positive manner. Kiddy (David Kidwell) has given us a different tilt, but with similar messages. That new voice just sometimes stimulates people in a different way and it has been very effective for us. A lot of the players know Toddy (Todd Payten) and it's working well. It's business as usual for him. Webby (Andrew Webster) is having a contribution with the outside backs and also has some experiences from other Clubs and I think he is bringing the best of those to here and he is adding some real value to our backline."
What are your goals for the 2014 season?
"We've got a camp coming up that will be a place where we start setting some goals, but the idea of the competition is to finish as high as you can. Ultimately it's about winning every game possible isn't it? But we will be more specific once we do our camp at the end of the month."
What advice have you been giving the younger squad members — such as Luke Brooks — ahead of their first full NRL season?
"It's been advice along the lines of, no one cares that you're a young kid and that they should be patient. No one cares about that, it's about now and what you do now. It's about what's best for the team, so their enthusiasm to make a play just needs to be tempered just a little bit. They've been fortunate that they've played in some good teams that have come through and have got to chance their hand a little more than you would with an NRL team.
"It's so important for you to get to a high completion rate and for us we were the worst in the competition (last year), so that's something we need to fix and understanding that whether it be five, ten, fifteen or twenty games that Luke gets he will acquit himself the best he can. I haven't put any pressure on him in terms of how many games he will play and I expect there will be some ups and downs.
"The only pressure on him will be the pressure he puts on himself."
What are your plans for the halfback spot throughout the season?
"We have got a few options there and Luke is the probably the logical choice to start, if he's fit. Blake Austin can slot in, Mitchell Moses could slot in, Curtis Sironen - although he's growing out of that position physically, he could do a job there for us. You've also got Braith (Anasta) so there are numerous options for the number seven jersey.
What players have caught your eye during pre-season training?
"I think Bodene Thompson has been working very well. Adam Blair looks strong and has been very professional. Pat Richards, Cory Paterson and certainly Marty Taupau. Marty is a player who if he wasn't amongst such a strong pack at Canterbury he would have probably got a lot more first grade games. He will be very good for us."
You had an extended squad featuring players from the Under 20s and NSW Cup squads training with you in the lead up to Christmas.
Did anyone in particular standout from that group?
"I thought Te Maire Martin (Under 20s five-eighth) was a standout and has a lot of potential. That word gets thrown around a lot but he will develop I think into a quality player; how far he gets is up to him.
What sort of squad will you be selecting for the upcoming Auckland Nines tournament, any hints as to who will be in the squad?
"We will be selecting a strong squad, you don't want to be going over there to make up the numbers. We are going to Auckland to do our best. There's no point in going over there if you don't think you can win it. In terms of a hint, Robbie Farah will be in the squad (laughs)."
How are you approaching the tournament and how much does your coaching style change for that style of game?
"I think it's a little bit easier to coach, I think you can be a little bit more flamboyant with the play because there's more space. You can come up with a trick play here and there and be a bit more flexible. I haven't spent too much time on it just yet because my focus is the NRL, trying to win our round one game and then backing it up from there. Nines training hasn't featured in our work on the field just yet, but it will over the next couple of weeks."
How are Chris Lawrence and Keith Galloway recovering from their niggling injuries?
"Chris Lawrence looks sensational out on the field at the moment and that's a good sign. He had a small muscle injury in the pre-season but he's training the best I've seen since starting as coach. It's only been 12 months but he has had a lot of injuries in that time.
"Keith Galloway will see a specialist on Monday so we'll know more after that."
Our first trial game is a double up with one game at Camden and the other in Alice Springs, you must be looking forward to those?
"I'm looking forward to seeing if we can implement some of the hard work we have done during in pre-season on to the field. As I said before, the players have been working hard and there is intent in what they are doing. We just need to transfer that onto the field throughout the trial games and our other matches.
"We really need people to come along and enjoy watching the Wests Tigers again."