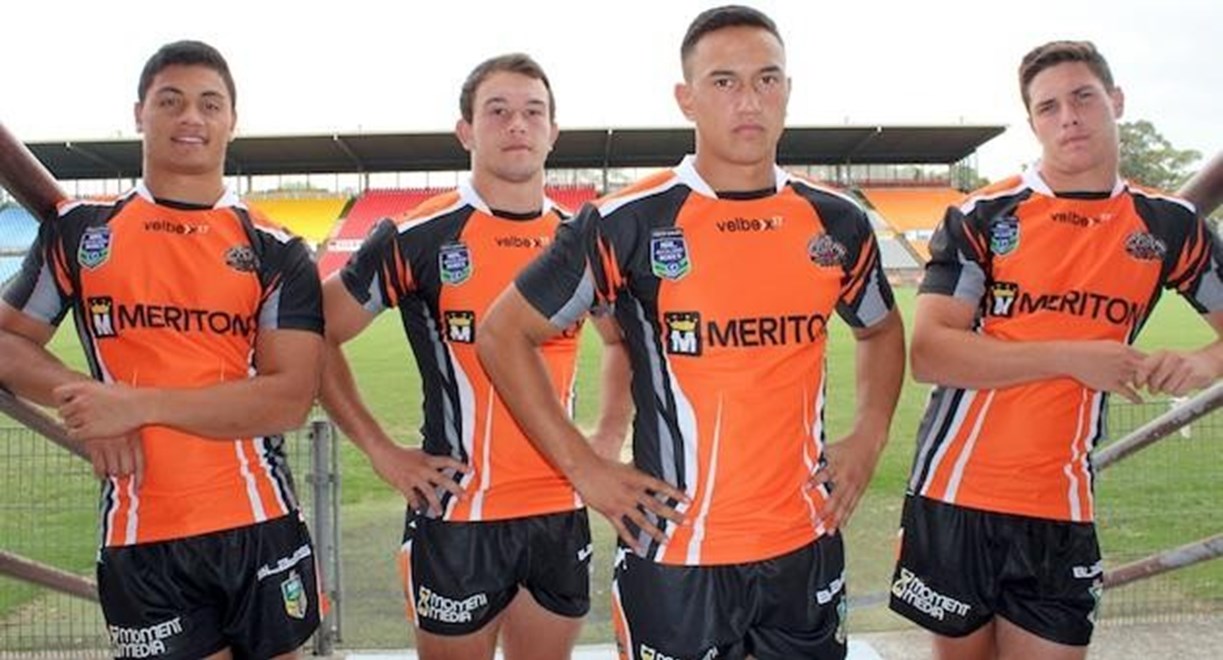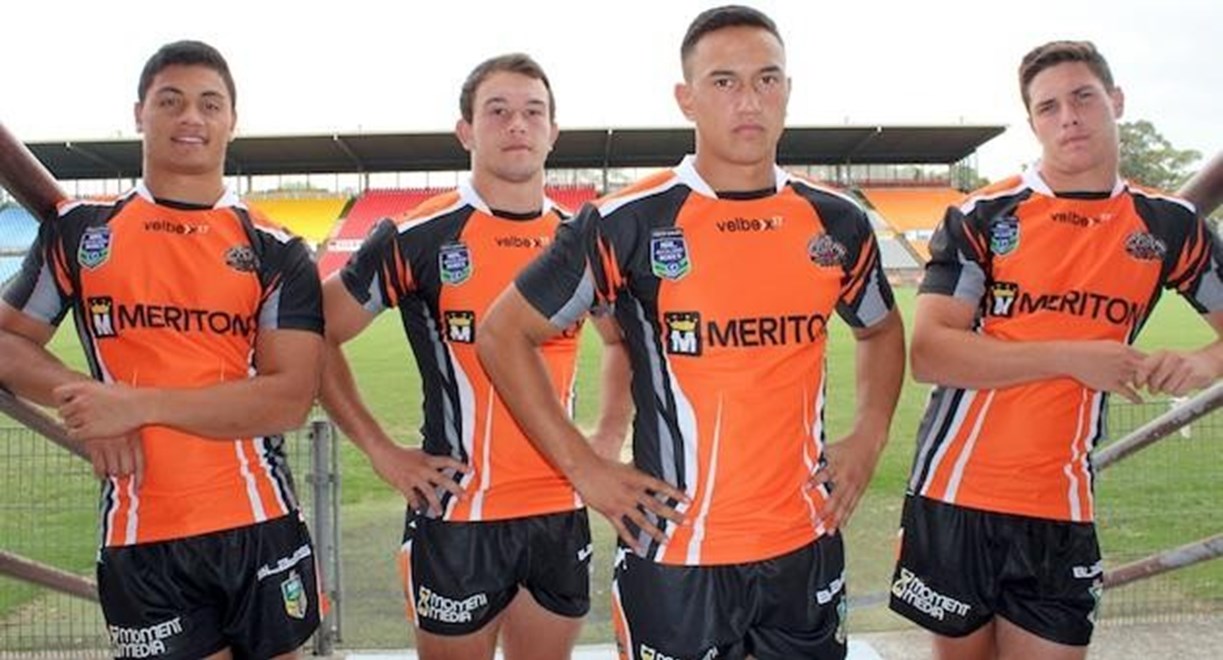 They might not have played a single first-grade game between them, but these four future Wests Tigers stars are out to prove they'll be doing more than just making up the numbers when they run out at the Dick Smith Auckland Nines this weekend.
Labelled by some as surprise inclusions by Head Coach Mick Potter in the Wests Tigers squad, expectations on the capabilities and skills of the young quartet definitely aren't as high as some of the more recognised names in the squad. But for Mitchell Moses, Kurtis Rowe, Delouise Hoeter and Manaia Cherrington the tournament provides both a great platform to measure themselves against some of the top players in the league and the chance to gain invaluable experience they can bring to the fore later on in their careers.
Fullback Kurtis Rowe, a player tipped for a strong first-grade future after scoring 38 tries from 45 games in the under-20s competition, spoke of his surprise in getting picked to go back across the Tasman, but also of how important the competition will be for his future.
"I'm definitely looking forward to it," the former Australian Schoolboys fullback said. "When I heard the good news that I was playing in the competition, I was just really excited. There's a lot of high-class players playing the competition so I feel pretty privileged to be a part of that.
"I want to become a leader myself, even though being just a young bloke, so just picking up the traits that the older boys give off will be great," said Rowe. "I can't wait to get out there and play and hopefully get a win."
Another Wests Tigers young star, Delouise Hoeter, who was recently picked in the Junior Kiwis train-on side alongside Rowe, also spoke of the insight that he's looking to take away from some of the more experienced members in the squad, and how that will benefit him in the long run.
"Being around the senior guys in the team will give me more of an insight into how the boys prepare day-to-day," he said. "Noting the way they prepare for the game and the way they look after themselves with such a short turnaround between games on our first day, the way they take care of their bodies and get ready to back up for the next day will be really important."
An Auckland local, the tournament also doubles as a special opportunity for Hoeter, who once again gets the chance to play in front of his friends and family. "Having them there might make push and play a little harder too," he said, "So it'll be great for them to be there."
With the Auckland Nines expected to favour the pace and individual skill embodied by many of the Wests Tigers outside backs, it's somewhat easy to see why both Hoeter and Rowe are excited about the new tournament from a football point of view. Having said that though, it's not just the backs that could be having a field day in Auckland, with young hooker Manaia Cherrington also saying how the new brand of rugby league could benefit him.
"I think it'll be a good experience for me, going away with the big boys, and hopefully getting a few games under my belt," he said. "I think I'll find it a lot easier [on the field], just having more space to work, and having the big boys around will help me a lot."
Young half Mitchell Moses reiterated a similar point.
"In terms of my game," he said, "I'll probably be having to take on the line a lot more.
"I won't have to cart the team around as much as a regular game, it's more about taking the line on and doing what you have to do," said Moses.
With the media attention that's been centered on him and fellow Holy Cross Rhinos playmaker Luke Brooks, it's almost second-nature to think that Moses might have to adjust to the conditions in New Zealand. But then the reality dawns: Moses, just like Rowe, Hoeter and Cherrington, is yet to play a single minute of first-grade action.
Not that that fact worries Moses at all.
When asked about his plans for season 2014, the 19-year-old was brutally honest about his desire to both fulfil his lifelong dream of playing in first-grade but also acknowledged that such an occasion might still be a long way down the track.
"Hopefully I'll get a crack in first-grade this year, that'd be a dream come true," he said with a faint smile. "But mainly my goal is just to get as many NYC games out as possible is the goal."
"I'm focusing on NYC first before first-grade. I'm only 19 so I've got a long way to go," said Moses. "If first-grade comes it comes, but that's just a bonus. I'm in no rush to get there."
Moses knows the expectations on him are perhaps higher than the other debutants also making their way to Auckland given both his growing reputation and position on the field, but the youngster isn't daunted by the occasion. Likely to partner Blake Austin in the halves, he spoke of the good combination that he and the former Panther have had at training so far this off-season, not at all worried by the occasion nor public opinion of him.
"It'll be easy," he said — as much raising the challenge to the others as meeting it himself.