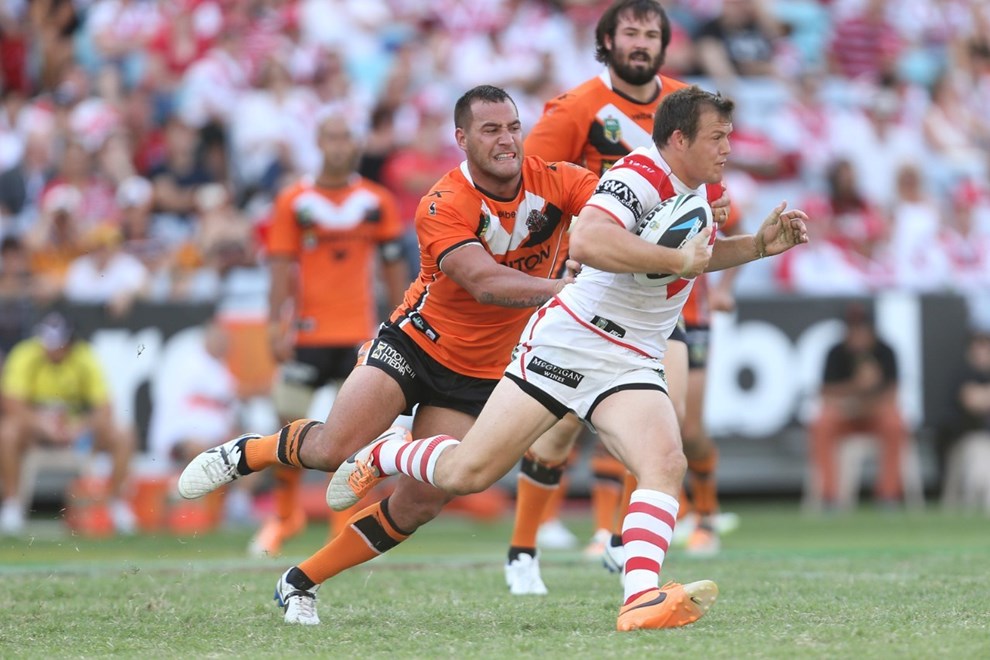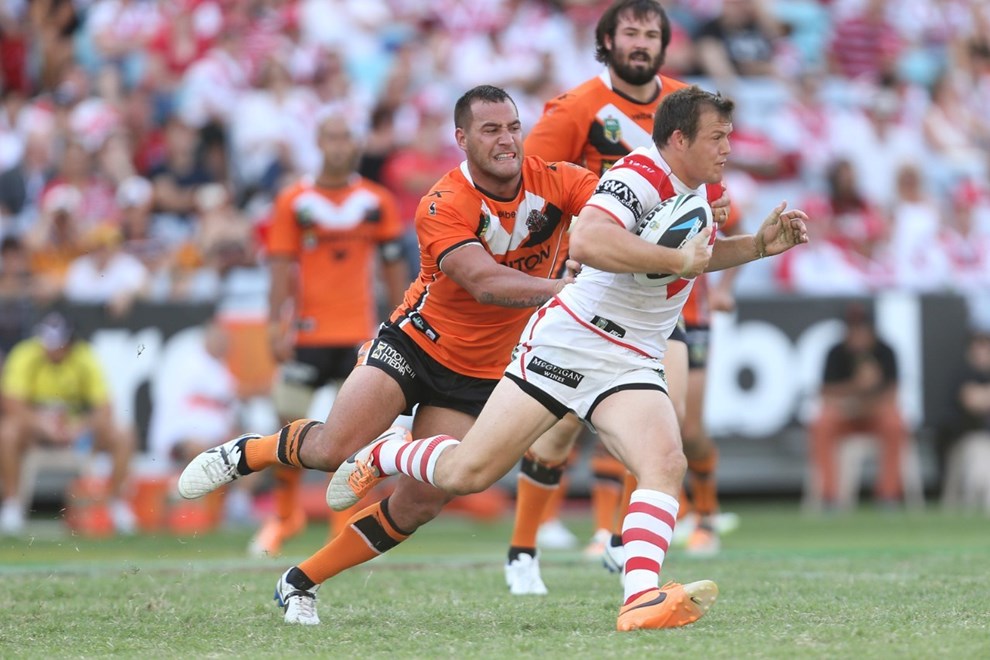 Sunday's season-opener against the St. George Illawarra Dragons might not have gone according to plan for the Wests Tigers, but back-rower Bodene Thompson is determined to see the club turn that form around this weekend when they make the trip north to take on the Gold Coast Titans at Cbus Super Stadium.
A former Titan, Thompson played 49 games on the Gold Coast between 2009 and 2012 before moving back to Sydney in 2013, where he played 15 games for the joint-merger club.
And having come through the junior ranks at the club, the 25-year-old knows better than most just how damaging this week's opponents can be through the middle of the field.
"They've got a big pack and they play nice and direct so we need to make sure we move them around," Thompson said. "We need to make we get bodies in front and prevent any offloads or any second-phase type of footy."
"We need to get around the ball when kicks go up because that's something they emphasise a lot — getting people around the ball when there's a loose ball or something — so we need to make sure we get a lot of bodies around the footy and prevent that type of stuff."
Thompson is coming off a strong performance against the Dragons in Round 1, where he played the full 80 minutes and made 32 tackles. And while the disappointing result certainly wasn't the desired outcome, the back-rower was still upbeat that there were positives to be taken from the defeat — both on a collective and individual level.
"I actually thought our defense was all right in parts there; there was a few unlucky calls — up the middle I thought they were caught offside a couple of times – and a couple of things that we need to work on fixing for this week."
"We have worked hard on those things this week at training so hopefully those things are all said and done and just stay a part of last week's game."
"Yeah, it was good to get a whole game was under my belt — felt pretty good out there.
"Something that I've worked hard on this pre-season was getting my fitness up so I felt pretty good [playing 80 minutes] in that game.
"I'll be taking that out of the game and hopefully upping the anti a little more now this week — taking more runs and being more dynamic with the ball."
Journeying back to the place where he made his first-grade debut and first 49 NRL games, Thompson said that he looked forward to the opportunity to see his former teammates and friends once more, but empahises that first and foremost, he was there to get the Wests Tigers their first win of the 2014 NRL Season.
"It'll be good to get back up there," he said, "but when all's said and done, the business is on the field. I'll be trying to do the best that I can for the club and for myself."
"It'll be good to catch up with a few faces after the game and all that, but hopefully it'll be good to get the job done first."
Thompson's first challenge in making that happened, it seemed, was overcoming a hand injury sustained in the Round 1 loss that had club officials worried that he might miss not only this weekend's match but extensive time to start the year.
However, as Club Physiotherapist Peter Moussa noted in this week's Injury Report, the second-rower has been given the green light to rip in against his former club this weekend.
"Yeah, it's all sweet," said Thompson. "I trained full contact and everything today so it's all sweet; it's just taped up now [but] there's no major problems."
"It's just a precaution at the moment [having a splint]. It's one of things that probably looks worse than it actually is, so I'll be sweet to go on Sunday."