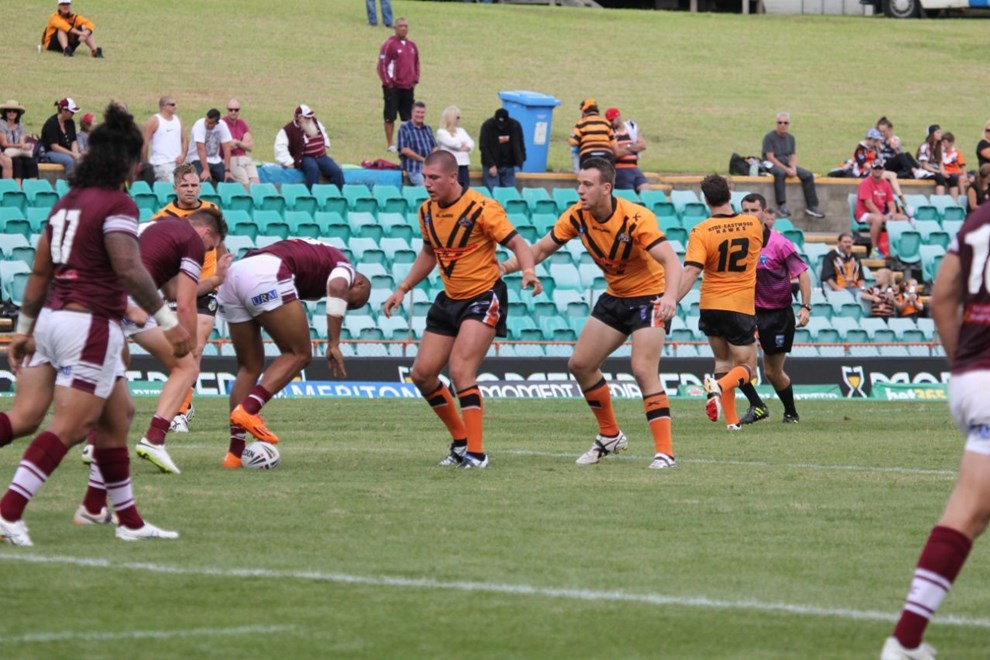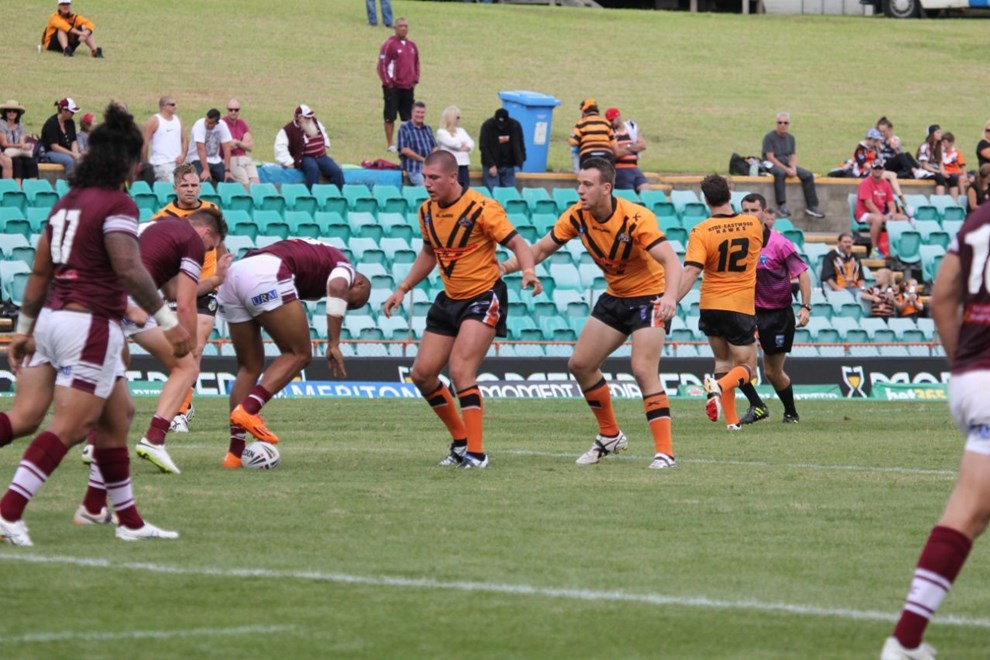 Wests Tigers have won another last-gasp NSW Cup game thanks to five-eighth Blake Austin — this time kicking a field goal with time expiring on the clock.
Taqele Naiyaravoro finished with a hat-trick for the hosts, but it was Austin again who stole the headlines with his second match-winning moment in as many weeks.
It was the home side that started much stronger of the two, with several repeat sets on the visitors' line early but just couldn't find the final pass.
Their sustained attack paid off in the 15th minute when a well-weighted Austin kick found Naiyaravoro on the wing. Austin nailed the conversion in windy conditions to extend the lead to 6-0.
Wests Tigers doubled their lead in the following set when captain Jarrod Farlow barged his way over close to the line following a good short ball from Austin.
The wiry five-eighth duly converted to push the lead to 12-0 after 20 minutes.
Manly-Warringah hit back in the 24th minute after several repeat sets on the hosts' line led to Matt Ikuvalu crossing in the corner.
The hosts reduced the gap even further in the following set after Jayden Hodges went clean through up the middle of the field. He linked back with fullback Clinton Gutherson on the inside, who raced through to score under the posts.
The try was duly converted, leaving the score at 12-10 to the Wests Tigers.
It appeared the score would remain that way at half-time, but a length of the field intercept try to Jayden Horo in the final minute gave the visitors a 14-12 lead.
Having scored the last three tries, Manly-Warringah went into the break with plenty of confidence, and they emerged from the break with it as well — kicking a 40/20 in their opening set.
That allowed James Hasson to barge his way over next to the posts — extending the visitors lead to 20-12 in the 42nd minute — after his try was duly converted.
The lead wouldn't last long, though, with the Wests Tigers hitting back through Asipeli Fine and Naiyaravoro on two sweeping back-line moves to regain the lead 22-20.
Horo grabbed his second try of the day after a sharp move from the visitors on the left wing, and after Rudolph converted from the sideline, that saw the Sea Eagles narrowly regain a four-point lead.
Naiyaravoro grabbed his third of the day following a sweeping back-line move involving Rowe and Waters to lock the scores up at 26-26, but Austin couldn't hit the sideline conversion.
What he could hit, though, was the field goal, and with three seconds remaining on the clock, the five-eighth struck one perfectly from 30m out to give Wests Tigers the win.
The win moves the Wests Tigers NSW Cup team to top of the table.