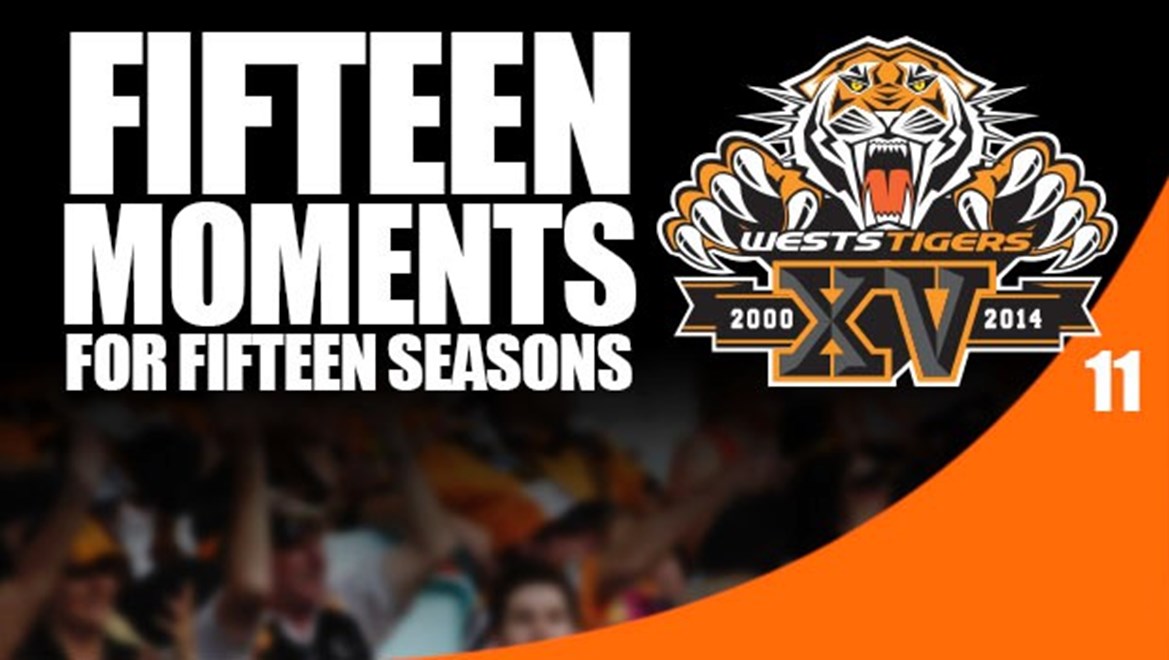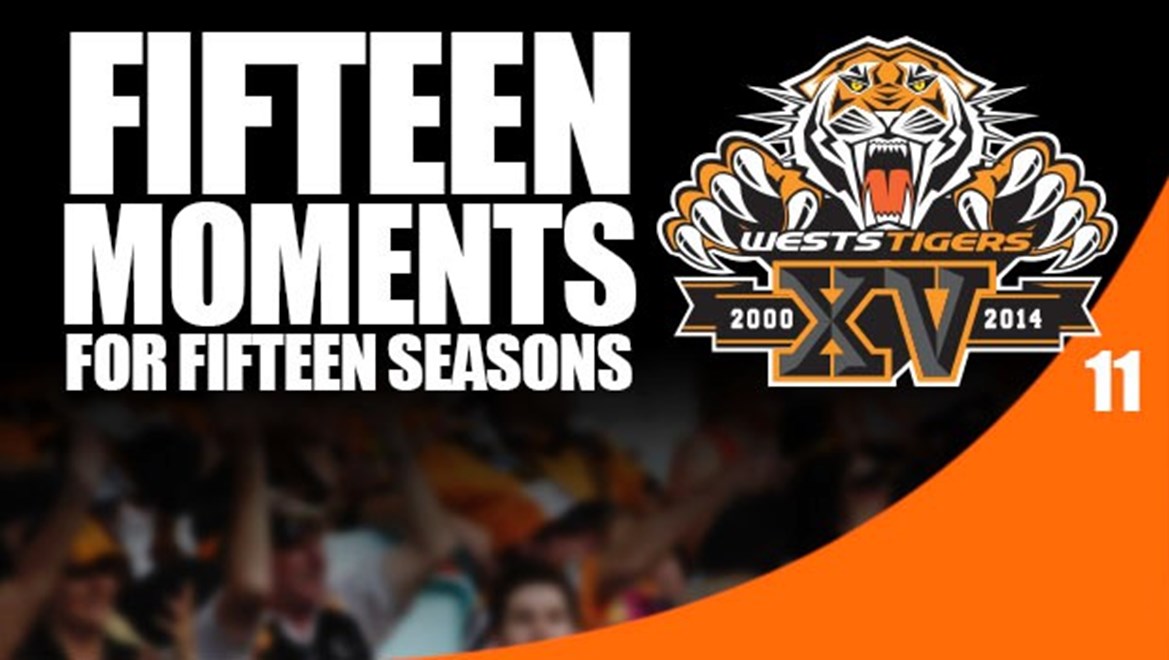 15 Moments for 15 Seasons
Wests Tigers are counting down the top 15 moments in the Club's history to commemorate with their 15th Anniversary NRL season.
As voted by the fans, here's Moment No. 11.
Making your NRL debut is a moment that every young player works for in their career; a moment that is cherished and held to forever once it happens.
And in the case of Luke Brooks, it was a moment that Wests Tigers fans and even just casual onlookers will remember for many, many years to come.
Removed from the race for the finals for another season, the lone remaining highlight on the calendar for 2013 was Wests Tigers' symbolic return to the Sydney Cricket Ground to take on the St. George-Illawarra Dragons in Round 24.
Playing exactly 50 years after the infamous 1963 Grand Final and embrace between Norm Provan and Arthur Summons, Wests Tigers were perhaps more worried about ending the six-game losing streak they were riding coming into the match than anything else, but their focus quickly began to change once Brooks began to work his magic.
Remarkably, without a horror run of injuries and absences, the then under-20's halfback most likely wouldn't have made his NRL debut in 2013, but Head Coach Mick Potter didn't have too many other options than to throw the 18-year-old into the mix.
Not a member yet? Click here to sign up for season 2014 and support your club!
Not even Brooks himself was prepared for what was ahead.
"It was a weird week, to be honest," Brooks recalled. "It didn't really feel like I was playing.
"When Mick [Potter] told me that I was playing, I didn't really believe him.
"It was good to have someone else making their debut with me in Nathan Brown, and it was just an awesome week leading up to the game.
"I think I had goose bumps by the time kick-off came.
"I was pretty nervous running out in front of a pretty big crowd at the SCG. It was just an awesome experience and one I'll never forget."
While a special moment for Brooks regardless of the result, there's little doubting that his debut was made even sweeter by the fact that Wests Tigers ended up with the two points — and Brooks crossed the line himself.
After some scrappy play in attack, Brooks picked up a loose ball and raced through the Dragons' line to score next to the posts. And even now, that moment in particular still remains as clear to the halfback as when it first happened.
"I think we were just over halfway and the boys were throwing it around with a couple of offloads in there," said Brooks.
"Blairy [Adam Blair] threw it and it landed it on the ground in front of me.
"I picked it up and started running and I saw a forward in front of me. The whole time I was running I was just thinking 'dummy, dummy' and I did.
"Luckily it came off for me and I was able to score a big try in the match.
"To score on debut: there's no other words than awesome.
"It's what you always dream of when you make your debut — to score in front of the crowd — and it was awesome just to celebrate with the boys."
Wests Tigers would go on to win the game 34-18 — their final win of 2013.
Check out the other Top 15 Moments:
15. Chris Lawrence's debut against Brisbane Broncos — 2006
14. Wests Tigers comeback against Newcastle Knights — 2001
13. Robbie Farah breaks Club Record for most games — 2013
12. Marika Koroibete scores four tries in one game — 2012