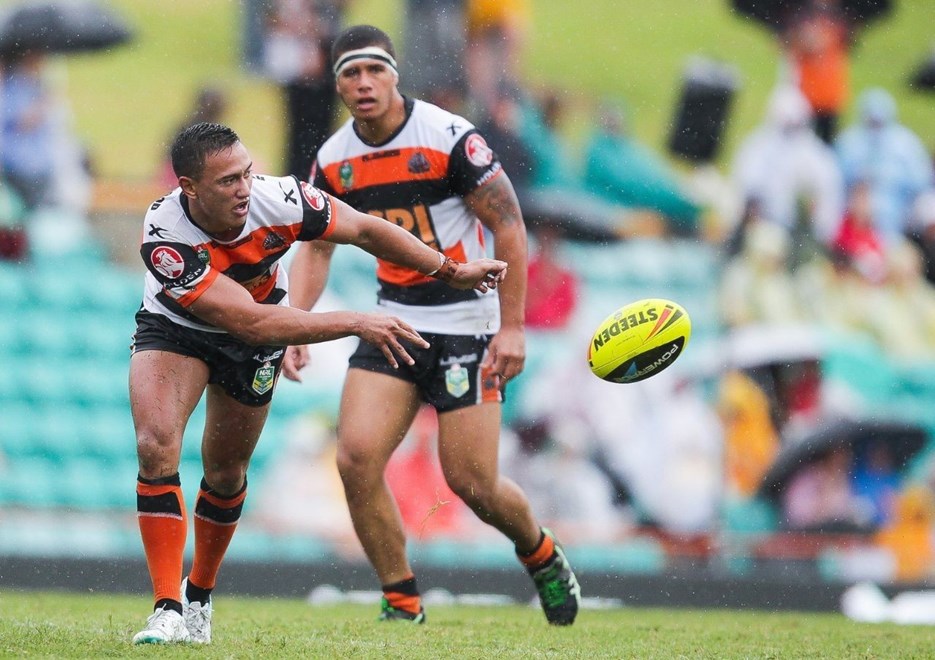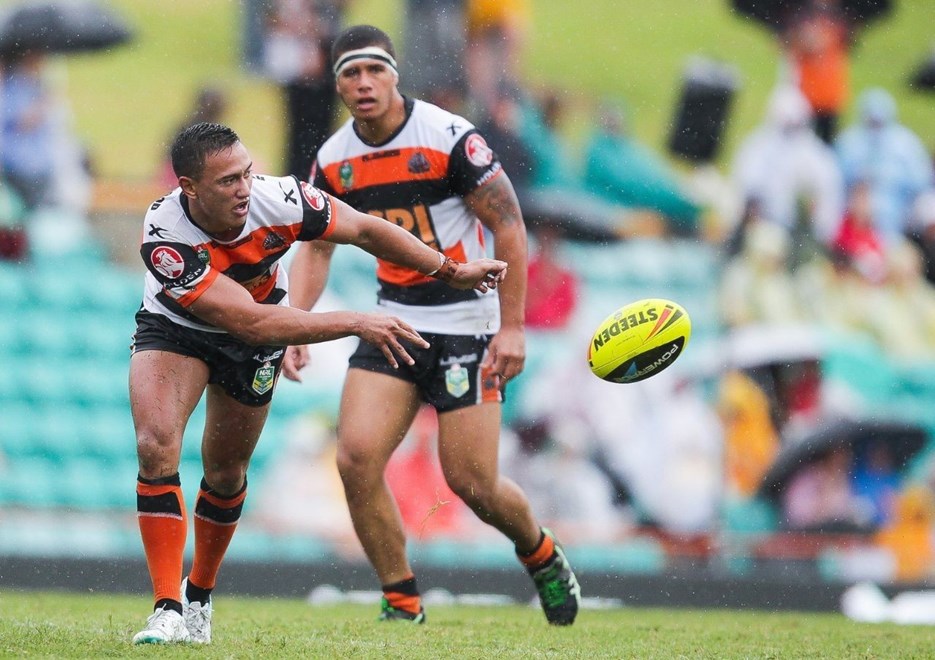 Earmarked as one of the Club's future stars to keep an eye on, not even Manaia Cherrington himself can believe the last 12 months that he's had.
Selected in the 2013 Junior Kiwis squad, Cherrington has followed that up with a dominant season to date for Wests Tigers — representing the Club in the Auckland Nines to start the year, then started strongly Holden Cup, and has recently made the switch over to NSW Cup as he prepares for life as a first-grade footballer.
And the 19-year-old is simply loving every minute of it.
"It's been an awesome start to the year for me personally," he said.
"I'm find the transition from playing under-20s to NSW Cup a lot harder than I expected, but I'm still really enjoying it and loving the challenge."
"It's just so much more physical than under-20s. The wrestles a lot stronger, and the first thing that I found out is that it's a lot slower than NYC.
"But it's an awesome challenge and I'm learning a lot."
NYC Head Coach Andrew Webster, whose dealt extensively with the crafty hooker, praised Manaia's work ethic over the past 12 months, and said that he certainly has a bright future in the NRL wearing the No. 9 jersey.
"Manaia's progress is really, really good," Webster enthused.
"He's got a bright future and he's been on the radar for a long time here, and we're incredibly happy with how he's coming along as a player.
NSW Cup Head Coach Paul Fletcher — whose been first-hand to watch the Junior Kiwi international in his first two NSW Cup games — said that Manaia had slotted in so well to the team, it was like he'd been there all season.
"He's come to us from NYC," said Fletcher, "and he's looked like he's been there all year.
"He knows when to run and when not to run; his defence is really solid and he's fitting in really well with the team — I can't fault him at all.
"Manaia's brought a fresh enthusiasm and that's the thing that I like the most, to be honest. He's excited to be here as a step to playing first-grade and he's enjoying every second of it — plus he's handling it well... I think the Club's on a really good thing."
Not that you'd find Manaia — who despite the accolades is still somewhat of a quiet and thoughtful kid — talking about himself like that.
The Quakers Hill junior is simply focused on the job that he's got at the moment, which is being the best NSW Cup and NYC player he can be.
The prospect of playing first-grade football — while obviously in the back of his mind — is still secondary to carrying out the job that the team needs him to fulfill.
"I'm just trying to be consistent as a player," said Cherrington when asked about the top priority that he had heading into Round 9 of the 2014 season.
"I think that's the hardest thing in footy — just staying consistent.
"I'm trying to be aggressive in the middle but also get more involved around the centre of the field, and put those all together as a player.
If he's looking for guidance and inspiration, Cherrington could certainly do a lot worse than the current hookers at the Club — Australian international and captain Robbie Farah and Joel Luani — whom the youngster said have been key in his development as a player both on and off the field.
Cherrington also made special mention of Cory Paterson in helping him make the transition from one grade of football to another in such a short space of time.
"We've got some great hookers at the Club here for me to look up to," said Cherrington.
"Joel Luani has that real defensive edge whereas Robbie Farah is just so quick around the ruck. I'm just trying to put both components together into my own game and try and be a real smart hooker. It's been a hard transition, but Cory Paterson has been helping me a lot since I made the switch. He's been talking to me a lot on and off the field so that helps."
"You never feel alone when you're in this Club," he said.
Just when Wests Tigers fans will get their first chance to look at Cherrington in a first-grade side is still somewhat of an unknown, with the youngster still with plenty of development to go through before that happens.
Even Manaia himself attests to that fact.
But when the chance does come — which it invariably will — there's no doubting that the junior New Zealand international will be completely ready to go.
"First grade? Hopefully this year," laughed Cherrington, "but I'm in no rush.
"I'm just taking each week as it comes.
"If the opportunity comes, then I'll be willing and I'll take it with both hands.
"100 percent."