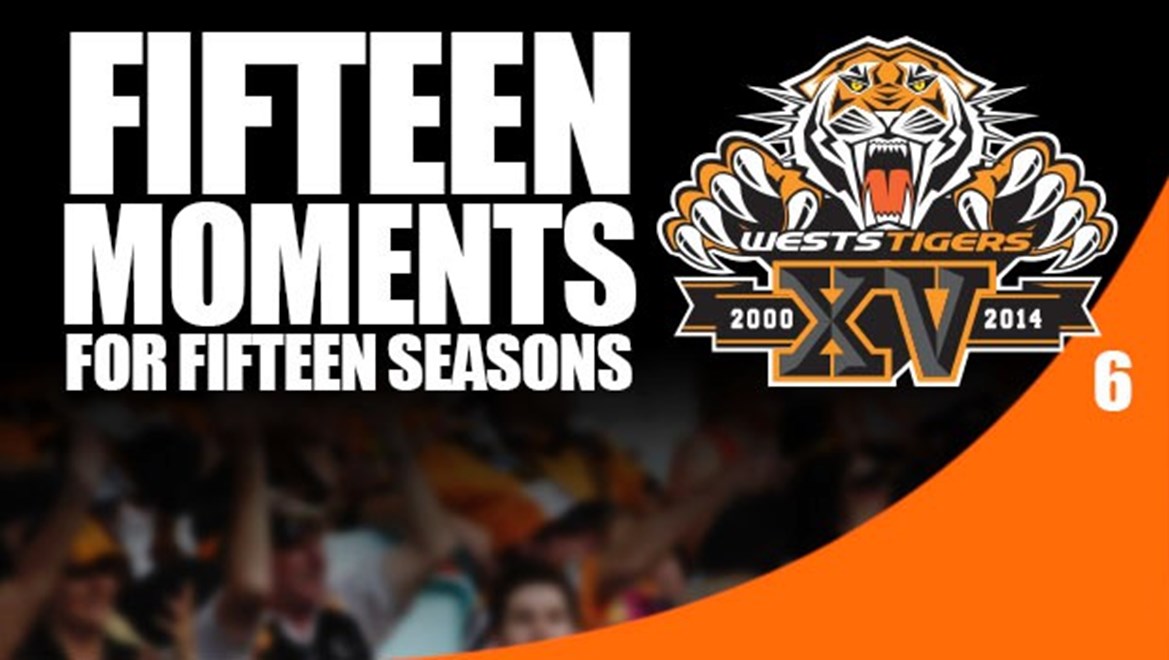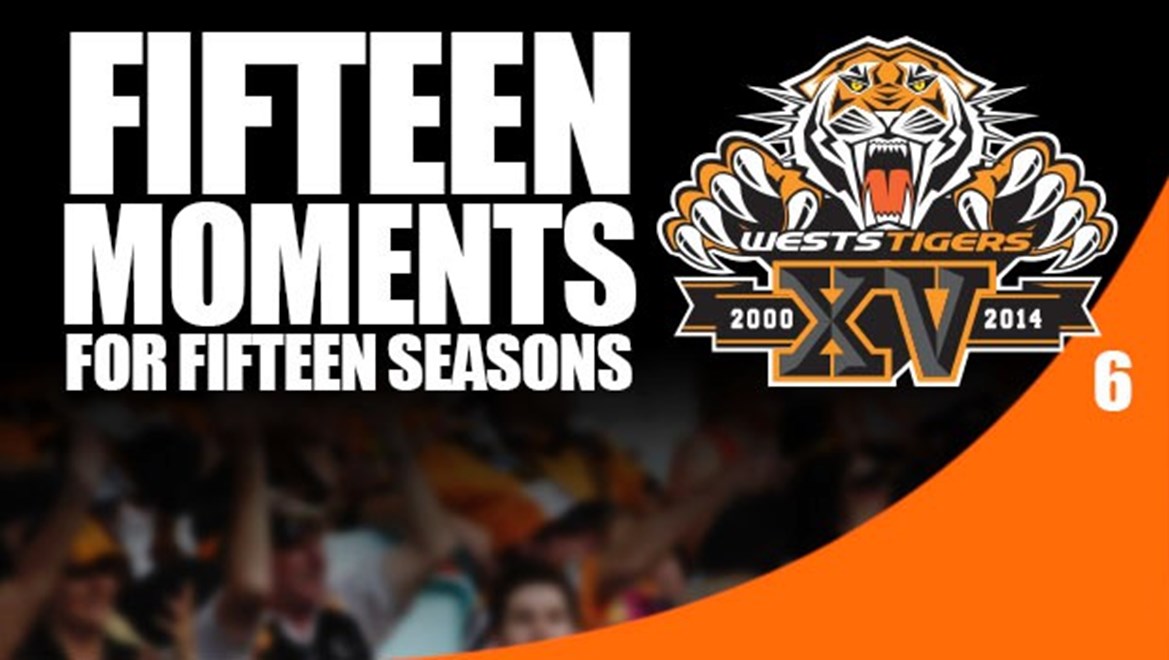 15 Moments for 15 Seasons
Wests Tigers are counting down the top 15 moments in the Club's history to commemorate with their 15th Anniversary season in the NRL.
As voted by the fans, here's Moment No. 6.

* * * * *

While there was certainly plenty of emotion and interest involved in the Wests Tigers first match as a joint venture Club, perhaps the biggest highlight of them all — and certainly the most amusing talking point — was the first try ever scored for the Club by John Skandalis against the Brisbane Broncos in Round 1, 2000.
And what better way to remember that first every try at Campbelltown Stadium than through the eyes of two Club greats: Joel Caine and Skandalis himself.
Caine — who scored three tries and four goals in the thrilling 24-all draw against the Broncos that day — recalled that the match probably should have ever been played at Campbelltown given the state of the field as many expected the Club to be playing in the dobule-header at the Olympic Stadium.
"The field was shocking. Basically, it just wasn't quite ready," he laughed.
"It was basically sand across the entire ground that we'd spray-painted green and try to trick people into thinking it was a football ground. It wasn't," he joked.
But that clearly wasn't the only trick that was going to take place that day.
"That first try," laughed Caine. "What a joke!"
"Up goes the bomb — we're charging through to chase it.
"The ball bounces up and the fullback doesn't want to touch it at all and then, all of a sudden, this big heap of thing [referring to Skandalis] jumps for the ball and gets within about a metre of a try and then completely loses it as he scores the try.
"They went to the video referee and I was certain it was going to be a red light.
"Dead set: no try. Never in a million years," he laughed.
"Skando got up going cartwheels and cheering — it was the biggest lie I've ever seen."
Smirking and doing his best to hold in a huge cheeky grin, Skandalis denied it.
"100 percent a try," he laughed. "It's in the record books.
"I'll take it and they can never take it out.
"Completely a fair try. Every day of the week," he said, now grinning.
Fair or not fair — we'll leave you to be the judge on that.
But like the powerhouse forward said, it was one they can never take away.
And it was one that went a very long way to securing one of the most incredible results of the Club's history against the eventual premiers.
Check out the other Top 15 Moments:
15. Chris Lawrence's debut against Brisbane Broncos — 2006
14. Wests Tigers comeback against Newcastle Knights — 2001
13. Robbie Farah breaks Club Record for most games — 2013
12. Marika Koroibete scores four tries in one game — 2012
11. Luke Brooks' debut against St. George Illawarra Dragons — 2013
10. Blake Ayshford's try in the rain against Melbourne Storm — 2013
9. David Nofoaluma's spectacular try against Manly Sea Eagles — 2013
8. Wests Tigers comeback against New Zealand Warriors — 2011
7. Scott Prince's field goal against the Canterbury Bulldogs — 2005