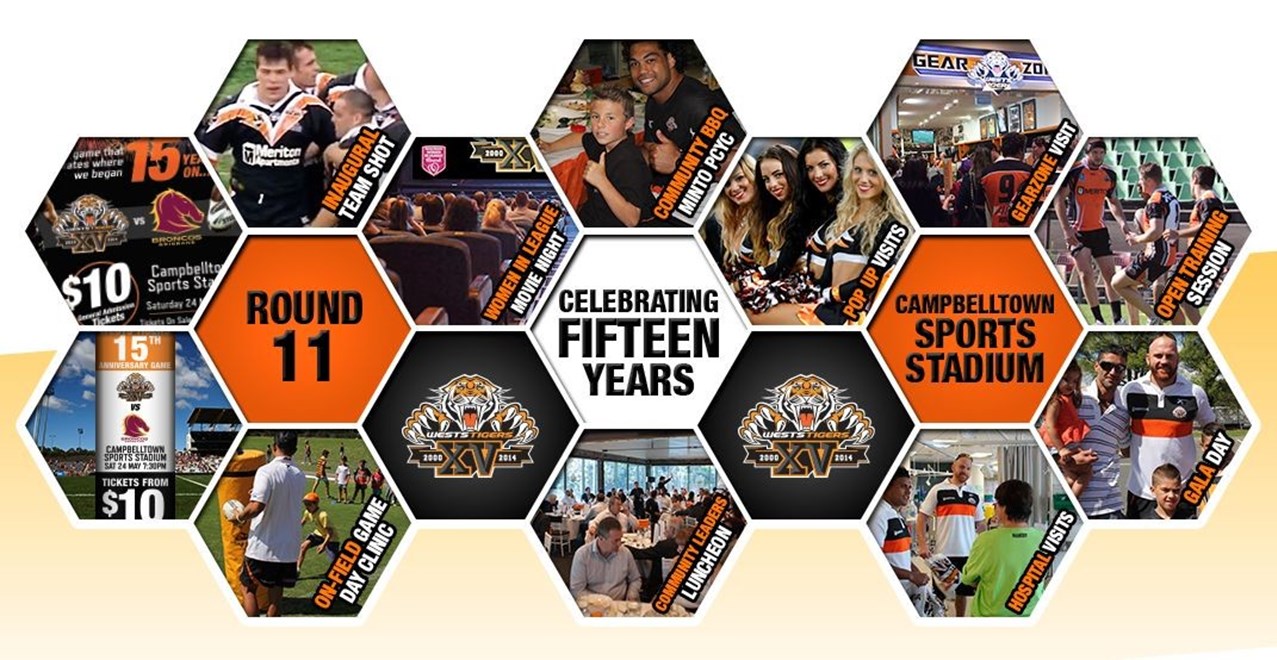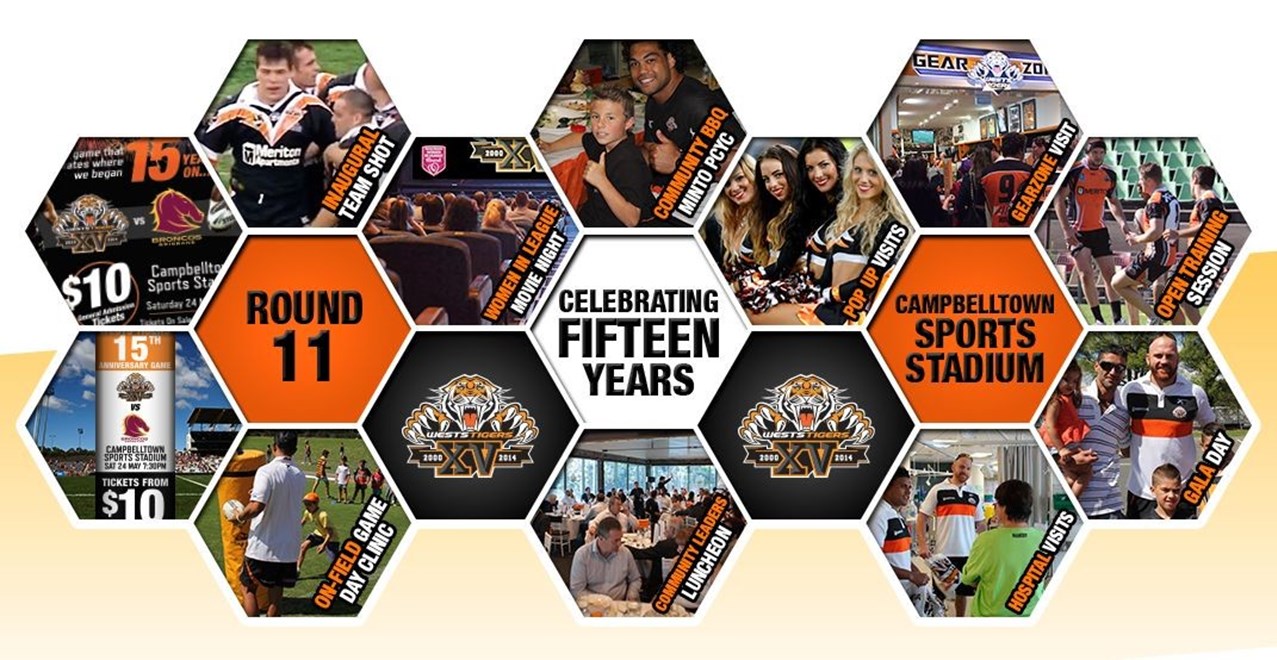 On Saturday 24 May Wests Tigers will celebrate the game where it all began when the Club takes on the Brisbane Broncos at Campbelltown Sports Stadium.
To mark Wests Tigers' 15th season the Club is inviting the entire community to be a part of the celebrations, with a range of activities taking place before the Round 11 clash.
Wests Tigers players will be out and about at a number of events during the week leading into their 15th Anniversary game in Round 11 against the Broncos.
General Admission Tickets — JUST $10!
First port of call for supporters wanting to be a part of this special event is the ProTicket website, with General Admission tickets for the game just $10.
Get your $10 tickets here and secure your seat at the ground for our Round 11 clash!
Free BBQ at PCYC Minto — Tuesday, May 20
On Tuesday, May 20 a number of Wests Tigers players will be present at a free BBQ at PCYC Minto between 5:00pm and 6:00pm AEST.
Mascot and Cheersquad Ticket Offer — Wednesday, May 21
May 21 will see the Wests Tigers' Mascot and members of the Cheersquad making their way through South-West Sydney with information about Saturday's game and the special General Admission ticket offer.
Gala Day at Kirkham Oval — Thursday, May 22
Thursday 22 May is set to be a busy day with Wests Tigers players visiting Razorback Gala Day featuring around 400 students at Kirkham Oval.
Player Appearance at GearZone — Thursday, May 22
Wests Tigers are offering their fans and members a chance to meet Tim Moltzen, James Gavet and Dene Halatau at GearZone Macarthur Square!
The players will be at the venue between 6:00pm and 7:00pm AEST for photos, autographs and more, and if fans purchase a ticket from GearZone between now and Thursday evening, they can go in the running to win dinner with the boys after the appearance.
Open Training Session — Friday, May 23
On Friday May 23, Wests Tigers will provide fans with an opportunity to see the team in action, with an open training session at Campbelltown Sports Stadium at 9.30am.
Campbelltown Hospital Visit — Friday, May 23
Following the session players will be visiting patients at Campbelltown Hospital.
KARI Education Forum — Friday, May 23

On the same day Wests Tigers players Cory Patterson and Corey Brown will attend the KARI Education Forum with more than 100 Indigenous students from Western Sydney, with a Wests Tigers Sponsor Luncheon also taking place at Campbelltown Sports Stadium.
Round 11 vs. Brisbane Broncos — Saturday, May 24
The Club hopes to see a strong crowd at Campbelltown Sports Stadium on Saturday 24 May for a great day of celebration — both on and off the field.