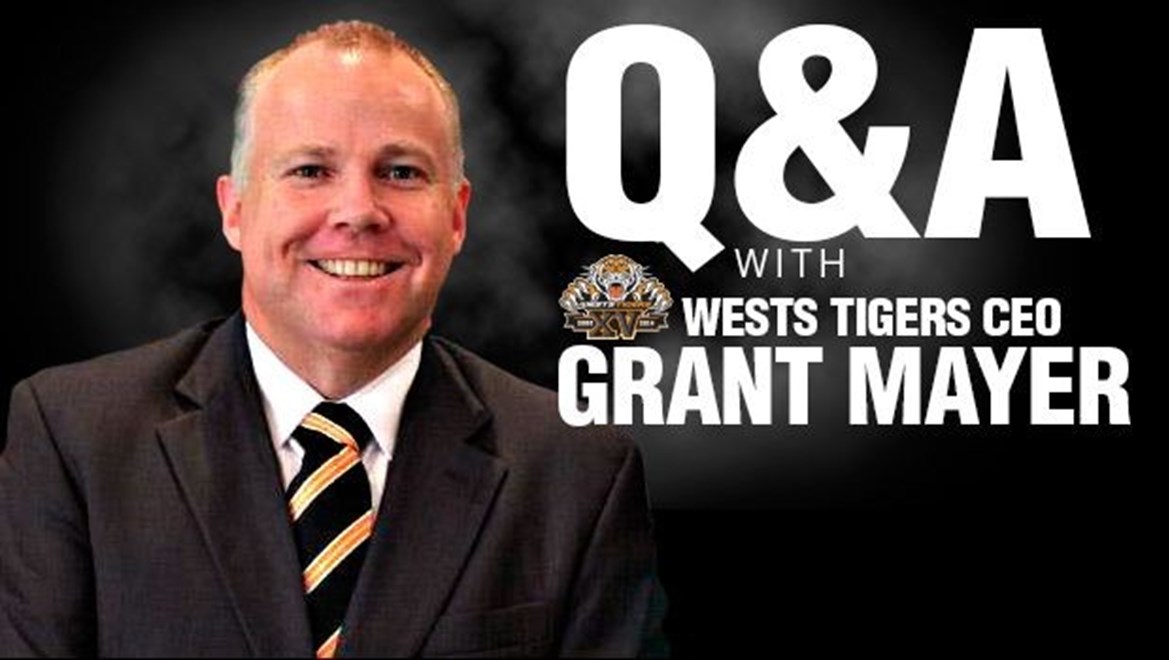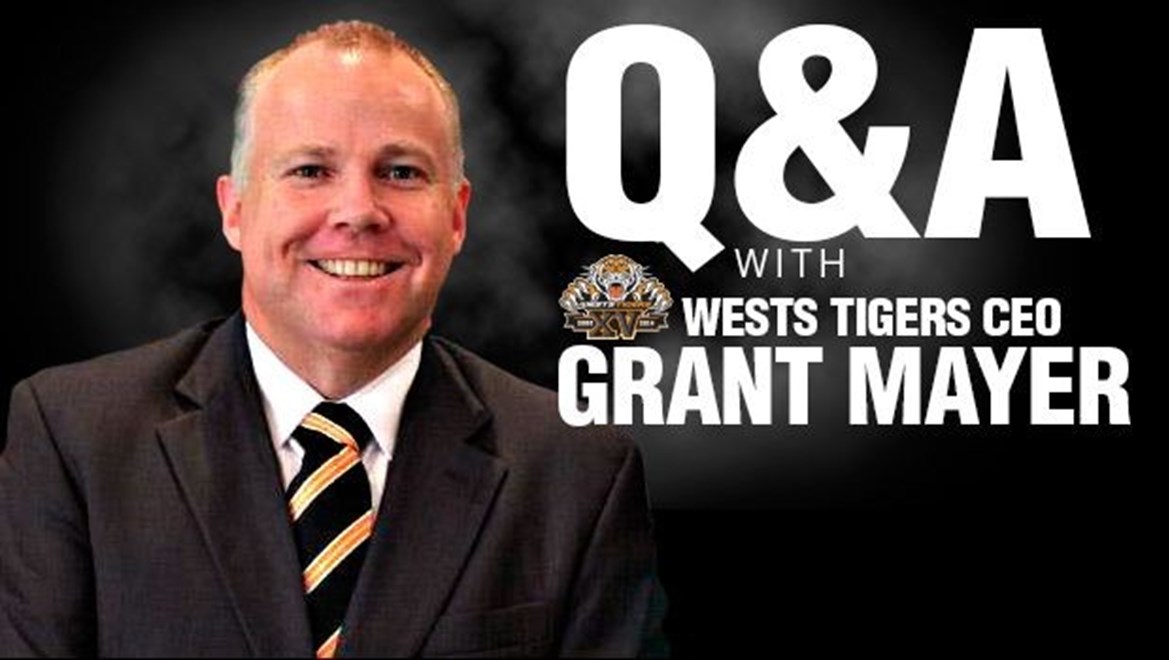 Wests Tigers asked fans and members to submit their questions on any topic for CEO Grant Mayer to answer. Here is the first part of his answers in this exclusive Q&A.
Part two will be published in full on Thursday.

...on James Tedesco
Where are we putting the money that we offered for James Tedesco? — @Booners05
Any talk of dollars is inaccurate and unfair. The reality is we've now got a decision from James and we can review our entire salary cap position. We can do one of two things — one is hold tight and promote from within or we can look outside. Whether that's in 2015 or beyond is a decision that still has to be made. Obviously it's a decision that's still very raw and recent so there's meetings ongoing regarding how we handle that.
Are reports on James Tedesco's offer from Canberra accurate? — @MattBradley100
We don't talk about money. I've read so many figures about money in the past few days, who knows what is the truth and what is not. It's crazy.
In hindsight, could we have handled the James Tedesco contract situation better? Do you think he's a marquee player? — @sds079
A. I think we had a pretty open and transparent conversation with his manager over a number of weeks and months. Could we have done things better? Of course. Is he a marquee player? Well, Canberra obviously think he is a marquee player. We already have two marquee players and they're both playing in State of Origin. Unfortunately, the way that the cap is structured, you can only have so many players on certain tiers of money.
Q. Why didn't we re-sign James Tedesco? Was it because of cap problems or that we didn't want to pay overs? Was it because of both? — @TeddyMan398
A. We wanted to re-sign Teddy [James Tedesco]. We made a very, very, strong and competitive offer and unfortunately he didn't stay with us. Fortunately for him, he's obviously got an outstanding opportunity. We wish him well.
Q. With James Tedesco leaving the Club next year, do we have now have money in the salary cap or are we still tight? — Jaleel Simpson
A. Things are always tight. People seem to think that players from one year to the next that are in your top 25 stay on the same money. All players' contracts are upgraded. So if you look at some of the players that we've signed in the last 12 months, they're not on the same money from one year to the next. The cap is really a constantly moving beast; players come and players go, so we've got to manage that on a year-by-year, month-by-month basis.

...on Recruitment and Retention
Q. Are we currently looking to sign anybody for 2014? — Angelo Elias
A. Yes, of course we are. No names as yet, but we'll let the Members know as soon as we possibly can.
Q. Have we got any more plans for English imports? — @OriginalKurt
A. We've always got people looking in England, but our clear preference is to sign and build on our young talent. We'll obviously look at good quality players.
Q. Are we signing another fullback or is Kurtis Rowe the focus? — Dave Mead
A. There's a number of players in our top 25 that can play fullback, and without putting any pressure on any one player, you can simply list guys like David Nofoaluma, Kurtis Rowe, Mitchell Moses – even Blake Austin. Pat Richards played there earlier in the year so there's five players that can play fullback. And each of them are at different stages of their career. That one is not up to the CEO to pick the side, that one is very clearly a coach's responsibility. I'm sure that the entire coaching staff will look after that in the next few weeks and months.
Q. Do we have any other marquee players arriving to the Club other than NYC or Junior players? — @HumptyDumpty68
A. We've got to look at that as part of our strategy. I know there's been a lot of constant rumbling from fans and Members regarding the lack of marquee signings at the Club. I've been vocal in saying that we have marquee players, but potentially the time's right to look outside the box. Whether that's 2015 or 2016 is a decision for us to make going forward. But there's no imminent announcement regarding that.

...on Home Grounds
Q. Is the reality of one home ground (such as ANZ Stadium) something which we will need to consider eventually? — @pete_dicko
A. Not in the short term, not at all. I think all the grounds we play at have a role to play. It's a matter of deciding on the right game for the right venue strategy.
Q. If we play more games at ANZ, would that lower membership prices? — Benjamin Latta
A. I don't really think you can get much lower for $50 for eight games of football. I really don't think we can go much lower than that. I think we're the cheapest membership package in the game so I think we've ticked the box there.
Q. Are there any plans to take games to the country or interstate? — @the_red_heifer
A. We're looking at that. The beauty of playing more games at ANZ – both on a home and away basis – is that it gives us flexibility. Ultimately, that will be a decision once the draw comes out, so that's more of an October/November answer.
Q. Why are we playing so many games on Sunday afternoons? — Christopher James Shannon
A. Well I think the suburban grounds have a strong history of showing that Sunday afternoon games are the most popular, particularly at Leichhardt. But ultimately, we don't decide when they're played on when they're played; it's more of a Channel 9 thing. So we've got to make sure that we work with the broadcasters and the NRL on that one. But again, that's not our choice; that's their choice.

...on Financial-related questions
Q. Are $10 tickets feasible for all matches, regardless of venue? — Garry Davis
A. No, not for all matches but stay tuned on that one. There's a bit of an innovative idea that we've come up with internally because of the Campbelltown game recently. Stay tuned, but for those that have been overseas and traveled on EasyJet or Ryan Air, the whole idea of modeling ticket prices based on availability or number of seats may happen here.
Q. Why is the price of the 2014 Main Jersey ($160) so high? Why are the main jerseys never in stock? — Aaron Thomas and Lucy Abeliuet
A. I think it's the standard across the game. The cost price for a jersey is in excess of $100, so it's just a margin thing. It's the sad reality. Why are they never in stock? Some manufacturers choose not to produce jerseys until all sponsors are on there. So I think the last 4-5 years, the club has struggled. I think you'll see that 2015, we'll have at least five jersey designs in market before Christmas.
Q. Are we close to announcing sleeve and kit sponsors for 2015? — @dcpchiu
A. Kit sponsor is done for next year and we'll be making an official announcement in the coming weeks.