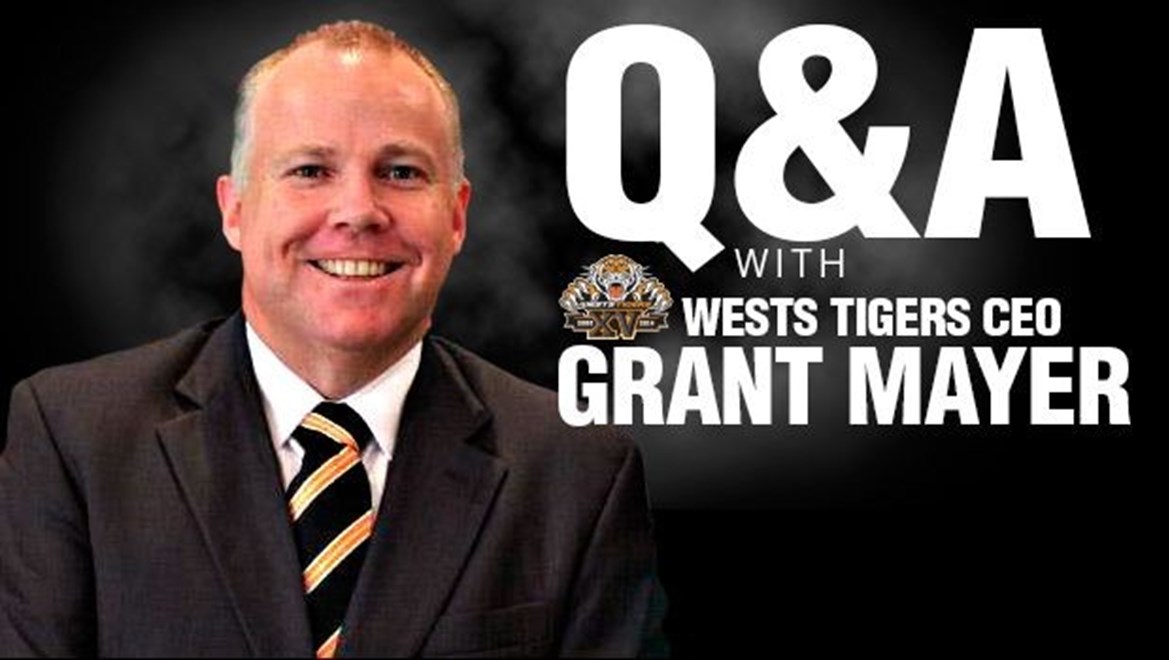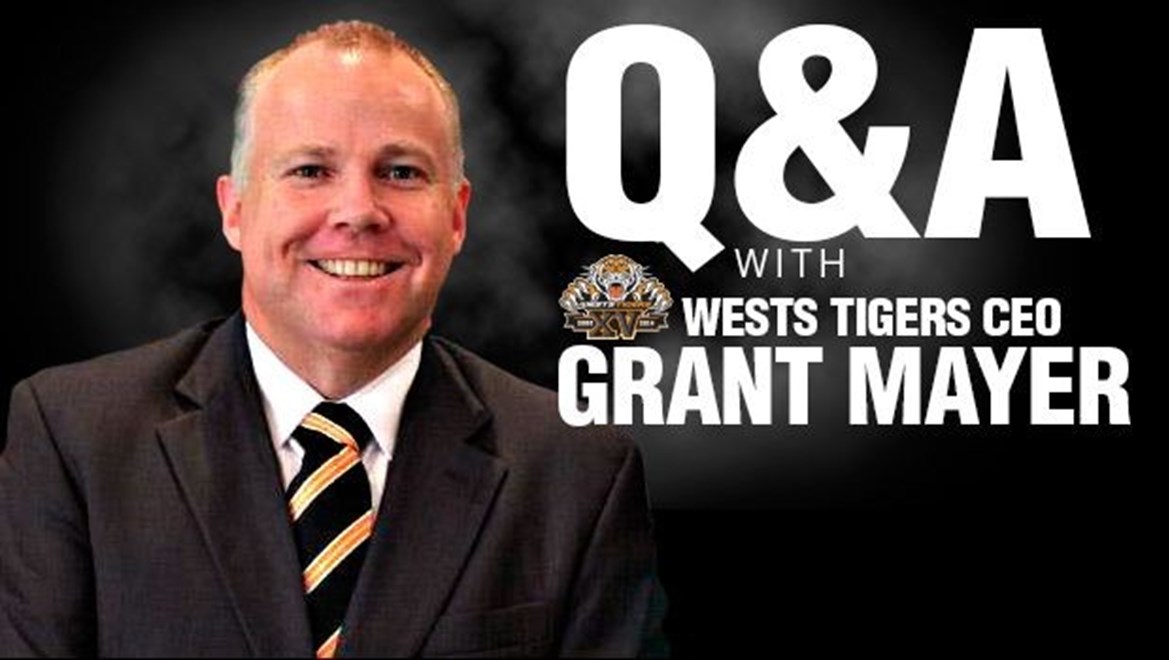 Wests Tigers asked fans and members to submit their questions on any topic for CEO Grant Mayer to answer. Here is the second part of his answers in this exclusive Q&A.
The first part of his answers were published on Wednesday, and can be found here.
Wests Tigers would like to publicly thank all fans and members for their support and their thoughtful questions to help sustain and grow the Club.
...on the new board and NRL
Can you tell me when the three NRL board members will be involved and what difference will this make to the Club? — @MagpieT7
I think the whole reason for governance reform is around independence. I think their knowledge and skill base will be exceptional for the club. The timing is still unknown but it's imminent. I'd say weeks not months.
Should Wests Tigers get financial reimbursement for developing players? — Jack Deen
Yes, there's a story in Wednesday's Sydney Morning Herald by Adrian Proszenko regarding my thoughts on development fees or development payments.
(Read the article in question online via the Sydney Morning Herald here).
...on the future of Wests Tigers
What is the short and long-term future on the new training facility for Wests Tigers? — @altimetr
We're doing an independent review of our facilities, resources and structure of football right now. I won't say who's doing it for us but I'm sure it'll come out in the press at some stage. The reality is that facilities are high on our list. We've done some work; we've got a number of quotes regarding project work and the NRL's well and truly across that. So we're very, very keen to make sure that we have a long-term training base.
What is the future of the Concord base? — @azsportza
Concord is our preferred site going forward, but we need some assurances from Council that this will be a site exclusively used by us. Stay tuned on that one.

...on Wests Tigers jerseys
Can the panels on the back of NYC/NSW Cup jerseys be changed? — Paul Duggan
Design flaw. We put our hand up there, it was a mistake. We need to move on, and will.
Will the 2014 Heritage Jersey be 2015 Away jersey? — @Benny_Storer
No, just this morning I've signed off on the jerseys for 2015 and I think there is something there for everyone. I've been very vocal about this; I'm not expecting anyone to buy all 25 items in our manufacturer's range. But there should be at least five items that appeal to everyone across the different types, so jersey, polo shirt, training kit and jacket etc. There will be something there for everyone.
...on Membership
Is the Club looking at producing interstate membership packages? — @Jaco_1979
Yep, something we're looking at for next year.
Why are there so many problems with Wests Tigers' membership team? — Jason Baldwin
We've had a number of membership issues this year. Some are our own design and we've apologised for that and some are from third parties. We accept the complete blame for all that and I have no doubt that we're working very hard with the NRL and our suppliers to ensure that we don't have the same issues for next year. Again, we apologise for that.

Other Questions
What is the situation with Tim Moltzen? — @HaydenRiley93
Tim has had some really tough times in regards to his knee injury. It's still ongoing now. There's further medical advice coming our way regarding Tim. It's been very difficult for him and we certainly feel for him. Retirement hasn't been talked about.
Were merchandise numbers up on Saturday too or just crowds? — Jason Baldwin
The Campbelltown game on Saturday night was our second biggest game in terms of merchandise sales this year. Exceptional numbers. I talk about an average of $1.50 per head for merchandise at any one game; this was well above that. So from a merchandise point of view, it was outstanding.
How do you handle Western Suburbs and Balmain fans? — Gary Anderson
It certainly has its challenges, no doubt about it. Most of the time it's enjoyable. I've been very vocal about the fact that we've got to be focused on the Wests Tigers. The Board understands that and they agree with that. But when you're talking about heritage and history you've got to be very careful about how you vocalise those thoughts.
Why do we have all the injuries? Is it medical staff? — Daryl Horiszny
We've actually got a new doctor on for this year and he's done an amazing job. A lot of the injury we have aren't soft-tissue — i.e. hamstrings and that — there's a lot of impact injuries and unfortunately, that's just the way of the game now. I don't think we got more than anyone else; I just think the number of injures at the same time is unusual and we've got to be careful with how we manage that.
Do we have a good coaching and support staff? What is their future? — Brendan Walkely
Our structure this year is quite a strong structure. Mick Potter, Andrew Webster, David Kidwell and Todd Payten — four key coaches. We've also got some specialist kicking coaches and forwards coaches in Steve Roach and Damien Hill so we think our coaching structure is quite solid. We've been certainly looking at that as our focus going forward.
Did you care about our round 11 loss, or only about the crowd figures? — Tony Martin
That's a really interesting question of an administrator. The day that I strap on the boots and play football will be the day that I have a genuine focus on the results. I cannot influence the results on the field. All I can do is focus on the efforts off the field regarding crowds. The crowd was exceptional; I need to make sure that we have sustainable crowds going forward for this club to grow. On field, I rely on Mick Potter and his team to do the job and of course the players.
Do you regret talking about a "last chance" for Campbelltown? — Bob Norris
I've publicly apologised for that. At the end of the day, I've had to try and create conversion points. Rugby league is all about emotion and I think, to be fair, we got the result that we were looking for, and we thank every Wests Tigers fan for coming out on Saturday night. This is not about South West and it's not about Inner West; this is about Wests Tigers fans supporting their club no matter what venue.
Can you rule out playing at ANZ Stadium on a full time basis? — Bob Norris
I don't think we'll play full-time at Homebush. I don't think anyone at the club has that desire in the short term at all. You just don't want to be going to games there when there are small crowds. We are blessed with suburban grounds and we should be using them as long as they are fit to be used
Do you think we give away home crowd advantage by having three home grounds? — Wayne Taylor
It's a really difficult one, the whole three home ground thing. I think seven or eight years ago when it first started, we were the first. Innovators. But every year, there's the debate about which ground is played at what venue. I think you've just got to trust us with what grounds and what venues are the most finically viable for the club. The reality is that we need to make sure we are financially sound otherwise you can have the best-supported State Cup side in the competition. Our job is to make sure that we are a highly supported and well supported NRL team.
What is the recruitment plan for the next two years? — Simon Abbott
Our recruitment plan is usually based upon what we currently have on our playing roster and what we have coming through in what positions. And then what you map out is what positions you are looking for. You either look in Australia at other clubs, or you look overseas. At the moment, our succession planning is quite strong. At the start of the year we re-signed players like Delouise Hoeter and Manaia Cherrington in key positions around positions at hooker and winger/fullback and we will continue to do that. Our strategy in the last four/five years has got us to this position. I think that if we continue to keep doing what we're doing, we've got to be pretty confident things will continue to happen.
Is the cap spent entirely on the current playing roster? If it isn't, then why? Is this why the club struggling fincancially? — Simon Abbott
We are spending the entire salary cap on our current squad. I've only been in this role for 12 months and there's obviously a number of players that renewed or signed before I got in the role, and they signed some long-term deals. That obviously has to be managed, and as I said, managing the cap is a full-time responsibility and it's very difficult and very emotional and very tough to understand. It's tough and I'd love to be open and transparent about the numbers but I can't. Are we struggling financially? I think it's been well documented that we've gone through a tough time but with the help of the NRL and our two stakeholders, we're getting stronger.
When will Mick Potter's future be decided? How long are David Kidwell and Todd Payten (Assistant Coaches) on contract for? — David Butler
David Kidwell's here for two years, so he's off in 2015. Todd Payten is at the end of his three-year commitment and obviously for us, the most important thing is confirming the appointment of our Head Coach. Mick's off contract and we're having discussions with his management about that. There's nothing to say on that now, but Mick has done everything he possibly can to get a position with the Club going forward. I'll leave that in the hands of his management and the Board.
Are we going to have $10 tickets for every game, every week? — Philip Wilson
It was a great promotion to celebrate 15 years. It's not here to stay. I think we can look to build something creative around that price point.