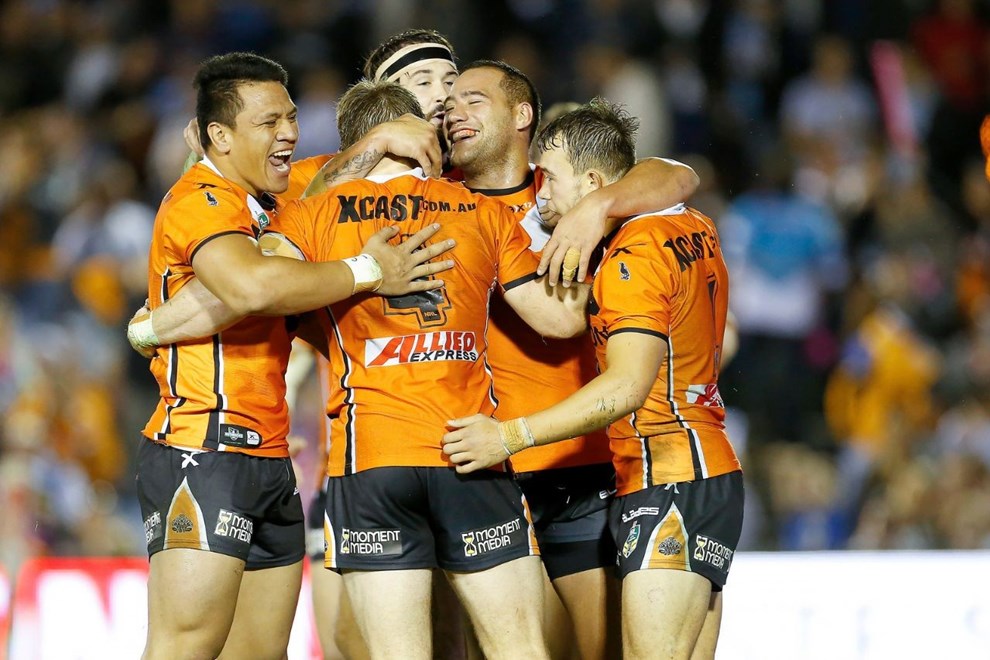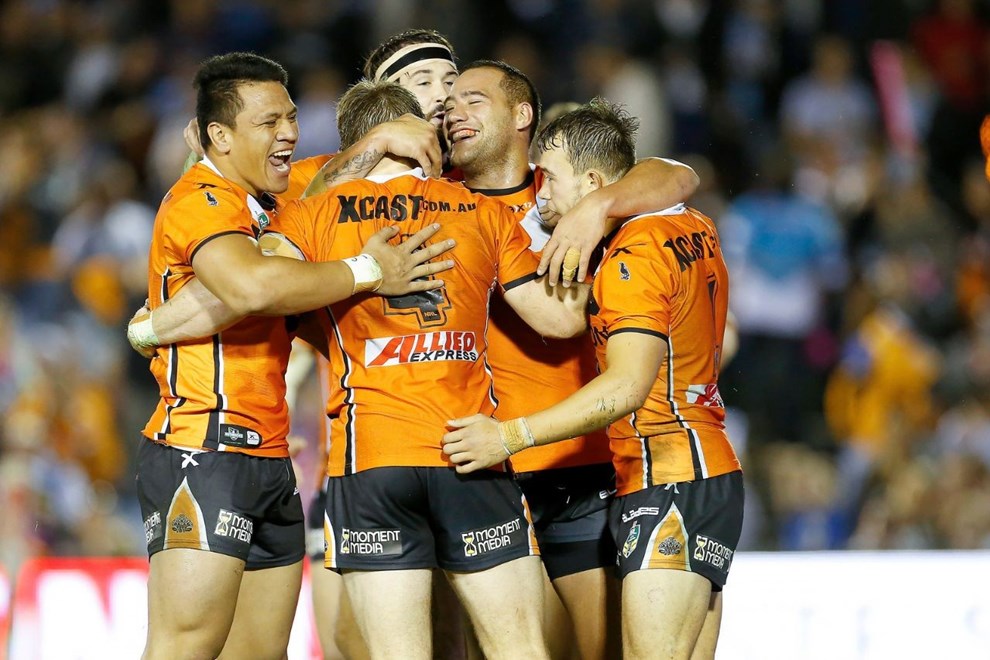 Have a look at how Wests Tigers as a team are faring statistically through the opening 13 games of the 2014 NRL Season and how they stack up against other Clubs.
Statistics provided via the National Rugby League and are correct as of Tuesday, June 17.
In case you missed it, check out our full player statistics through our first 13 games.

Wests Tigers Team Statistics
| | | | | |
| --- | --- | --- | --- | --- |
| | Total | Per Game | NRL Rank | Top NRL Team |
| Total Runs | 2,268 | 174.46 | 6th | Bulldogs (2,335) |
| Total Metres | 18,846 | 1,449.69 | 11th | Bulldogs (21,251) |
| Dummy Half Runs | 300 | 23.08 | 1st | Wests Tigers (300) |
| Errors | 147 | 11.31 | 8th (most) | Roosters (170) |
| Total Kicks | 266 | 20.47 | 2nd | Dragons (273) |
| Total Kick Metres | 6,302 | 484.77 | 15th | Knights (7,969) |
| Linebreaks | 47 | 3.61 | 10th | Roosters (82) |
| Total Tackles | 3,749 | 288.39 | 14th | Roosters (4,462) |
| Missed Tackles | 400 | 30.77 | 4th (most) | Titans (440) |
| Offloads | 136 | 10.47 | 5th | Titans (157) |
| Penalties For | 93 | 7.16 | 5th | Rabbitohs (118) |
| Penalties Against | 110 | 8.46 | 1st (most) | Wests Tigers (110) |
| Tackle Breaks | 373 | 22.70 | 4th | Rabbitohs (444) |
| Tries | 43 | 3.31 | 12th | Roosters (58) |
| Goals | 36 | 2.77 | 4th | Roosters (46) |
| Penalty Goals | 7 | 0.54 | 4th | Rabbitohs (9) |
| Field Goals | 3 | 0.23 | 2nd | Storm (4) |
| 40/20 Kicks | 1 | 0.08 | 6th | Several Clubs (2) |
Wests Tigers Teams: 2014 Summary
Wests Tigers NRL Summary (after 14 rounds):
Position — 8th (16 points)
Home Record — Played 5, Won 3, Lost 2
Away Record — Played 8, Won 4, Lost 4
Overall Record — Played 13, Won 7, Lost 6
Points For — 261 points (9th in NRL)
Points Against — 294 points (12th in NRL)
Points Differential — -33 (10th in NRL)
Wests Tigers NYC Summary (after 14 rounds):
Position — 5th (20 points)
Home Record — Played 5, Won 4, Lost 1
Away Record — Played 8, Won 5, Lost 3
Overall Record — Played 13, Won 9, Lost 4
Points For — 362 points (7th in NYC)
Points Against — 318 points (5th in NYC)
Points Differential — +44 (7th in NYC)
Wests Tigers NSW Cup Summary (after 15 rounds):
Position — 3rd (22 points)
Home Record — Played 4, Won 3, Lost 1
Away Record — Played 9, Won 6, Lost 3
Overall Record — Played 13, Won 9, Lost 4
Points For — 365 points (5th in NSW Cup)
Points Against — 262 points (1st in NSW Cup)
Points Differential — +103 (2nd in NSW Cup)