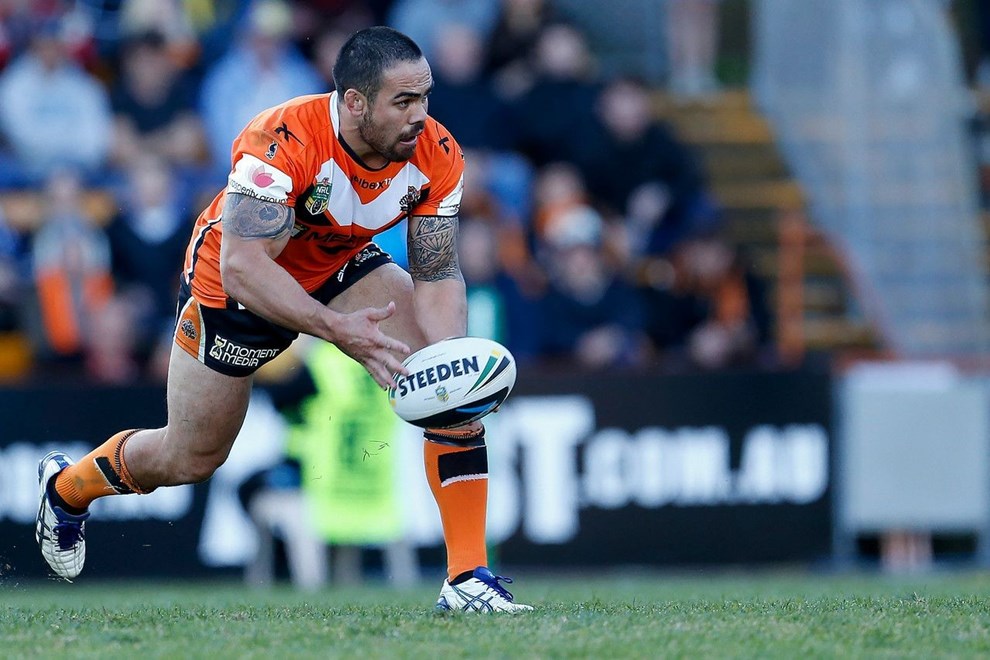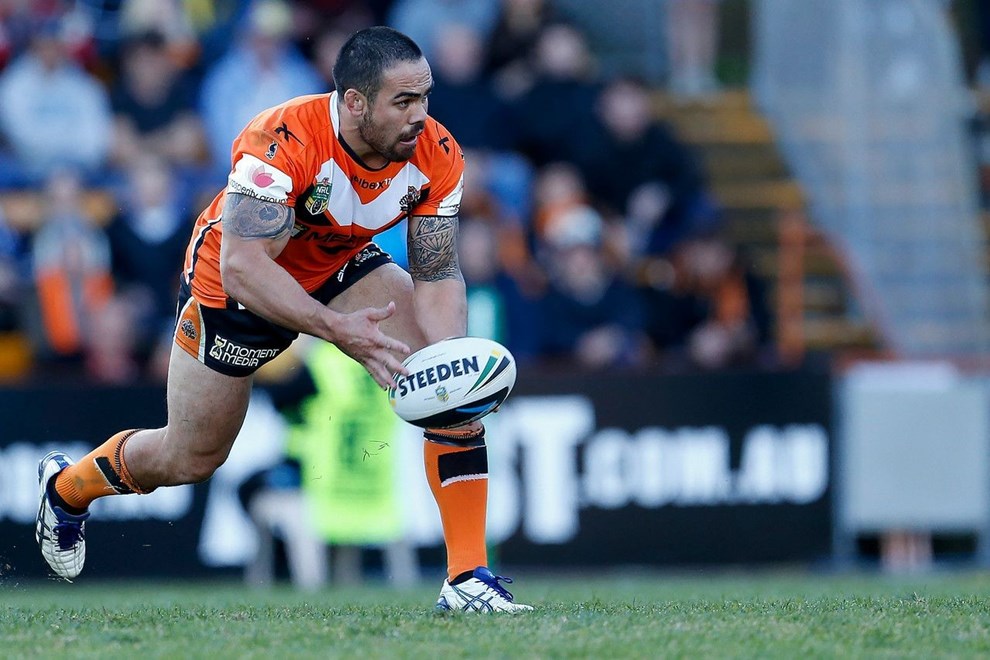 Dene Halatau will notch-up his 200th NRL match tomorrow night, a credit to the hard-working veteran utility who made his debut in the same match as current skipper Robbie Farah back in 2003.
During his 12 years in the top grade, Halatau has achieved notable feats such as winning the 2005 premiership, playing for his country and winning the 2008 World Cup.
Wests Tigers caught up with Halatau and looked back on the key moments in his career in a two-part feature article ahead of the clash with Manly Warringah.
What do you remember from your NRL debut?
(Wests Tigers v Manly Warringah – Round 13, 2003 at Leichhardt Oval)
Dene: "I remember the game pretty clearly, I was called in to the side the day before at Captain's Run because I think it was Chris Paterson who had an injury. He was a front rower and I was playing centres at the time; I got called into fill-in on the bench for him."
"I was obviously nervous ahead of my first NRL game. I was 20 years old at the time and plugging away in Reserve Grade. I remember on the way to the game I had to stop and go to the toilet a few times. It was a massive build-up; my family and friends were all at Leichhardt Oval for the match.
"I ended up playing just the last three minutes of the game. It was against Manly actually, I remember tackling Steve Menzies, who I have a lot of respect for. He was one my favourite players when I was younger and I ended up tackling him, which was a highlight of my first game – the whole three minutes of it."
How much has the game changed since 2003?
Dene: "The game has changed dramatically since my debut. I think Rugby League was probably starting to change in 2003. Players were becoming a bit more scrutinized for the professionalism of the game. Obviously it had been a professional sport for a long time before that, but going on drink straight after a game was becoming less and less. There was more of a focus on recovery and doing all of those things right."
"Mostly, the intensity and speed of the game has changed a lot. Back then, everyone was obviously in good shape to be playing first grade but there were also a lot of guys that were just genuine footballers amongst the squad. Now, pretty much all 25 players are athletes. Guys start training a lot younger, so they come into grade in their late teens rather than early 20s.
"The young players now are all in top shape, we saw Matt Lodge debut for us on the weekend. He is 19-years-old but is built like a 30-year-old who has been chopping down trees for the last 15 years. Everyone is physically trying to get that bit extra from a younger age now."
What do you remember from your International debut for New Zealand?
Dene: "Debuting for the Kiwis was a pretty special moment for me. The first official Test match I played in was on a tour in 2004 against France in Carcassonne."
"I got put in the side as a hooker and I had never played that position before. We had a trial match beforehand on the tour and I ended up playing dummy-half because there was no one else. The next match (against France), there I was playing hooker.
"After that game, I played against England in the third match of the Tri-Nations tournament. The Wests Tigers actually flew my Mum and Dad over for the game. They literally got off the plane, dropped their stuff off at the hotel and caught a train to the match. They arrived 10 minutes before kick-off. It was pretty last minute and when they got there it was a special moment singing the national anthem and seeing my Mum and Dad standing on the sideline. One of the highlights of my career for sure."
What do you remember from the 2005 Grand Final victory over North Queensland?
Dene: "It was an amazing night, to say the least. I wasn't all that happy with my game to be honest. I though I had a good finals series and I was happy with the way I played right up until the Grand Final. I don't think it was a bad performance but I just thought I could have had more of an involvement."
"There were a couple of points in that match where I thought it could have turned if not for, I think it was Paul Bowman, throwing the ball in his in-goal to give us that first try. If not for that, it could have been a different story because we were on the back foot for a bit.
"Benji's kick return and flick pass to Patty was something that probably dented their confidence a little bit and really gave us the momentum to go on with it. I remember at the end of the game when Toddy (Payten) scored that last try I was so drained because I knew we had won it. I ran up to congratulate him and I was just going off my head; going bonkers. After that it took me a good five minutes to settle down, my heart was racing that fast. I knew we had just won the premiership and I was so excited that I could barely breathe. That's one thing that sticks out to me, it dead set took me five minutes to regather myself after the game had finished.
"Obviously walking the lap of honour with the boys was special, we had all become really tight that year. Blokes like Mark O'Neill, Ben Galea, Todd Payten and John Skandalis who had played for a long time, said to the rest of us – who were just kids - that it doesn't come along that easily. We should be thankful that at young ages we had achieved a premiership. It was a really good time."
Tell us about your four seasons with the Canterbury Bulldogs (2010-13):
Dene: "I had a really good time at the Bulldogs. A very good Club that's run really well. They are very well supported by a lot people and have very passionate fans."
"I got made to feel very welcome as soon as I got there. It was a big thing for me to leave the Wests Tigers when I did because I had been at the Club for 10 years. I felt like I was part of the fabric at the Wests Tigers and decided that I needed a change from a footy point of view. I think I had gone a little bit stale and wanted to challenge myself and start fresh somewhere else.
"The first couple of years there were a bit patchy, I had an injury in the first year and I think I only played six games. After that I really settled in and enjoyed it. In 2012 I was fortunate enough to be part of that team right up until Round 20, I got injured again and missed out on the Grand Final, but it was still really good to be part of that team with Des (Hasler) in his first year. He was a really good coach and it was a great team with a good feeling about the joint. Not too different to what we went through in 2005."
Living his dream as an NRL player:
Dene: "Getting to train and play footy for a living is unreal. That's all I have done for 12 years with good guys everywhere I have been."
"I'm fortunate that every team I have played in I have got along with all the guys and I really enjoyed getting out on the field with them."
The second part of the Q&A with Halatau will be on weststigers.com.au tomorrow.