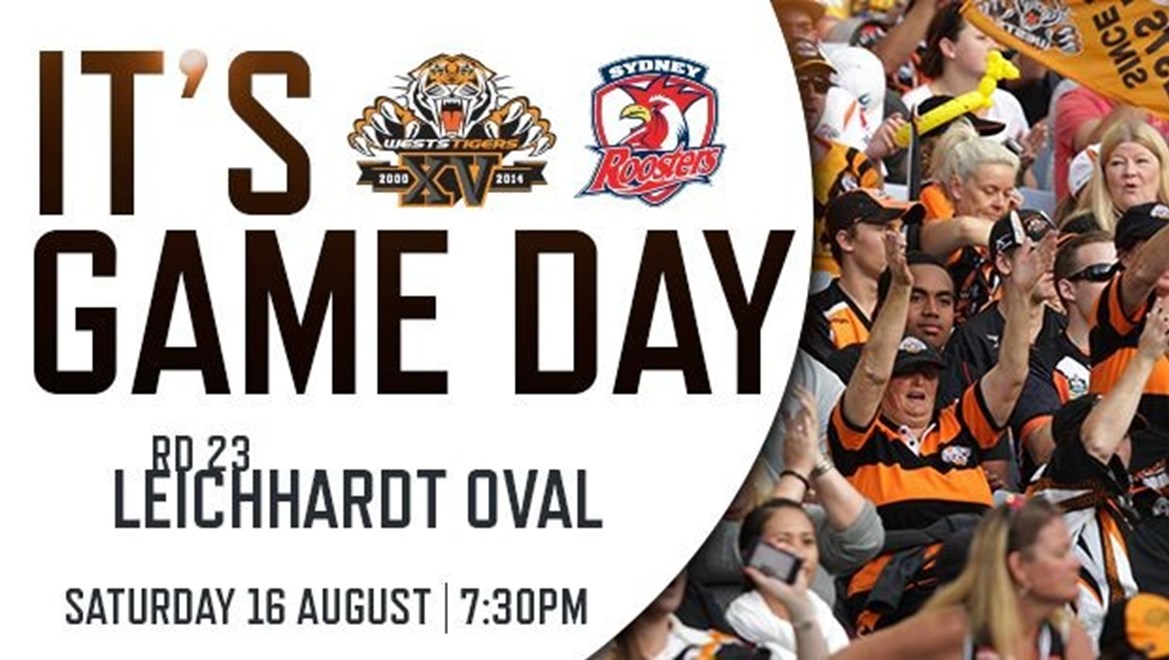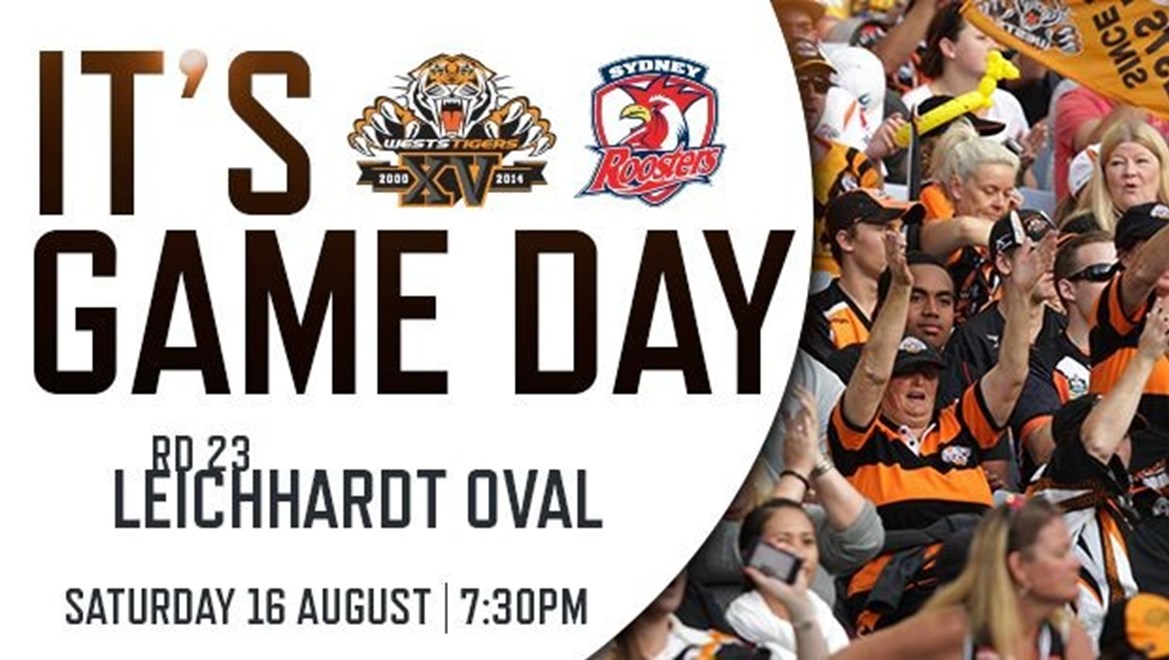 Wests Tigers will take on the Sydney Roosters today in their Round 23 clash at Leichhardt Oval, in a do-or-die match to keep their 2014 finals hopes alive.
Having suffered a 30-6 defeat to the Sydney Roosters when the two teams met in Round 9, Wests Tigers will be keen to bounce back with a strong performance this week, and also erase a tough last start defeat to the North Queensland Cowboys in Townsville.
Robbie Farah will lead the side out tonight despite struggling with sickness throughout the week, and will no doubt be determined to snare the two points on offer.
Chris Lawrence will also play his 150th first-grade match — all for Wests Tigers.
Wests Tigers encourage all fans and Members to get to the ground and support the boys against the defending premiers as they seek to keep their finals hopes alive.
Check out all the key Match Day Information, travel details and more below.
Round 23 — Match Day Details
Game Day Program
3:00pm — Gates Open
3:15pm — NSW Cup, Wests Tigers vs. Illawarra Cutters
5:15pm — NYC, Wests Tigers vs. Sydney Roosters
7:30pm — NRL, Wests Tigers vs. Sydney Roosters
Venue Details and Information
Venue — Leichhardt Oval
Location — Mary Street, Leichhardt, NSW, 2040
Contact — (02) 9367 9222 or email leichhardt@lmc.nsw.gov.au
Match Day Entertainment
To help celebrate the "Close the Gap" Round, Wests Tigers have provided plenty of match day entertainment ahead of their NRL kickoff at 7:30pm.
Pre-NRL Kickoff
PCYC Nation of Origin match (on-field)
Wests Tigers Cheer Squad
Welcome to Country & Indigenous Dance performance
KARI flag bearers and ball run-on
Chris Lawrence's 150th game run-through banner

Half-Time
KARI X-Factor Singer
2XU Junior Relay Final
Tickets and Membership
Tickets are available for purchase on the day, but Wests Tigers urge those coming to the ground to pre-purchase their tickets and avoid the queues.
Click here to purchase your tickets to today's clash with the Sydney Roosters!
Originally listed as an ANZ Stadium home game, Wests Tigers members will have different seating and access for this Leichhardt Oval game depending on their membership package. All members have received notification from the Club regarding the changes, but for those unsure, full details have been posted on the website and social media.
Click here to see what your membership package entitles you to for today's game!
Travel and Parking Information
Getting to the Game: By Car
Wests Tigers strongly advise against driving to the ground where possible. Parking at the ground is very limited, which could lead to delays and inconveniences.
Getting to the Game: By Light Rail
Light Rail is a good option for fans making their way to the ground, with the Lillyfield stop within walking distance of Leichhardt Oval.
Check 131 500 for all times, routes and stops on the day.
Getting to the Game: By Bus

Several bus routes operate between Central Station and Leichhardt Oval, although there are no direct bus stops outside Leichhardt Oval or Mary Street.
Routes M10, 470 and 440 all stop within the vicinity of Leichhardt Oval, with a 10-15 minute walk to the ground common in most cases.
Again, check 131 500 for all times, routes and stops on the day.
Exclusive UBER Offer for Wests Tigers Fans
UBER have a special offer in place for Wests Tigers fans, with $20 off their first ride! Click here for full details on how you could save, and arrive to the ground in style!
Other Game Day Details
Post-Match
There will be no "Take to the Turf" or function following the match due to limited recovery time for Thursday's Round 24 clash with the Canterbury-Bankstown Bulldogs.
Wests Tigers Social Media
Follow Wests Tigers on Twitter and Instagram for all breaking news, team news and behind-the-scenes content as it happens at Leichhardt Oval on Saturday night!
Win Ultimate Round 26 Match Day Experience
Wests Tigers are offering Members and fans the opportunity to win an Ultimate Match Day Experience for their Round 26 clash against the Cronulla Sharks.
To win, simply "Check In" at weststigers.in and fill out the form with your details, and you'll be in the running for this money-can't-buy experience!
Click here for more details on the experience and how you can win!