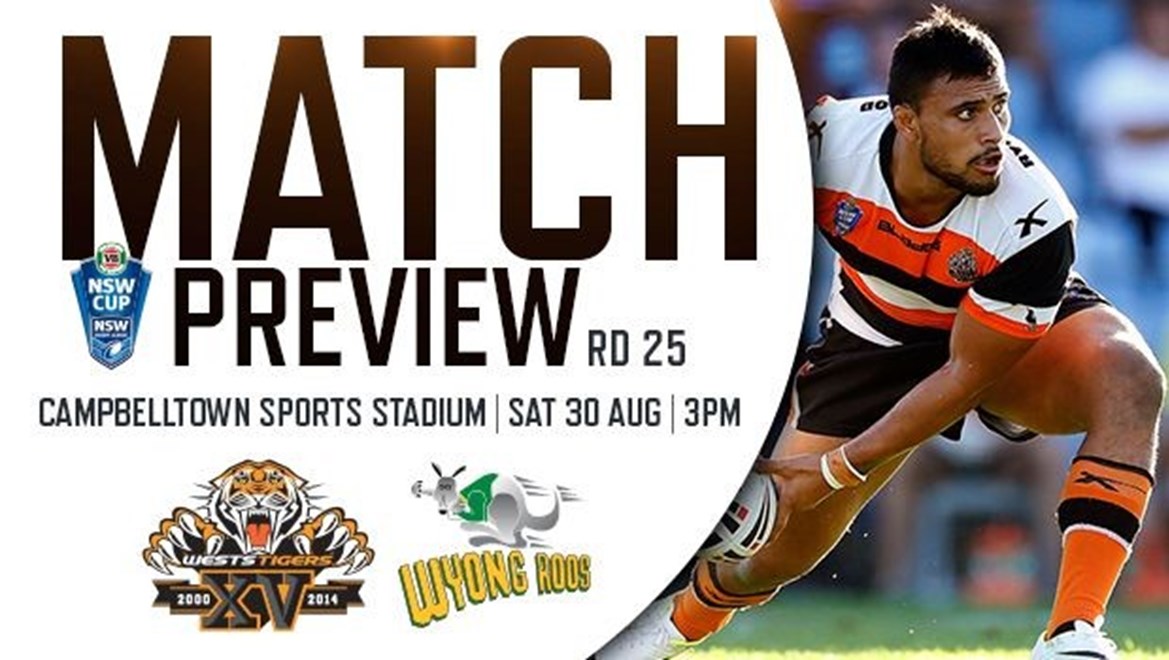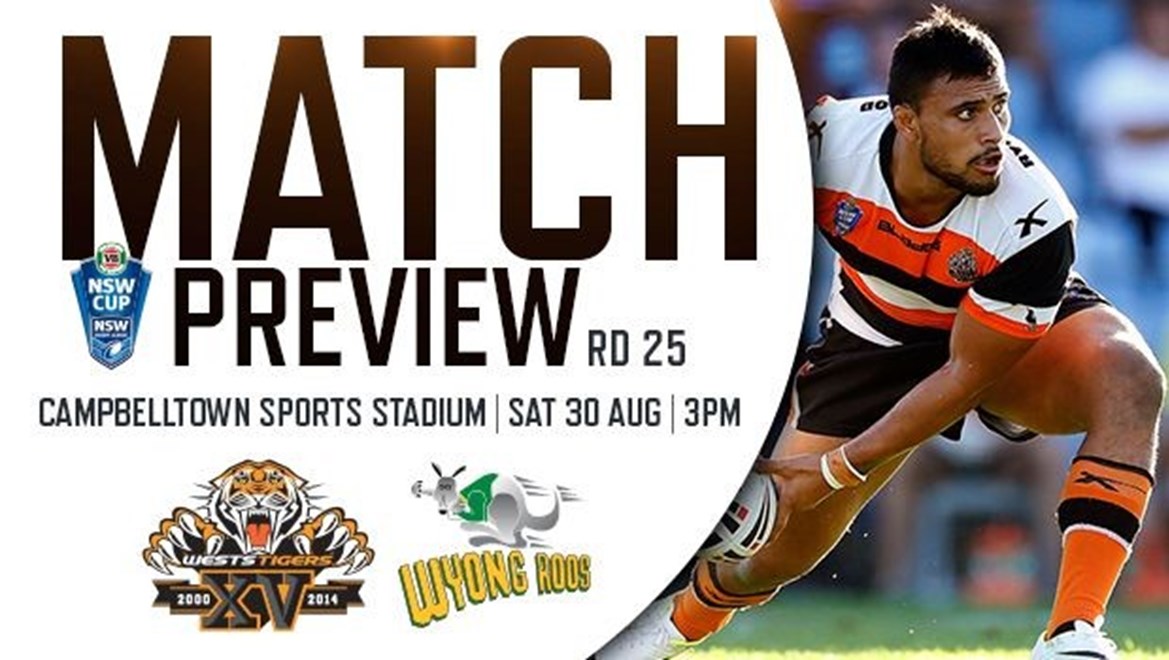 Wests Tigers will look to secure a top-four finish on Saturday afternoon when they take on the Wyong Roos in their final match of the 2014 regular season.
A last start defeat to the Wentworthville Magpies has left this week's hosts on the edge of a top four finish, but they'll need the two points on offer this weekend in order to secure an all-important second chance spot in the finals.
With Wyong on the cusp of the top eight and fighting to extend their 2014 season into the finals, it's shaping as a fascinating clash this Saturday afternoon.
Read on for a full match preview including team news, stats and much more.
Match Details
Date — Saturday, August 30
Time — 3:00pm
Venue — Campbelltown Sports Stadium, Campbelltown
Radio — Live coverage via 2GLF FM 89.3
Coverage — Click here to follow Wests Tigers on Twitter for all live scores
Match Officials
Referee — Liam Nicholls
Touch Judges — Richard Daizli and Michael Laverty
Click here to secure your seat for our final home game of the year against the Cronulla Sharks at Leichhardt Oval on September 6.
Confirmed Squads
| | | |
| --- | --- | --- |
| Wests Tigers | | Wyong Roos |
| Kurtis Rowe | 1 | Mark Kheirallah |
| John Sila | 2 | Dale Clacherty |
| Asipeli Fine | 3 | Jay Florimo |
| Corey Brown | 4 | Shaune Corrigan |
| Setefano Taukafa | 5 | Damon Goolagong |
| Jarred Farlow | 6 | Jono Ford |
| Michael Stevens | 7 | Brock Molan |
| Andy Fiagatusa | 8 | Mark O'Meley |
| Joel Luani | 9 | Mitch Williams |
| James Gavet | 10 | Magnus Stromquist |
| Brenden Santi | 11 | Leivaha Pulu |
| Kyle Lovett | 12 | Tekina Vailea |
| Inno Inosesio | 13 | Zane Tetevano |
| Nathan Brown | 14 | Eloni Vunakece |
| Michael Bullock | 15 | Shaun Boss |
| Sonny Bristow | 16 | Sam Bernstrom |
| Sam Hollis | 17 | Alex Langbridge |
| Luke Williams | 18 | |
| Andrew Vela | 19 | |
| Jack Madden | 20 | |
Last Five Matches
Wests Tigers
R20 — Wests Tigers 30 def. North Sydney Bears 22
R21 — Newtown Jets 30 def. Wests Tigers 14
R22 — Wests Tigers 28 def. New Zealand Warriors 22
R23 — Wests Tigers 24 def. Illawarra Cutters 16
R24 — Wentworthville Magpies 44 def. Wests Tigers 6
Wyong Roos
R20 — Newcastle Knights 22 def. Wyong Roos 12
R21 — Wyong Roos 30 def. Wentworthville Magpies 22
R22 — Wyong Roos 40 def. Canterbury-Bankstown Bulldogs 18
R23 — Wyong Roos 26 def. Cronulla Sharks 8
R24 — Wyong Roos 40 def. Illawarra Cutters 26
Last Time They Met
Round 3, 2014 — Wests Tigers 28 def. Wyong Roos 18
A back-and-forth first half was finally broken open by Wyong hooker Mitch Williams in the 25th minute, before Wests Tigers stormed back with tries to Corey Brown and Kurtis Rowe to take a 10-6 lead into half-time. A second-half double to Ben Murdoch-Masila as well as a darting run to Blake Austin saw the visitors push their lead out to 28-6, before late consolation tries to Darren Nicholls and Brock Molan saw Wyong pull the scoreline back to 28-18 at Morry Breen Oval.
Coach's Comment
"We've got to improve on our error rate and discipline. Last week we spoke about not going error-for-error but we did it far too many times to count. We need to have an emphasis on defending our errors well and not giving away penalties that cause back-to-back sets. We've got to get into the grind and not be the first to crack. Wyong are a much-improved team and they've got some damaging players. They're playing like they just want to win, and they need to win this week to make the eight. It'd be a big feather in their cap to make the eight so we've got to be more desperate than them…" (Paul Fletcher, NSW Cup Coach)
Key Matchup — Joel Luani vs. Mitch Williams
A regular in the Roos' team all season, Mitch Williams looms as the big threat for Wests Tigers to handle this week, and his battle with hooker Joel Luani will go a long way in deciding the match. No other player has touched the ball more in NSW Cup this year than Williams (1551 receipts), with Luani coming in at third in that department (1338). Unsurprisingly, the Wyong hooker also ranks highly in tackles made this season, with his 790 tackles good for the fourth most in the competition. Luani is an accomplished defender and has led Wests Tigers in tackles for the past few matches since his NRL call-up, so there's no doubting his ability to match Williams in defence.
The biggest question (and key point on the day) centres on the attacking potency of both players. Williams loves to dummy close to the line and has a strong kicking game from dummy half — an aspect that he probably leads Luani in. However, having said that, the Five Dock junior has drifted into halfback close to the line a number of times this year with great success, and it'll be interesting to see how Fletcher opts to use the ever-improving hooker this weekend against a strong No. 9 in Williams. Errors and discipline will still likely be the deciding factor in terms of a winner on the day, but there's no doubt that the battle between Williams and Luani will be the most fascinating to watch unfold.
Team Stats
| | | |
| --- | --- | --- |
| | Wests Tigers | Wyong Roos |
| Position | 4th (32 points) | 8th (28 points) |
| Points For | 605 points (6th) | 480 points (11th) |
| Points Against | 534 points (5th) | 540 points (6th) |
| Points Differential | +71 points (6th) | -60 points (10th) |
| Last Five Games | Won 3, Lost 2, Drawn 0 | Won 4, Lost 1, Drawn 0 |