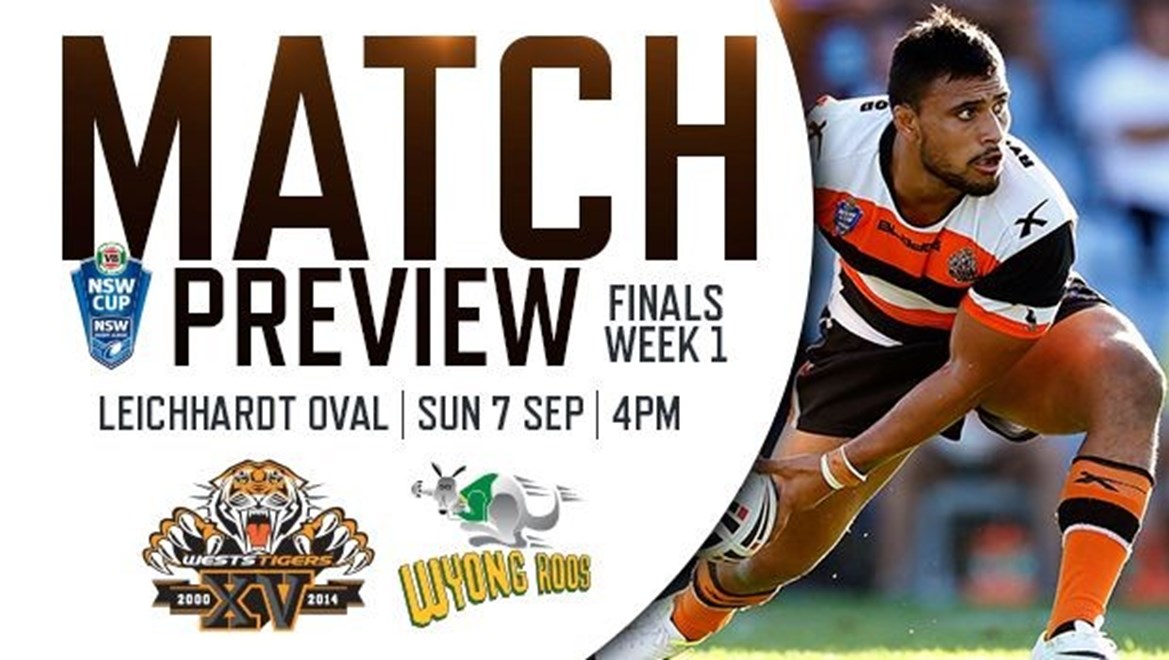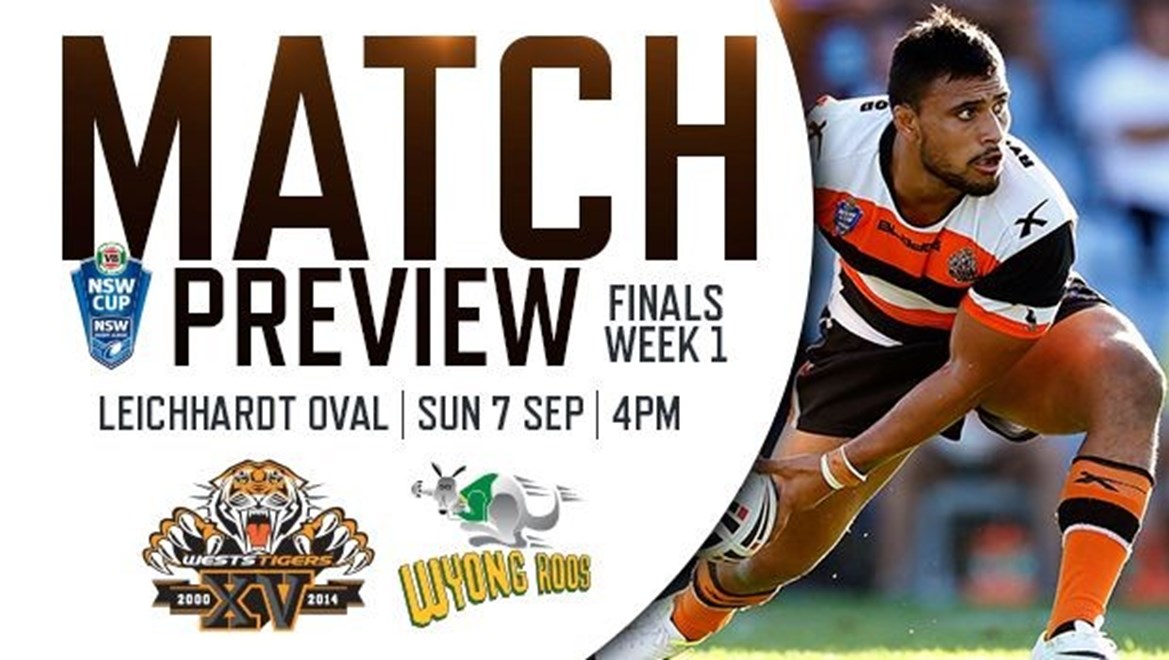 Wests Tigers will look to bounce back from a last start defeat when they take on the Wyong Roos in their elimination semifinal this Sunday at Leichhardt Oval.
Paul Fletcher's side let slip a chance to end the year with a top-four finish when they went down 26-16 to the Roos in their final match of the regular season, and will need to bounce back with a win if they are to keep their hopes at a premiership alive. They'll be boosted by the fact they're playing at Leichhardt Oval and will have the likes of Brenden Santi back for selection, but there's no hiding the fact that the once table-toppers will need to improve their discipline and ball control if they're to get the points this week.
The Roos will be thrilled just to have made the finals this year, and now have nothing to lose as they take on the Wests Tigers again this week. Mitch Williams was the chief architect in a shock victory away from home last week, and he looms again as the biggest threat that Wests Tigers will need to contain on Sunday afternoon.
There's nothing better than semifinal football — especially when it's a do-or-die clash between two tough teams like this one — so read on for a full preview of this week's match including all the key details, live stream information, team news and more.
Match Details
Date — Sunday, September 7
Time — 4:00pm (Gates Open at 12:00pm)
Venue — Leichhardt Oval, Sydney
Click here to secure your seat for our final home game of the year against the Cronulla Sharks at Leichhardt Oval on September 6.
Broadcast Details
Twitter — Click here to follow Wests Tigers on Twitter for live scores/commentary
Radio — Live coverage via Steele Sports, 2GLF FM 89.3 (check local guides)
Live Stream — Click here to watch a live stream of the match (via NSWRL)
Match Officials
Referee — Adam Cassidy
Touch Judges — Jay Farlow and Jason Higgins
Confirmed Squads
| | | |
| --- | --- | --- |
| Wests Tigers | | Wyong Roos |
| Kurtis Rowe | 1 | Mark Kheirallah |
| John Sila | 2 | Dale Clacherty |
| Kyle Lovett | 3 | Jay Florimo |
| Corey Brown | 4 | Shaune Corrigan |
| Setefano Taukafa | 5 | Damon Goolagong |
| Jack Madden | 6 | Jono Ford |
| Michael Stevens | 7 | Brock Molan |
| Jack Buchanan | 8 | Mark O'Meley |
| Joel Luani | 9 | Mitch Williams |
| James Gavet | 10 | Magnus Stromquist |
| Brenden Santi | 11 | Bennett Leslie |
| Jarred Farlow (capt.) | 12 | Tekina Vailea |
| Inno Inosesio | 13 | Zane Tetevano |
| Nathan Brown | 14 | Eloni Vunakece |
| Michael Bullock | 15 | Shaun Boss |
| Andy Fiagatusa | 16 | Sam Bernstrom |
| Sonny Bristow | 17 | Alex Langbridge |
| Sam Hollis | 18 | |
Last Five Matches
Wests Tigers
R21 — Newtown Jets 30 def. Wests Tigers 14
R22 — Wests Tigers 28 def. New Zealand Warriors 22
R23 — Wests Tigers 24 def. Illawarra Cutters 16
R24 — Wentworthville Magpies 44 def. Wests Tigers 6
R25 — Wyong Roos 26 def. Wests Tigers 16
Wyong Roos
R21 — Wyong Roos 30 def. Wentworthville Magpies 22
R22 — Wyong Roos 40 def. Canterbury-Bankstown Bulldogs 18
R23 — Wyong Roos 26 def. Cronulla Sharks 8
R24 — Wyong Roos 40 def. Illawarra Cutters 26
R25 — Wyong Roos 26 def. Wests Tigers 16
When They Met: 2014
R3 — Wests Tigers 28 def. Wyong Roos 18
R25 — Wyong Roos 26 def. Wests Tigers 16
Coach's Comment
"I don't think we have to change much this week. The boys seem in really good spirits after we put last week's game to bed, and they're excited about finals footy now. Everyone's looking forward to making amends for last week and I guess, not letting themselves down again. Last week the boys didn't play at the level they wanted [so] it's a good chance for redemption this week…" (Paul Fletcher, NSW Cup Head Coach)
Key Player Stats
· Mitch Williams ranks first in the league for total receipts (1652)
· Joel Luani ranks third in the league for total receipts (1429)
· Magnus Stromquist ranks first in the league for runs (383)
· Magnus Stromquist ranks first in the league for run metres (3434)
· Brock Molan ranks fifth in the league for run metres (2458)
· Setefano Taukafa ranks sixth in the league for tackle breaks (69)
· Mitch Williams ranks third in the league for tackles (829)
Team Stats
| | | |
| --- | --- | --- |
| | Wests Tigers | Wyong Roos |
| Position | 32 points (6th) | 30 points (7th) |
| Points For | 621 points (7th) | 506 points (11th) |
| Points Against | 560 points (6th) | 556 points (5th) |
| Points Differential | +61 (5th) | -50 (9th) |
| Last Five Games | Won 2, Lost 3, Drawn 0 | Won 5, Lost 0, Drawn 0 |