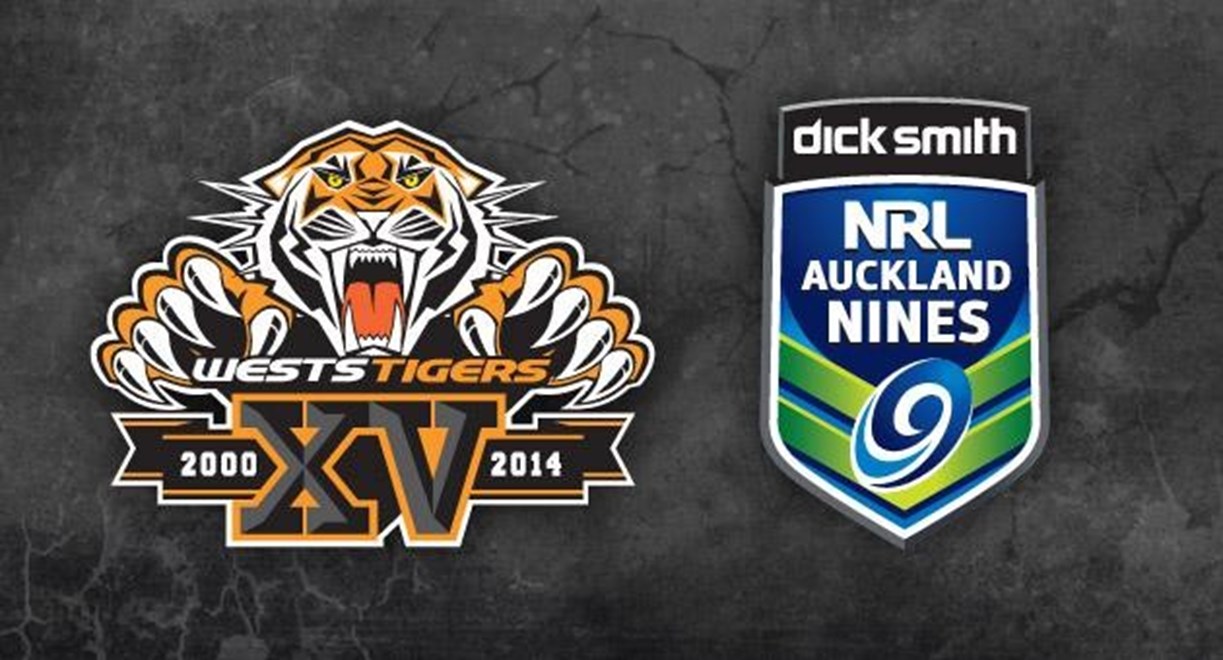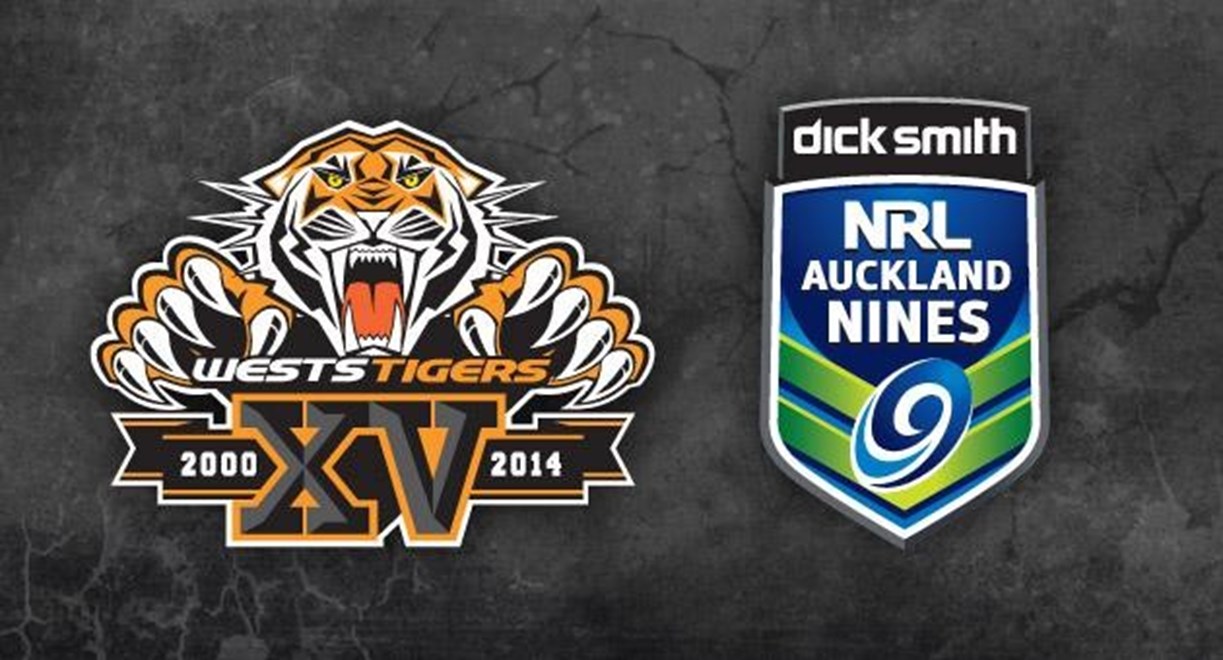 The NRL have today confirmed the dates and pool groups for the 2015 Auckland Nines, to be played at Eden Park, Auckland on January 31 and February 1.
Wests Tigers have been drawn in Pool Hunua, along with the Canberra Raiders, 2014 Nines opponents Gold Coast Titans and the hosts, New Zealand Warriors.
Full details on the tournament schedule will be confirmed at a later date.
In the 2014 Auckland Nines, Wests Tigers were drawn in Pool Blue along with the Cronulla Sharks, Newcastle Knights and Gold Coast Titans, but were unable to qualify from the pool stage — winning one of their three matches to finish fourth in the pool.
The North Queensland Cowboys eventually won the 2014 tournament, with nearly 90,000 fans watching the competition live over the two days.
Check out the confirmed pools for the 2015 Auckland Nines below.
Unite. Commit. Achieve. Register your interest for a 2015 membership package here!
2015 Auckland Nines: Pools
Pool Rangitoto

Parramatta Eels

Manly-Warringah Sea Eagles

Newcastle Knights

St. George-Illawarra Dragons

Pool Waiheke

Melbourne Storm

North Queensland Cowboys

Penrith Panthers

South Sydney Rabbitohs

Pool Phia

Sydney Roosters

Brisbane Broncos

Canterbury-Bankstown Bulldogs

Cronulla Sharks

Pool Hunua

Wests Tigers

New Zealand Warriors

Canberra Raiders

Gold Coast Titans
2015 Auckland Nines: Draw
Saturday, January 31
Game 1 — Parramatta Eels vs. Manly-Warringah Sea Eagles (Time TBC)
Game 2 — Newcastle Knights vs. St. George-Illawarra Dragons
Game 3 — Melbourne Storm vs. North Queensland Cowboys
Game 4 — Penrith Panthers vs. South Sydney Rabbitohs
Game 5 — Wests Tigers vs. Canberra Raiders
Game 6 — Gold Coast Titans vs. New Zealand Warriors
Game 7 — Sydney Roosters vs. Brisbane Broncos
Game 8 — Canterbury-Bankstown Bulldogs vs. Cronulla Sharks
W1 — New Zealand vs. Australia, Women's Game 1
Game 9 — Parramatta Eels vs. Newcastle Knights
Game 10 — Manly-Warringah Sea Eagles vs. St. George-Illawarra Dragons
Game 11 — Melbourne Storm vs. Penrith Panthers
Game 12 — North Queensland Cowboys vs. South Sydney Rabbitohs
Game 13 — Wests Tigers vs. Gold Coast Titans
Game 14 — Canberra Raiders vs. New Zealand Warriors
Game 15 — Sydney Roosters vs. Canterbury-Bankstown Bulldpgs
Game 16 — Brisbane Broncos vs. Cronulla Sharks
Sunday, February 1
Game 17 — Parramatta Eels vs. St. George-Illawarra Dragons
Game 18 — Manly-Warringah Sea Eagles vs. Newcastle Knights
Game 19 — Melbourne Storm vs. South Sydney Rabbitohs
Game 20 — North Queensland Cowboys vs. Penrith Panthers
Game 21 — Wests Tigers vs. New Zealand Warriors
Game 22 — Canberra Raiders vs. Gold Coast Titans
Game 23 — Sydney Roosters vs. Cronulla Sharks
Game 24 — Brisbane Broncos vs. Canterbury-Bankstown Bulldogs
Game 25 — 1st Quarter Final
Game 26 — 2nd Quarter Final
Game 27 — 3rd Quarter Final
Game 28 — 4th Quarter Final
W2 — New Zealand vs. Australia, Women's Game 2
Game 29 — 1st Semi Final
Game 30 — 2nd Semi Final
W3 — New Zealand vs. Australia, Women's Game 3
Game 31 — Tournament Final