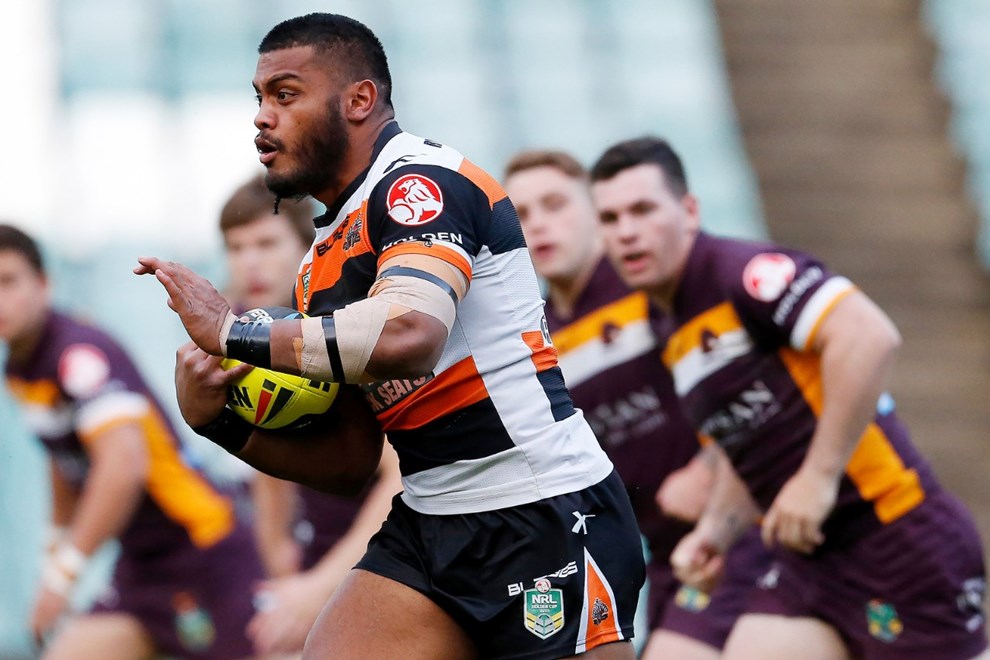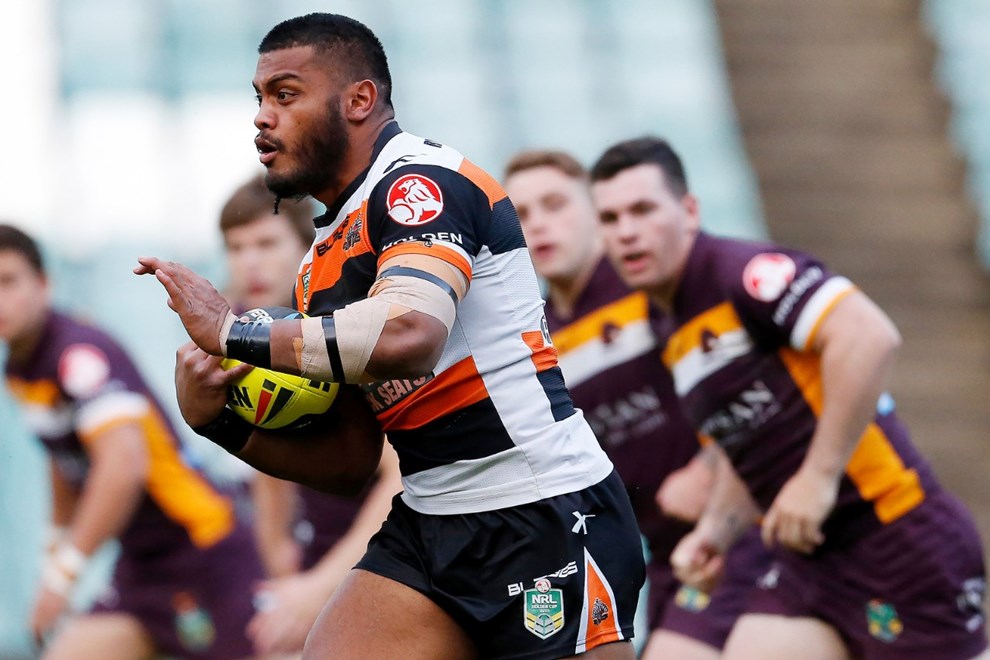 Five Wests Tigers' Holden Cup players in 2014 will be part of the full-time extended NRL squad in 2015 as they continue to build towards their first-grade debut.
Over the past few days, Wests Tigers have previewed the next generation of talent coming into the ranks of the full-time NRL squad next season.
Check out the links below for the previous feature articles and player profiles.

* * * * *

Flying under the radar somewhat in 2014, Wests Tigers second rower Salesi Funaki will be keen to make a statement in 2015 as he makes the transition into the full-time squad.
Despite playing as a 19-year-old, Funaki quickly cemented himself a spot in the Club's NYC team on the right edge, and continued to grow into his position as the season progressed. His powerful running, strong offloading skills and ability to create an overlap allowed the likes of Delouise Hoeter and John Tohi to finish the season with strong try-scoring totals, and he'll no doubt be looking to continue that form in 2015.
NYC Assistant Coach Balin Cupples couldn't praise Funaki enough for his development on the field, but also his growth in maturity and understanding off it.
"The thing with Salesi," he said, "is that this is his first year of playing under-20's. Because he's been in the 20's for a couple of years now, people kind of underestimate how much he's done over the past few years and how good this kid is going to be.
"Physically, he still has a lot of growing to do — despite being a big boy already — and he works extremely hard with all facets of his training. His skill level is also a great asset of his game; his catch-pass is up there with some halfbacks in the game and his ability to beat defenders, break through the line, and find quick play-the-balls is really strong.
"He's someone that, in the correct system, will thrive and become something special at the NRL level. He's only 19 so he's got another year of 20's development ahead of him, but going into that full-time squad with the discipline and responsibility and maturity and discipline needed to do that, that will really progress him along.
"He's had small steps in his maturity to grow as a person and a player, but being in that full-time professional environment, he could really turn some heads next year.
A Holy Cross Rhinos junior along with the likes of Curtis Sironen, Mitchell Moses and Luke Brooks, Funaki is still eligible for NYC Holden Cup in 2015 despite carrying a full-time training load. His growth and development towards an eventual first-grade debut will no doubt be a fascinating storyline to watch next year, but the 19-year-old is simply looking to enjoy his football and take it literally, one game at a time.
"To be honest, I can't look much beyond pre-season at the moment," admitted Funaki.
"I really enjoyed the year with our Holden Cup boys and I'm excited to take the field again with them next year. I'm not really thinking about moving up or playing NRL or anything just yet; just wanting to get back into it and work hard for the team.
"We've got a great bunch of guys here at the Club — some really talented guys too — and I'm just excited to be a part of that going forward in 2015."

* * * * *

As Wests Tigers have profiled this week, Funaki will be joined by Manaia Cherrington, Delouise Hoeter, Dallas Graham and Nathan Milone in the extended full-time squad in 2015. Matthew Lodge and Mitchell Moses — both who were in the Club's NYC program before making their NRL debut in Round 17 — will continue their full-time training in the extended squad also.
Player Profile: Salesi Funaki
D.O.B. — 24th January, 1995
Position — Second Row
Junior Clubs — Holy Cross Rhinos
Rep. Honours — N/A
Previous "Five for the Future" Profiles
Part I — Manaia Cherrington (click here to read)
Part II — Delouise Hoeter (click here to read)
Part III — Nathan Milone (click here to read)
Part IV — Dallas Graham (click here to read)