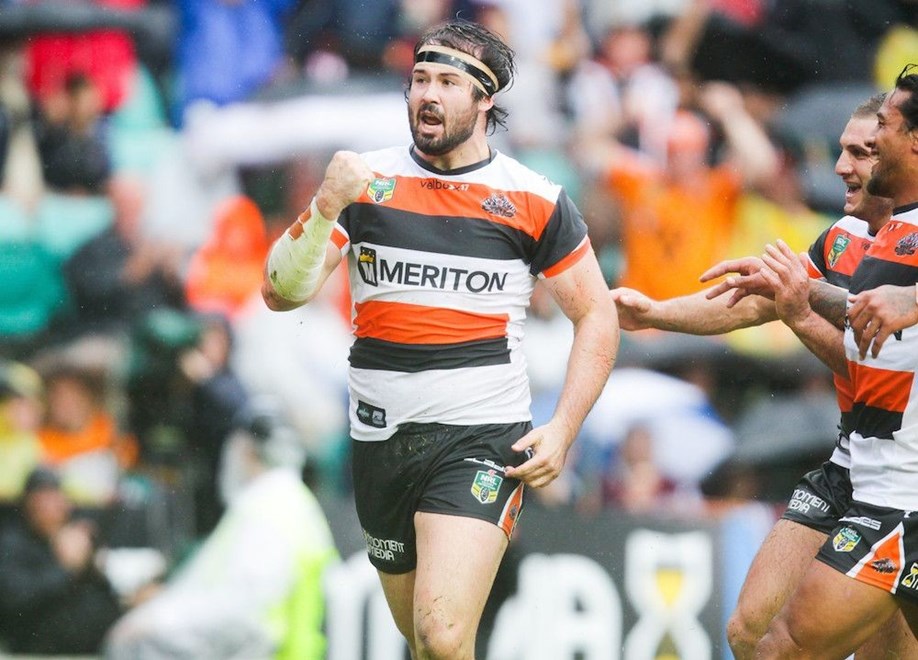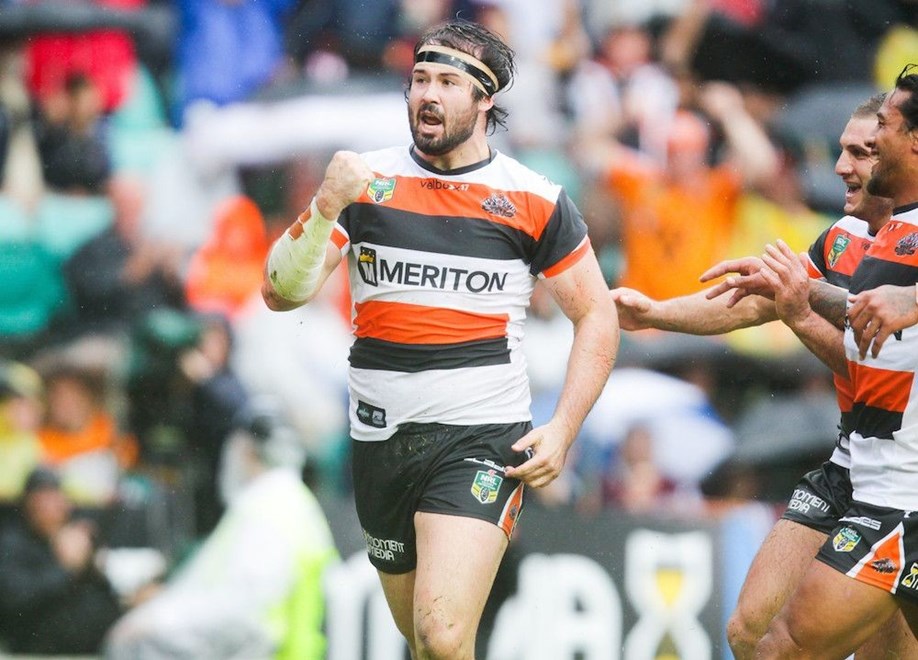 Aaron Woods signed a new deal with the Club at the start of 2014, and quickly showed why expectations on the young prop are so high with a stellar fourth season in the NRL.
Playing 21 games in the season, Woods ended the year as the Club's top metre-eater and a stalwart in the middle of the field. The 23-year-old registered more than 100 metres on the ground and at least 19 tackles in all bar two matches, and while he might not have tasted the success he desired with Wests Tigers in 2014, still finished the season with some joy as he featured in New South Wales' State of Origin series victory.
Woods' strong year saw him voted by his peers as the 2014 Player's Player of the Year, and is in the running for a Test debut with the Australian train-on squad.
Unite. Commit. Achieve. Register your interest for a 2015 membership package here!
2014 Facts & Figures
| | | | | | |
| --- | --- | --- | --- | --- | --- |
| Games | Tries | Assists | Points | Metres | Tackles |
| 21 | 4 | 0 | 16 | 2732 | 656 |
Top Try — Round 24 vs. Canterbury-Bankstown Bulldogs
It might have been the final play of the game, but it was one that showed how determined Woods is when he takes the field — diving on a kick into the in goal from Robbie Farah to spectacularly plant the ball down inside the dead-ball line.
Best Match — Round 13 vs. Newcastle Knights
With a torrid injury toll amongst forwards on the day, Woods stepped up in a big way against the Knights in Round 13. The prop forward played an unusually high amount of minutes, and it showed in his numbers from the day, with Woods chalking up 157 metres from 17 runs, four offloads, one linebreak and 32 tackles.
Magic Moment — Round 5 vs. Manly-Warringah Sea Eagles
Already leading comfortably on the scoreboard, Woods turned on the Leichhardt charm when he crossed for his first four-pointer at his "local" home ground. It might have only been a short ball from Farah to crash over next to the posts, but that didn't matter to the powerful forward, who celebrated wildly with the rain-soaked fans on the day.
Year in Numbers
| | | | | | | | | | | |
| --- | --- | --- | --- | --- | --- | --- | --- | --- | --- | --- |
| | Opponent | T | AR | ARM | LB | HU | OL | TK | MT | E |
| R1 | Dragons | 0 | 14 | 113 | 0 | 9 | 1 | 41 | 0 | 1 |
| R2 | Titans | 0 | 18 | 173 | 0 | 15 | 2 | 19 | 2 | 0 |
| R3 | Rabbitohs | 0 | 17 | 138 | 0 | 12 | 0 | 29 | 3 | 0 |
| R4 | Warriors | 0 | 20 | 167 | 0 | 12 | 2 | 21 | 1 | 0 |
| R5 | Sea Eagles | 1 | 20 | 144 | 1 | 13 | 2 | 29 | 1 | 2 |
| R6 | Cowboys | 0 | 18 | 172 | 0 | 16 | 3 | 34 | 1 | 0 |
| R7 | Eels | 0 | 12 | 104 | 0 | 9 | 4 | 37 | 2 | 0 |
| R8 | Titans | 0 | 15 | 132 | 0 | 12 | 0 | 49 | 1 | 0 |
| R9 | Roosters | 0 | 14 | 108 | 0 | 12 | 2 | 30 | 0 | 0 |
| R10 | Sharks | 0 | 16 | 129 | 0 | 11 | 3 | 35 | 2 | 0 |
| R13 | Knights | 0 | 17 | 157 | 1 | 13 | 4 | 32 | 2 | 0 |
| R16 | Raiders | 0 | 18 | 141 | 0 | 16 | 0 | 30 | 2 | 2 |
| R18 | Sea Eagles | 0 | 14 | 124 | 0 | 13 | 3 | 37 | 0 | 1 |
| R19 | Bulldogs | 1 | 12 | 102 | 1 | 12 | 3 | 21 | 0 | 0 |
| R20 | Dragons | 0 | 18 | 144 | 0 | 17 | 2 | 26 | 1 | 1 |
| R21 | Storm | 0 | 12 | 104 | 0 | 11 | 3 | 25 | 1 | 1 |
| R22 | Cowboys | 1 | 7 | 63 | 1 | 7 | 1 | 36 | 2 | 0 |
| R23 | Roosters | 0 | 9 | 62 | 0 | 8 | 0 | 22 | 3 | 0 |
| R24 | Bulldogs | 1 | 15 | 155 | 0 | 14 | 0 | 45 | 1 | 2 |
| R25 | Raiders | 0 | 12 | 122 | 0 | 10 | 1 | 33 | 5 | 1 |
| R26 | Sharks | 0 | 15 | 169 | 0 | 13 | 0 | 25 | 0 | 1 |