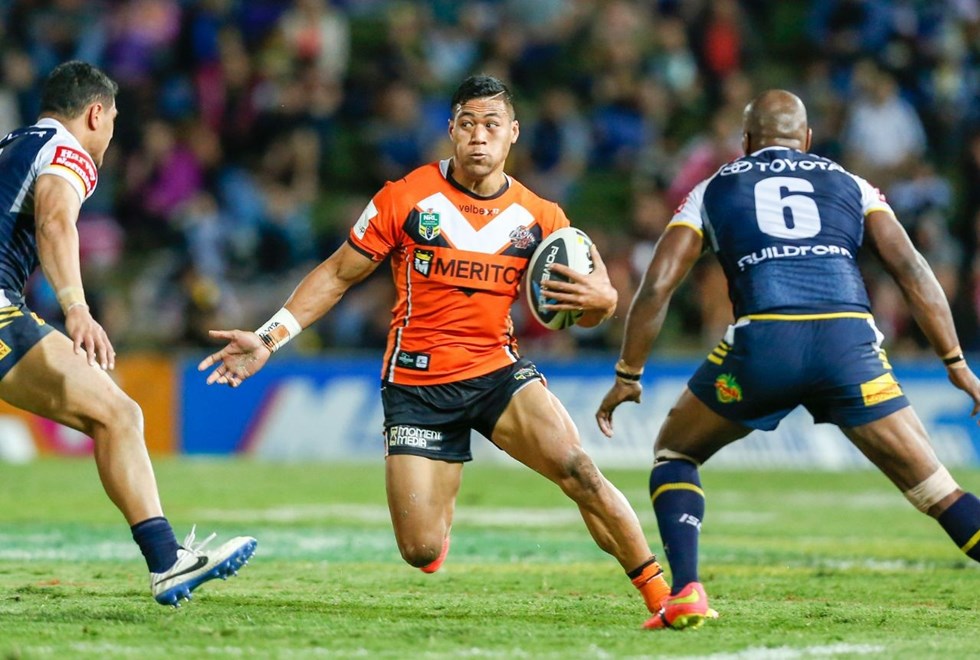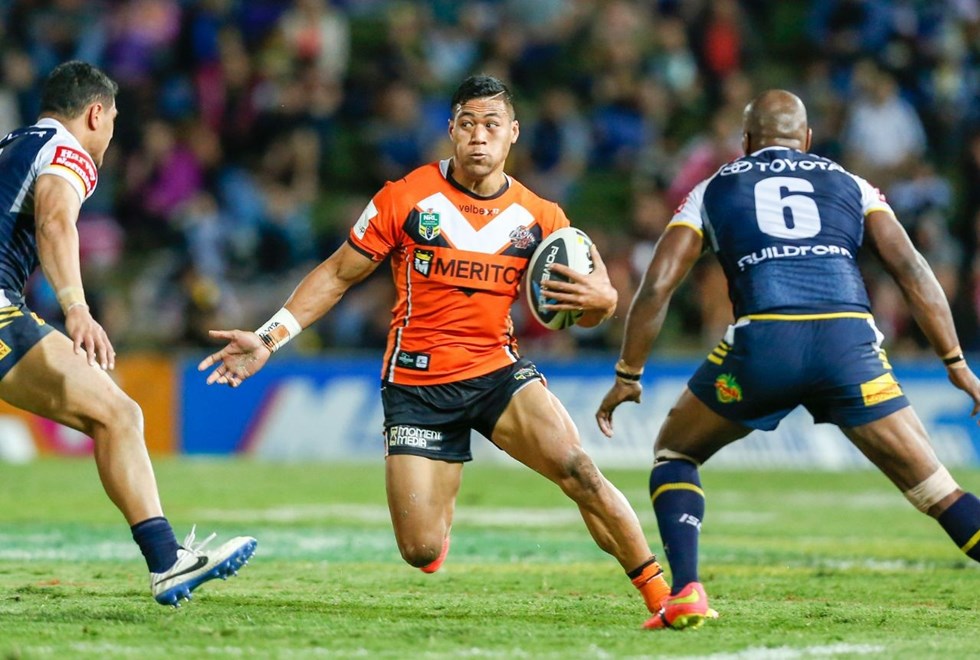 After a breakout 2013 season that saw him finish as the Club's top try-scorer, Tim Simona continued to build his reputation and potential with a strong 2014.
Although hampered by injury throughout the year, Simona still played an instrumental part in Wests Tigers' 2014 campaign, with his early season success reflected in the strong performances of his side, with the Club winning eight of the first 11 games that the outside back featured in. Simona would finish the year with three tries to his name, and averaged close to 100m per game as he featured on both the left and right edge.
After missing the opening two games of the year due to off-season surgery, Simona returned in Round 3 and played every game bar one (due to suspension) up until the Club's Round 16 clash against the Canberra Raiders. There he suffered a nasty concussion and dislodged teeth — returning in Round 19 for four consecutive games — before suffering a knee injury in Round 22 against the North Queensland Cowboys.
Simona was rewarded for his strong performances in 2014 with selection in the final Toa Samoa squad for the upcoming Four Nations tournament.
Unite. Commit. Achieve. Register your interest for a 2015 membership package here!
2014 Facts & Figures
| | | | | | |
| --- | --- | --- | --- | --- | --- |
| Games | Tries | Assists | Points | Metres | Tackles |
| 14 | 3 | - | 12 | 1328 | 128 |
Top Try — Round 8 vs. Gold Coast Titans
Trailing 16-0 at the break and needing a lift, a deflected Blake Austin kick just after half-time gave Simona the chance to bounce on an attempted clearance from Kevin Gordon, with the centre showing great speed and awareness to follow the ball down field before diving to plant it down inside the dead-ball line.
Best Match — Round 16 vs. North Queensland Cowboys
In addition to his two linebreaks — one of which we'll get to in a minute — Simona showed just how damaging he can be against the Cowboys as he racked up 199 metres on the ground from 15 runs, paving the way for a 16-4 victory for the Club.
Magic Moment — Round 6 vs. North Queensland Cowboys
After an errant kick from Robert Lui ran dead in goal, Simona turned on the after-burners and raced his way to the 20m line, before stepping three players in quick succession and accelerating downfield. The centre was eventually stopped by Antonio Winterstein about 30m from the Cowboys line as he tracked back to cover the angled run, but it was no less of a magical moment from the elusive outside back.


Year in Numbers
| | | | | | | | | | |
| --- | --- | --- | --- | --- | --- | --- | --- | --- | --- |
| | Opponent | T | AR | ARM | LB | OL | TK | MT | E |
| R3 | Rabbitohs | 2 | 10 | 82 | 2 | 0 | 8 | 0 | 1 |
| R5 | Sea Eagles | 0 | 13 | 86 | 0 | 0 | 11 | 1 | 1 |
| R6 | Cowboys | 0 | 15 | 199 | 2 | 3 | 2 | 0 | 2 |
| R7 | Eels | 0 | 10 | 99 | 0 | 1 | 11 | 3 | 0 |
| R8 | Titans | 1 | 9 | 61 | 0 | 0 | 11 | 0 | 1 |
| R10 | Sharks | 0 | 7 | 88 | 0 | 1 | 11 | 3 | 1 |
| R11 | Broncos | 0 | 12 | 83 | 0 | 1 | 14 | 2 | 0 |
| R13 | Knights | 0 | 13 | 125 | 1 | 0 | 9 | 1 | 1 |
| R14 | Rabbitohs | 0 | 11 | 75 | 0 | 0 | 6 | 3 | 2 |
| R16 | Raiders | 0 | 3 | 26 | 0 | 1 | 2 | 0 | 0 |
| R19 | Bulldogs | 0 | 15 | 125 | 0 | 0 | 8 | 0 | 1 |
| R20 | Dragons | 0 | 16 | 140 | 0 | 2 | 17 | 3 | 2 |
| R21 | Storm | 0 | 6 | 51 | 0 | 0 | 10 | 0 | 0 |
| R22 | Cowboys | 0 | 9 | 82 | 0 | 1 | 8 | 5 | 0 |