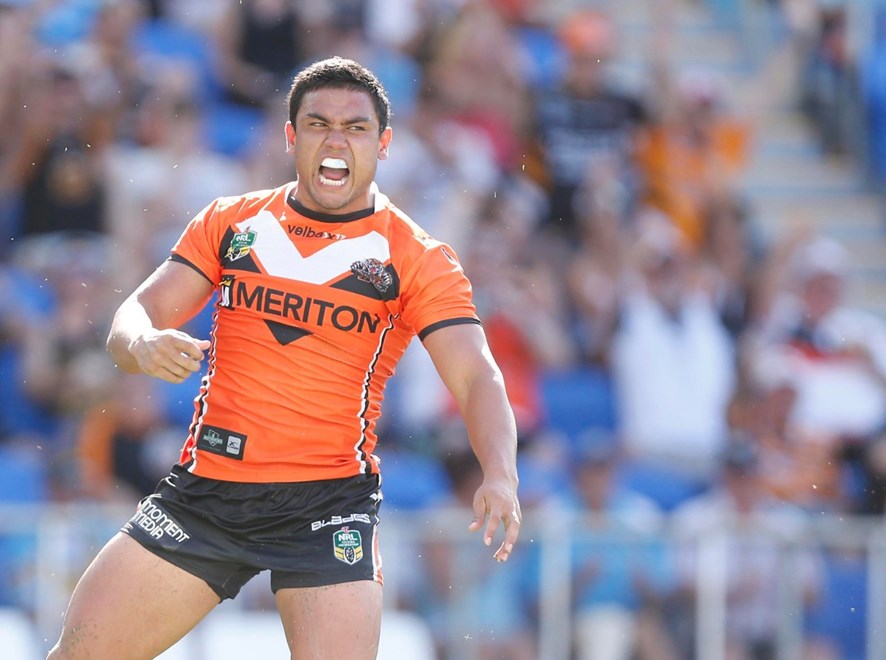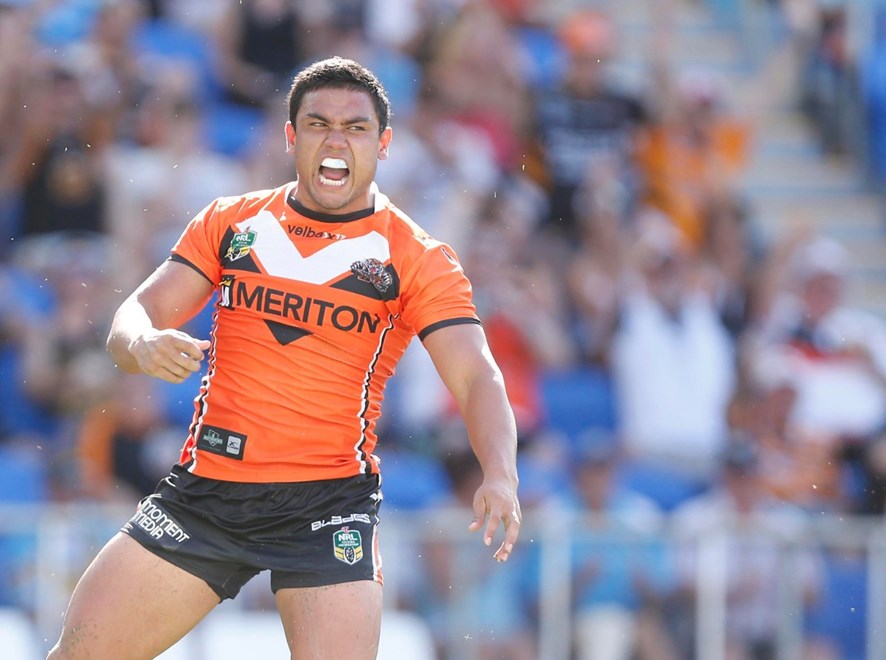 Coming into 2014 with just a handful of games in first-grade next to his name, David Nofoaluma continued to soar out on the right wing with a number of impressive performances that confirmed his billing as one of the top young wingers in the game.
There was no Dally M Try of the Year like 2013, but Nofoaluma still showcased his attacking potency and strength near the try-line as he ranked second in the league for tackle busts until he was forced to have surgery on a troublesome ACL.
Nofoaluama missed the Club's opening game of the year before returning in spectacular fashion against the Gold Coast Titans in Round 2 — playing every game for the Club after that date until he succumb to his knee injury in Round 18 against the Sea Eagles.
The winger ended the year as the Club's second highest try-scorer with seven tries.
Unite. Commit. Achieve. Register your interest for a 2015 membership package here!
2014 Facts & Figures
| | | | | | |
| --- | --- | --- | --- | --- | --- |
| Games | Tries | Assists | Points | Metres | Tackles |
| 15 | 7 | 0 | 28 | 1729 | 87 |
Top Try — Round 2 vs. Gold Coast Titans
Called into the side as a late inclusion, Nofoaluma showed why his services are so welcomed on the right wing with a blistering display of acceleration and power off a scrum move that saw him shrug off four defenders before planting the ball down next to the posts for his first four-pointer of the 2014 season.
Best Match — Round 16 vs. Canberra Raiders
Nofoaluma ended the night with two tries and could nearly have had three just before half-time, but it was his tireless work-rate that impressed most against the Raiders. With James Tedesco stretchered off after just a few seconds of play, Nofoaluma powered his way to 149 metres on the ground from 15 runs — adding a linebreak as well.
Year in Numbers
| | | | | | | | | | |
| --- | --- | --- | --- | --- | --- | --- | --- | --- | --- |
| | Opponent | T | AR | ARM | LB | OL | TK | MT | E |
| R2 | Titans | 1 | 15 | 129m | 1 | 0 | 5 | 1 | 3 |
| R3 | Rabbitohs | 0 | 11 | 102m | 0 | 0 | 12 | 5 | 0 |
| R4 | Warriors | 0 | 10 | 88m | 0 | 0 | 4 | 2 | 1 |
| R5 | Sea Eagles | 2 | 12 | 88m | 2 | 1 | 8 | 4 | 1 |
| R6 | Cowboys | 0 | 14 | 152m | 1 | 0 | 3 | 0 | 1 |
| R7 | Eels | 0 | 15 | 130m | 0 | 1 | 5 | 3 | 0 |
| R8 | Titans | 0 | 10 | 71m | 0 | 2 | 6 | 1 | 0 |
| R9 | Roosters | 0 | 12 | 75m | 0 | 0 | 4 | 1 | 1 |
| R10 | Sharks | 1 | 16 | 145m | 2 | 1 | 3 | 0 | 0 |
| R11 | Broncos | 0 | 16 | 109m | 0 | 0 | 8 | 0 | 3 |
| R13 | Knights | 0 | 16 | 140m | 1 | 1 | 5 | 1 | 0 |
| R14 | Rabbitohs | 0 | 9 | 86m | 0 | 0 | 7 | 1 | 0 |
| R16 | Raiders | 2 | 15 | 149m | 1 | 1 | 4 | 0 | 0 |
| R17 | Panthers | 0 | 13 | 114m | 0 | 0 | 7 | 2 | 0 |
| R18 | Sea Eagles | 1 | 12 | 146m | 2 | 0 | 6 | 2 | 1 |