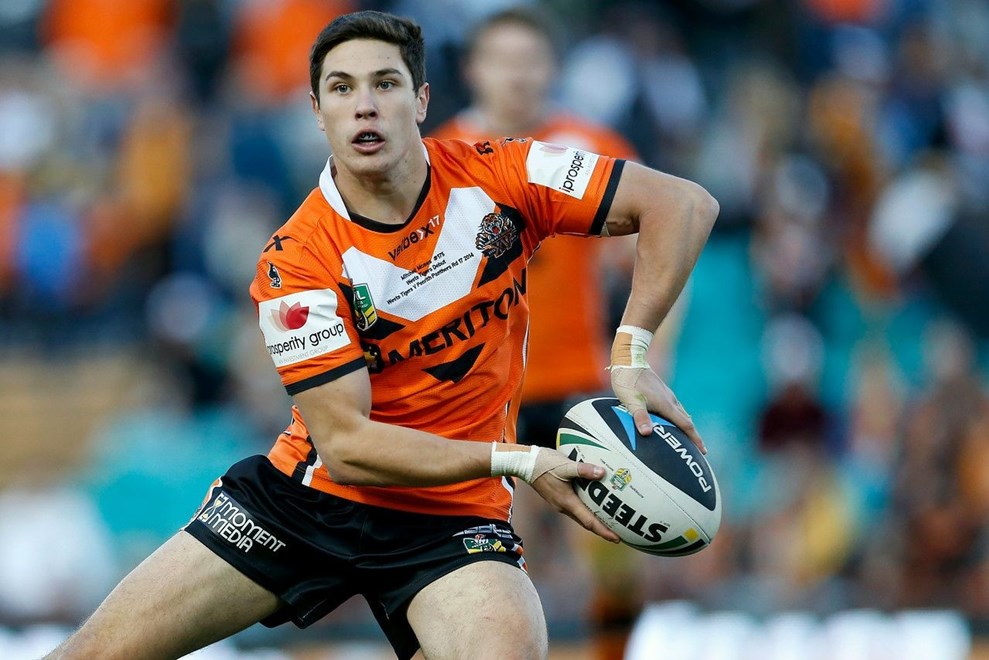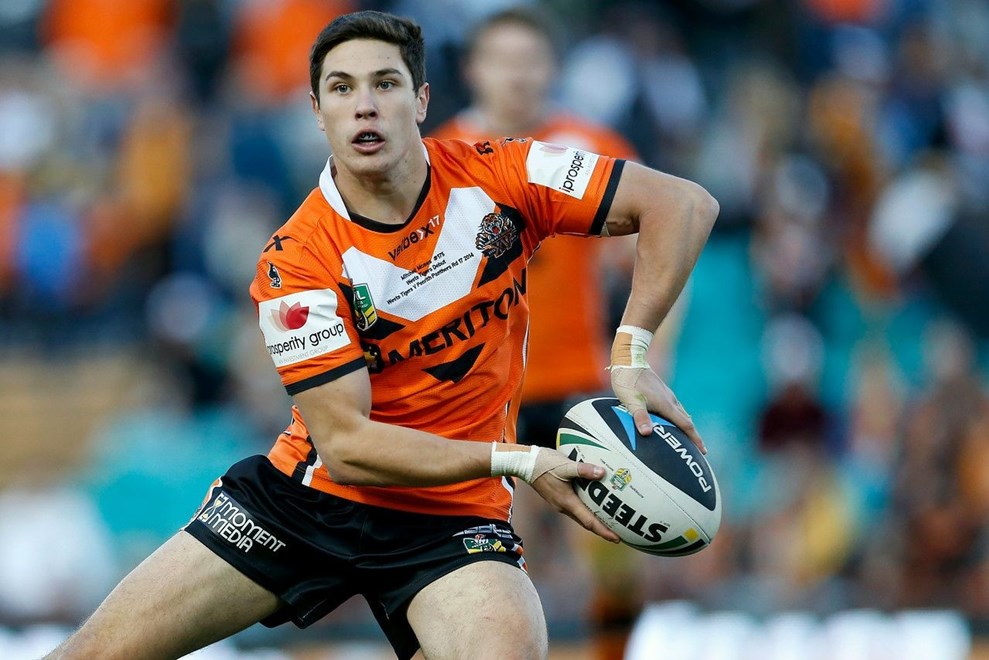 Mitchell Moses didn't get all the "bells and whistles" that can come with an NRL debut.
As a late inclusion into the Wests Tigers Round 17 team, very few people knew that Moses would be taking to the field against the Panthers, with the 19-year-old admitting that being away from the spotlight actually helped him best prepare for the match.
"I just approached that game against the Panthers like any other week — just like I was going to play with the under-20's or State Cup boys," recalled Moses.
"I couldn't really tell too many people because I didn't get named in the team [on Tuesday], so I think that kind of helped me stay grounded.
"Not being named actually helped me treat it just like another week more than if I had been named, I think, so that was helpful for me."
Listed in the top-25 NRL squad at the start of the season, many were expecting the Holy Cross junior to get his shot at first-grade in 2014 and follow in the footsteps of his close friend and halves partner, Luke Brooks. But despite the hype, Moses waited patiently in the lower grades for more than half the season — featuring in both NYC and NSW Cup — before a season-ending injury to star fullback James Tedesco against the Canberra Raiders in Round 16 opened the door for the teenager to finally get his shot.
And despite it being not in his favoured position and a little earlier in the year than he'd expected, Moses understandably took the opportunity with both hands.
"To be honest," he admitted later, "I didn't think I was going to make my debut as early as I did. I guess there were a few injuries which kind of gave me that chance… but even then, because it wasn't a halves spot, I didn't immediately think that it could happen.
"I'd played [at fullback] a bit over the last few years, so it wasn't too bad on the day. I think when I stepped into the No. 6 jersey later on in the year I started to feel a bit more comfortable than I did at fullback, but I was just happy to be out on the field.
"I didn't get my debut when we were going at the best of times, "Moses reflected. "That was hard to fit into, I guess, but I was just so happy that it came.
"I felt really lucky to make my debut and achieve that dream I've had since I was a kid.
"And to do it at Leichhardt — where I grew up watching footy — was unreal as well."
There's almost a hint of excitement in Moses' voice as he mentions the ground that he grew up watching the Wests Tigers play at so often as a youngster.
A Parramatta Eels fan in his younger years, moving to Holy Cross and playing for Balmain in Harold Matthews and SG Ball quickly saw his passion turn to the orange, black and white — making the occasion all the more special for the debutant.
"The thing that I remember most about the day was the atmosphere," recalled Moses.
"I think that day was close to a sell-out at Leichhardt Oval. A packed Sunday afternoon game — I used to go to those games when I was young to watch the Wests Tigers play — so I guess to debut on a really similar day to those ones will always stand out to me.
"I remember running out and looking up to the hill and seeing the old scoreboard… I almost had to pinch myself that it was all happening and that I was actually out there."
As memorable as the day and moment might have been for Moses, the fairytale script didn't quite have the perfect ending for the youngster, as competition heavyweights Penrith Panthers emerged with a comprehensive 26-10 victory on the day.
But even in a loss, those first moments are still there, as clear as anything in his mind.
"I remember my first touch," said Moses. "A bomb… you know, it was all right."
"I don't mind getting stuck with a high ball or two; I was kind of hoping they'd try and test me out because I knew that if I took it well, that would give me confidence. It was a pretty windy day that day and I can remember the ball swirling all over the place, but I was just happy to hang on and get that first touch under my belt and get some confidence. It was a tough game for me personally, I guess, with a kicker like Jamie Soward who just hits the ball so well and never gives you anything easy to deal with."
"But it was good fun. I know I'll never forget the memories of that game."
With his debut then ticked off the list — along with his first try — of career goals, Moses' focus immediately turns to 2015 and the years ahead. There's a sense of pride in what's to come; desire to be better than the weeks and months before.
"Having made my debut, I think it's just made me that extra bit more hungry," he said.
"I was playing those last couple of rounds with a bit of an injury so I don't think I was playing to my full potential. I don't think I was doing everything that I was capable of and kind of showing earlier in the year with the 20's boys, so I'm just looking forward to getting my body 100 percent right and going from that into pre-season.
"I'm pretty hungry for 2015, with the goal to put a bit of size on and work on my game a bit to kind of eliminate those faults that are there, and just learn as much as I can.
"There's a great group here, and I can't wait to be a part of this new future at the Club."