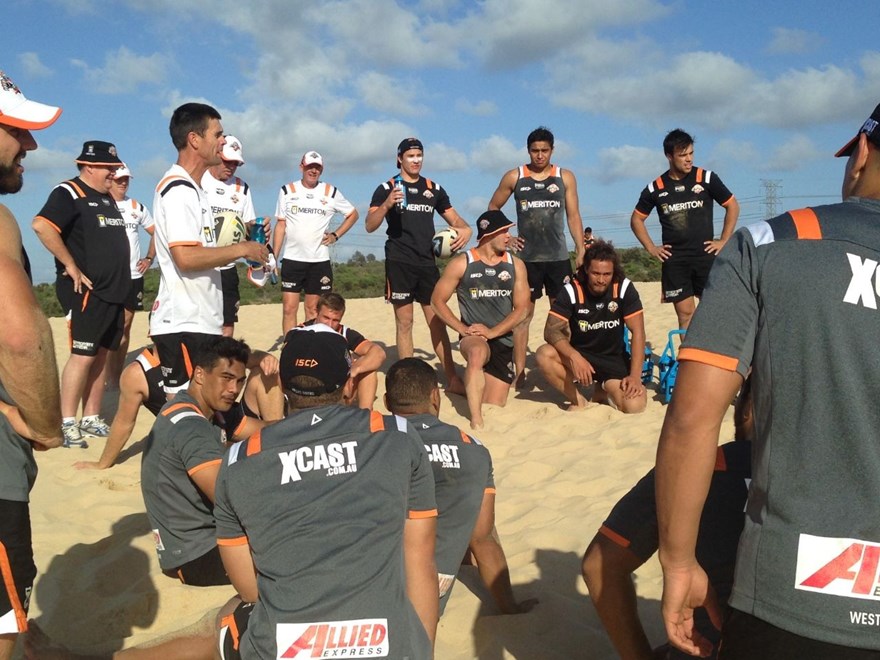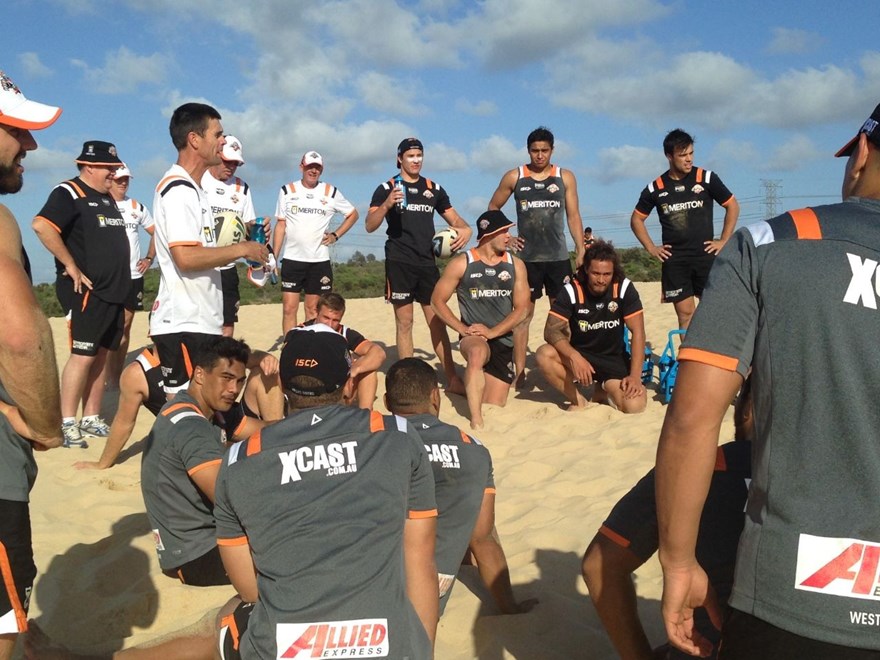 WITH a full week of intense pre-season training already under their belts, Wests Tigers players hit the infamous sand dunes at Kurnell on the weekend for another tough session that pushed them as much mentally as it did physically.
Starting just after 6:00am on Saturday morning, the squad split up into groups to tackle some short to immediate sprints up the dunes, before then heading into a wrestle session on the sand. Already feeling the increased pressure of training on the sandy slopes, the players then finished with several long climbs to the highest point of the dunes to end the session on a positive note, before quickly escaping the Sydney heat.
Unite. Commit. Achieve. Show your support in season 2015 by becoming a member today!
Wests Tigers Strength and Conditioning Coach Marcus Kain, who led the majority of the sprint session, said that while hitting the sand dunes is commonly viewed as a pre-season tactic that just "flogs the boys around a bit", there's a real scientific advantage to be had from tackling the inclines as part pre-season training.
"Firstly, it gives a bit of variety to pre-season training," Kain said.
"Pre-season can get quite long so it's a bit of change-up in their training.
"Also, mentally, it's extremely tough.
"Rather than just going around and around on a flat surface, you've got soft sand, big inclines, and obviously there's big inclines and downhill's.
"There's a whole range of variety on the dunes themselves, which is good."
"There's also a science to it. It's not just go out there and start at the water and go up to the top of the hill where the coach has got his hand up.
"That's definitely part of it, but there's definitely some planning that needs to go into it if you're going to take anything out of it other than a flogging. As a coaching staff, we think about the session content and design it specifically to tailor to the program overall."
While Kain wasn't giving much away in terms of the numbers and achievements from the boys on the day, he did give some insights into the players that impressed most during the session, with the young brigade leading the way across the board.
"For the speed-based part of it, obviously those smaller guys really stood up," he said. "Te Maire Martin, Chance Peni and Manaia Cherrington — they were all very good.
"From the big boys, Matthew Lodge and Lamar Liolevave were two who really dug deep and did well, but in saying that, there was nobody than didn't. They all did really well and they all took a lot of it, which was really pleasing to us coaches."
Cherrington himself said that while the session wasn't one that drained him physically, it certainly forced him — and the entire squad — to dig deep mentally.
"The dunes were pretty tough," he said. "I had to push myself pretty hard mentally.
"It's a lot different than playing or training on the field, but you learn a lot from it.
Forward Ava Seumanufagai echoed the young hooker's words — emphasising just how much mental and physical advantage the squad took out of the session.
"I guess the sand dunes really helped some of the boys that probably were a bit weaker mentally," Seumanufagai said. "It really helps you step up and not take a backwards step in your mind, which is something that you get better at the more you push through it.
"The dunes are really high and it was getting pretty hot out there and the session went for a while, so the boys really had to dig deep. I think we'll all be better for it, though, both in terms of our endurance but also our willingness to keep going.
"I think the forward were starting to get over watching the backs fly past you all day while you're barely able to move forwards up those hills.
"But then we did some wrestling, so it definitely was nice to get them back!"