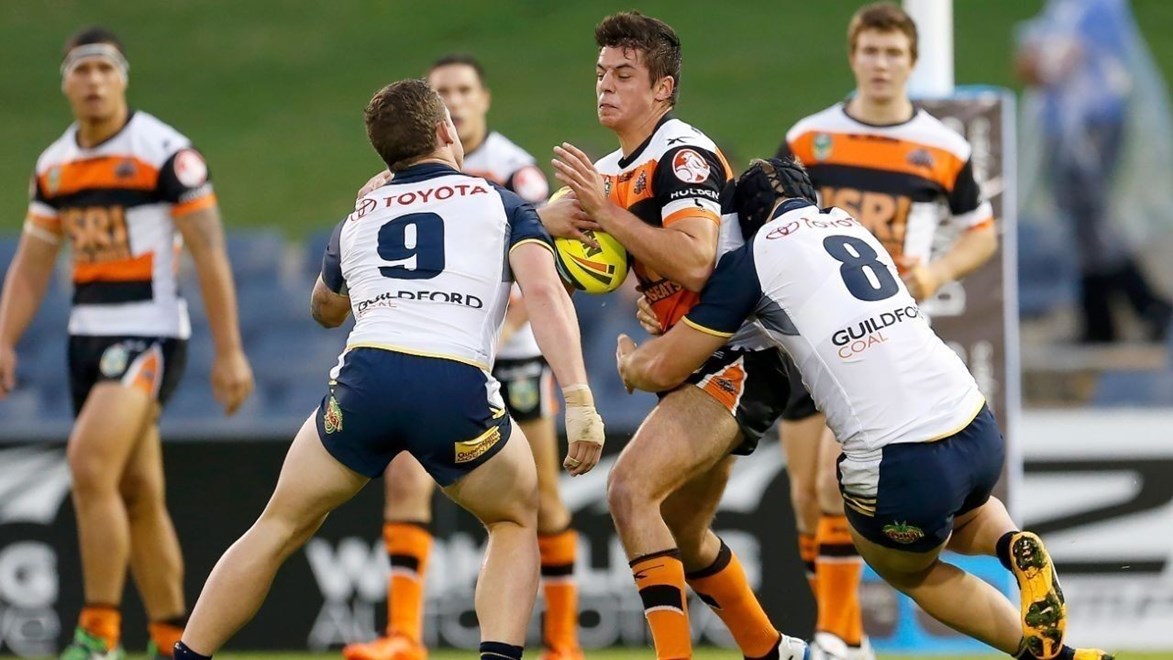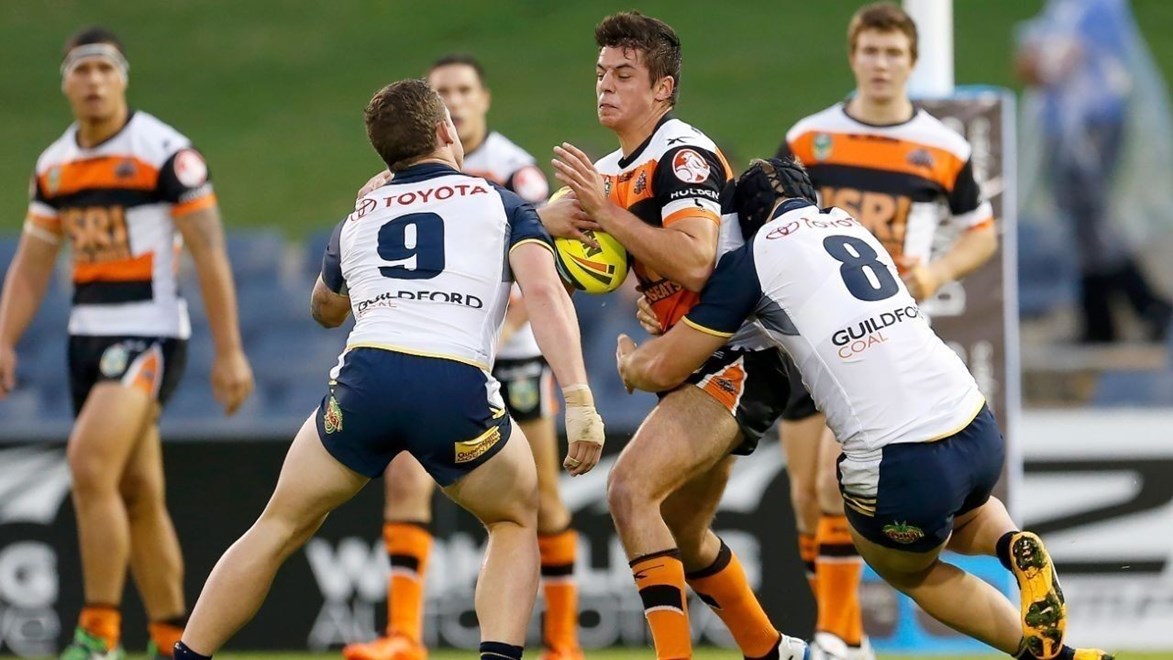 AFTER missing the back half of the 2014 season with a serious knee injury that required extensive surgery, Wests Tigers youngster Nathan Milone is itching to get back on the field in 2015 and show exactly what he can do.
Captain of the Club's Holden Cup side for the first half of the season, Milone registered six tries and a number of assists from his 12 matches, with his leadership skills and defensive resolve continuing to come to the fore throughout.
The team had just started to gather some strong momentum on the back of those performances as they pushed for a fourth consecutive victory — leading an undefeated Knights team in Newcastle 20-0 just after half time — before Milone, who'd scored earlier in the match, went down clutching his knee.
The NYC side would go on to chalk up a win that day, and would continue their extend their winning streak over the coming few weeks, but for the Dundas junior, it would be the end of a season which had started with and highlighted such promise.
"Yeah, that certainly wasn't the easiest time for me," Milone reflected as he finished off a tough pre-season session under new Head Coach Jason Taylor.
"But the boys were really encouraging towards me, and didn't let me drop my head.
"I built a good relationship with some of the other boys that were in the long-term rehab group — guys like James Tedesco and David Nofoaluma — and we were able to have a little bit of fun together over that time.
"You can't let yourself get down about that fact you're injured or whatever; you just have to try to push each other to stay positive and keep recovering well."
Back on his feet now and running at close to 100 percent, Milone said simply being back at pre-season training was an exciting time for him.
Unite. Commit. Achieve. Show your support in season 2015 by becoming a member today!
"I'm running smoothly now, which is exciting for me," he said. "It's been a long time since I've been able to say that, and it's definitely a good thing."
"The physio staff have been really good towards me and have helped me out.
As a junior, Milone worked his way through the grades at Balmain — winning the SG Ball title in 2012 alongside Mitchell Moses — before making the step up into the Club's Holden Cup squad in 2013. A dominant year saw him head into 2014 as one of the top players in the side, and while it might be expected that his natural progression would continue in 2015 as he makes the transition to full-time training with the extended NRL squad, the 20-year-old wasn't getting ahead of himself — simply focusing on getting the little things right.
"To be honest, I'm not really approaching this year any differently," said Milone.
"I'm just coming in now and trying to work hard and see what happens.
"I'll take whatever opportunity comes, but I'm not letting myself get ahead of anything in terms of what I expect this year. I'm just focused on myself, playing as best as I can, and getting a number of good games under my belt.
"Right now, it's just the small things [that I'm focused on].
"I want to get back to full-on running and get stuck into some contact so that I'm right come Round 1. I want to fix some of those little things too, some little things with my passing and tackle technique and things like that.

"The new coaching staff and some of the experienced guys here have been really helpful with that. The players help you out with things that you might be struggling with; they've got experience, so it's good for me to have guys like Chris Lawrence and Pat Richards there to help me with everything.
"They've also had injuries and that so it's helpful for my recovery too," he said.
"I really like the new coaching staff.
"It seems strict sometimes, but I know that it's good for me. They've been extremely professional so far and I've been really impressed by that I guess.
"It's now just about working hard with that and being ready to go for Round 1."