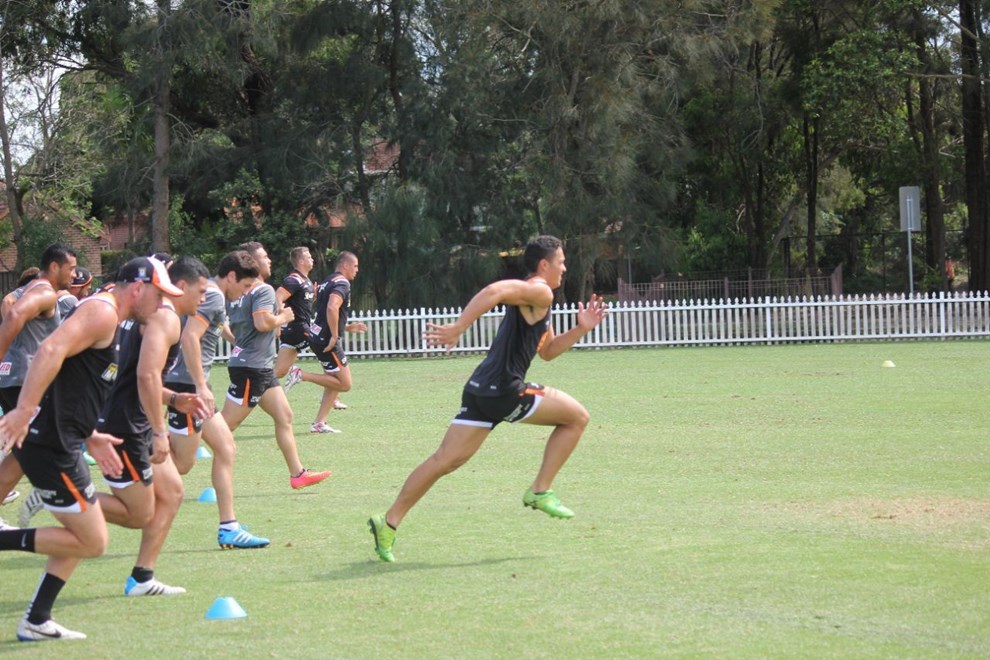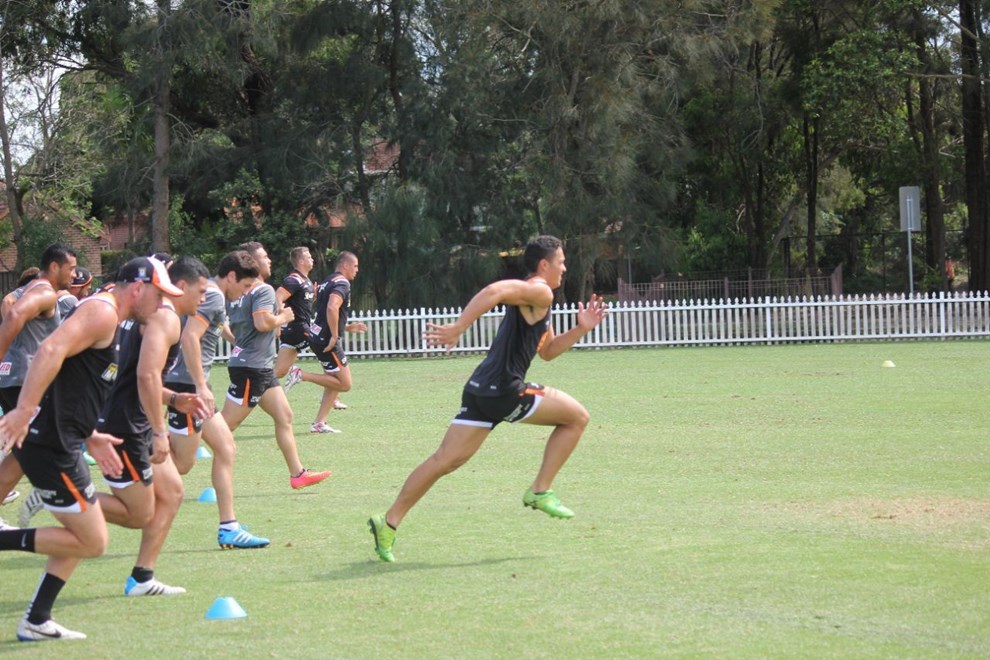 LIKE so many young kids growing up, Te Kapua Murray had his dreams — dreams to make it at the professional sporting level; dreams to represent his country.
And while those dreams are still there, Murray has a dream that few others have: a dream to become the fastest man in the National Rugby League.
A champion junior sprinter in New Zealand, Te Kapua, or "Kups" as he's simply known, made the decision to choose rugby league after establishing himself in a number of professional sporting environments. His achievements across several sports by the age of 17 resembled more like a career-long resume for some, but the decision to focus solely on rugby league was one he was always clear about in his mind.
"I picked rugby league because I sort of had more of an interest in it than all the others," Murray reflected. "I think it's more exciting as a game, too.
"I've always watched it on TV; my family has always been into rugby league — State of Origin, the Tests — so I've always been into it despite being in other sports, and I've always wanted to do well as a rugby league player."
Unite. Commit. Achieve. Show your support in season 2015 by becoming a member today!
And while that dream itself might not be different to any others, his journey certainly is.
Growing up in South Auckland, Murray first got into sports at the age of six, playing rugby league for a few years until his making the move two hours down the SH1 to Hamilton, where he went to high school and quickly started playing rugby union.
Like so much of Murray's short sporting career, success quickly followed.
"Yeah, I ended up at Hamilton Boys High and we started to put together a pretty good team for rugby union, which was great fun to be in," he said.
"That 2013 year, we won the Chiefs Cup, the Moascar Cup, and the New Zealand Schools First XV Super-Eight Competition. Personally, that was a big year for me too as I was picked in the Waikato Chiefs' Under-18 team even though I was only 16."
As well received as those achievements were in a rugby union-centric community, Murray's biggest inroads, however, came on the athletics track, with the naturally gifted teenager quickly establishing himself as one of the top sprinters in New Zealand.
"When I was younger, I sort of did a bit of athletics," he said, "but I didn't really take it that serious. Most of the running I did was in touch football, and then it sort of got boring, so I thought I'd go down to the athletics track and see about that.
Down he went to the Hamilton City Hawks Athletic Track, where he admitted there might have been more than one interest keeping him at the ground.
"To be honest, there was a girl," laughed Murray. "I was crushing on her a bit so I thought that it [athletics] was a pretty cool place to be. I started running really just to hang around and impress her — I guess that's a bit embarrassing to admit — but… I just started running for that but then I sort of found I wasn't too bad at sprinting.
"I won my first few races really easy so I started to develop my speed a bit more serious.
"I came third in a 200m that was the National Championship not long after I started to take up sprinting seriously. I'd only been running for a little while before that and I'd hardly had any real training that all the other boys there had done.
"But I went into it with my heart and soul and came out with a medal.
"After that, I did a bit of the 4x100m relay with the boys and we ended up winning silver, which was obviously a pretty exciting time for me.
The quiet teenager wouldn't be drawn into talking himself up too much when pushed about his personal bests, but with a rye smile, admitted that there were still plenty of improvements to be had with his speed as he begins pre-season training.
"My best times," he laughed, "oh, I'm not too sure. I haven't done a specific time or anything for a fair while now — it's all been rugby league training for me.
"I remember early last year I ran a 11.15 for the 100m, and I was pretty sick that day. Now with my training, I imagine that would be under 11 seconds. And for the 200m, I think I did a 22.80 or something like that, but I know I can improve on that as well.
And suddenly, Murray's childhood dream to become the fastest man in the NRL suddenly doesn't seem like such a far-fetched proposition after all.
"I believe I'm the quickest here at the Club," he said, straight-faced, with all seriousness.
"I believe I'm the quickest here at the Club. I know that I'm the fastest on the field every time I walk out there..." - Te Kapua Murray
"I've seen some of the boys in full sprint before and they're pretty quick — Tim Simona and James Tedesco are both very quick — but I know I'm faster than both of them.
"I know that I'm the fastest on the field every time I walk out there. No matter who we're playing or what sport we're playing, I know I'm the fastest on the field.
"I mean, it's not me trying to big note myself or anything, but I just know I'm fast.
"I know that I'm never going to get caught."
Training with the extended NRL squad until Christmas, Murray's raw athleticism and speed have been a standout during pre-season, with Strength and Conditioning Coach Marcus Kain impressed with his physical performances and natural talent.
"There's no doubt that as an athlete, he's very special," said Kain.
"He's still very young and there's lots of work to do, but coming from a speed-based background myself, there's lots to like about his speed and acceleration.
"But the best thing about him," he continued, "is his discipline. He's a great listener and takes on board what we're teaching him; he does his own stretches after gym — without prompting — and things like that to make sure that he's getting the best out of himself.
"Aside from his running, he's a kid who's really switched on, which is great to see."
"But the best thing about him is his discipline... He's a kid who's really switched on, which is great to see..." - Marcus Kain
While Murray conceded that having only played a few seasons of rugby league seemingly puts him at a disadvantage to some of his counterparts, he emphasised that his speed and athletic background in fact gives him an edge that cannot be replaced.
"Having come from athletics into rugby league, I believe it gives me a huge advantage because I know I'm faster than anyone else on the field," he said.
"Just knowing that helps me a lot mentally, but I think it also gives me some leverage when it comes to player selection because you can't substitute speed.
"There is always space for speed when you use it right."
Get your Wests Tigers 2015 Auckland Nines jersey from our online Roar Store here!
In addition to being an accomplished rugby union player and now a promising rugby league player, Murray has also excelled in touch football — selected in the New Zealand Elite Touch Team as a teenager — as well as being a qualified lifeguard and scuba diver. He's completed a year of a Marketing Degree at Griffith University too before making the move to Sydney, and when you start to see all that Murray has packed in to 18 years, you get the sense that you're talking to a young man with some big goals and dreams.
"Coming through the Keebra Park program, they really set me up well and got me fit and strong," Murray said. I think my mindset has been pretty solid since I made the move over to Australia, and now I'm here at Wests Tigers, I think that will continue."
"At the start of the year, what I wrote down as my goal was to make the under-20's squad here with Wests Tigers, and that's kind of coming along.
"I've been thinking a lot about that, and trying to really make my name.
"Down the track, I think the next goal after that is to win a premiership — that's always the goal in any sport — and then for me personally to try to make the Junior Kiwis' side too at some point. And then after that, push on to NRL and make my family proud.
"And I guess, as long as the rugby sevens is still at the Olympics, that's something I'll continue to work towards as well," he said with a cheeky smile across his face.
"That's a long way down the track, but the immediate goal is to make that team for Round 1 and really start to show what I can do on the field."
Which brings him to now — pre-season training at the Wests Tigers, ready for 2015.
"The boys have been really nice here and have made it easy to come in to," Murray said.
" They're comfortable and really switched on about doing the work when we need to do the work, but also chilled when we have the chance to chill.
"I'm right where I want to be in life right now," he said. "I love it here."