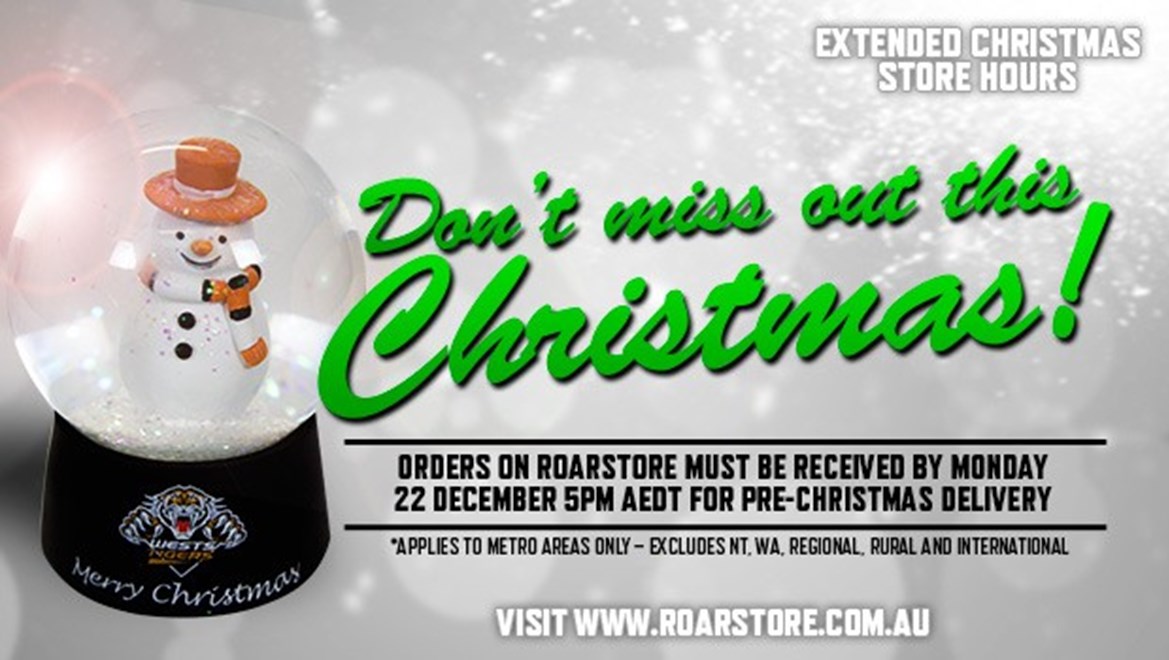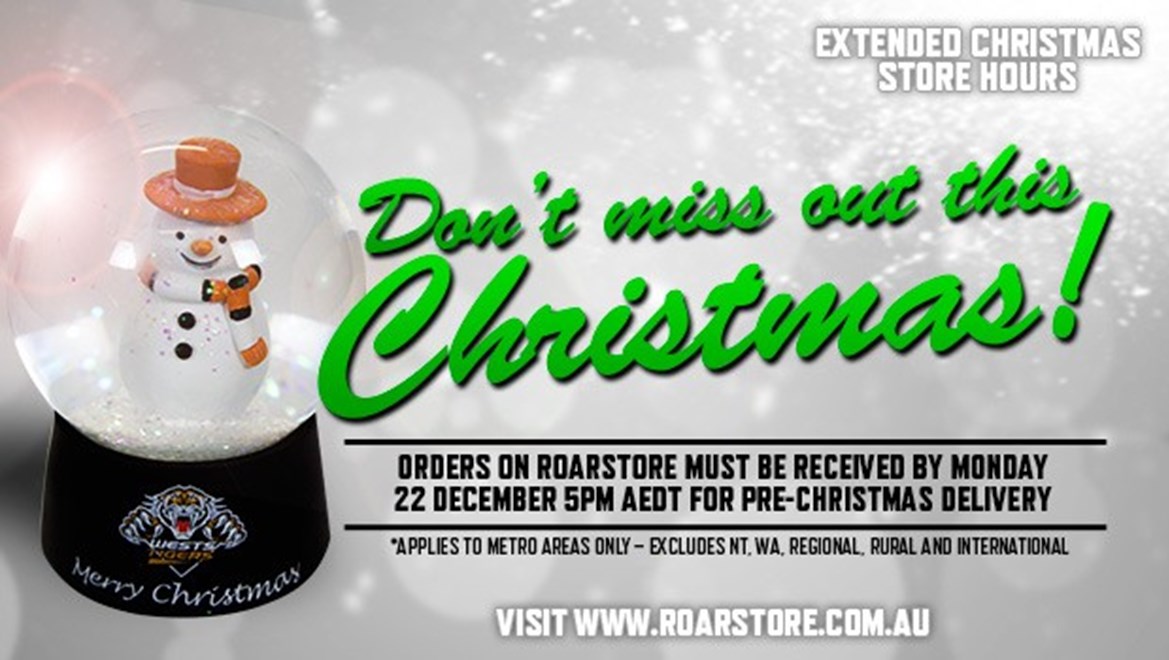 With Christmas fast approaching, now is the perfect time to get your merchandise orders in to ensure delievery prior to December 25th.
To ensure Christmas delivery, Roarstore online orders must be placed by 5pm AEDT Monday 22nd (applies to metro areas only – excludes NT, WA, regional, rural and international). The Wests Tigers office will be closed from the 25th December – 5th January, orders placed during this period will be fulfilled through our GearZone store.
Extended trading hours have been applied to both GearZone and Roarstore Concord, detailed below.
GearZone Store Details:
Your one stop supporter shop
Macathur Square
GearZone – Shop C26
Level 1
Gilchrist Drive,
Campbelltown
NSW 2560
Ph: (02) 4626 3506
Trading hours for GearZone:
Sat 13th - 8am – 5:30pm
Sun 14th - 9am – 5pm
Mon 15th - 9am – 5:30pm
Tuesday 16th - 9am – 5:30pm
Wed 17th - 9am – 5:30pm
Thurs 18th - 8am – 10pm
Fri 19th - 8am – 8pm
Sat 20th - 8am – 6:30pm
Sun 21st - 8am – 6:30pm
Mon 22nd - 8am – 9pm
Tues 23rd - 8am – 9pm
Wed 24th - 8am – 5:30pm
Christmas day - Closed
Boxing day - Closed
Sat 27th - 8am – 6pm
Sun 28th - 8am – 5pm
Mon 29th - 9am – 5:30pm
Tues 30th - 9am – 5:30pm
Wed 31st - 9am – 5:30pm
Thurs 1st - Closed
Fri 2nd - 9am – 5:30pm
Roarstore Details:
Concord Oval
Loftus st
Concord
NSW 2137
Ph: (02) 8741 3300
Trading hours for Roarstore - Concord Oval:
Sat 13th - Closed
Sun 14th - Closed
Mon 15th - 9am – 5:30pm
Tuesday 16th - 9am – 5:30pm
Wed 17th - 9am – 5:30pm
Thurs 18th - Closed
Fri 19th - 9am – 5:30pm
Sat 20th - 12pm – 3pm
Sun 21st - Closed
Mon 22nd - 9am – 5:30pm
Tues 23rd - 9am – 8pm
Wed 24th - 10am – 1pm
Christmas day - Closed
Boxing day - Closed
Sat 27th - Closed
Sun 28th - Closed
Mon 29th - Closed
Tues 30th -Closed
Wed 31st - Closed
Thurs 1st - Closed
Fri 2nd - Closed
Sat 3rd - Closed
Sun 4th - Closed
Mon 5th - 9am – 5:30pm