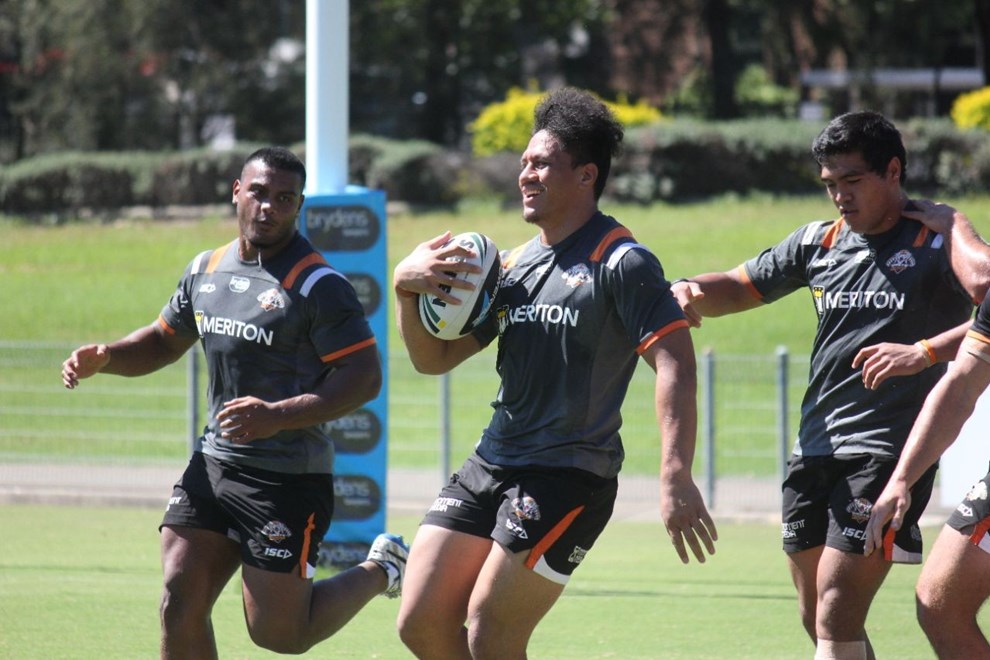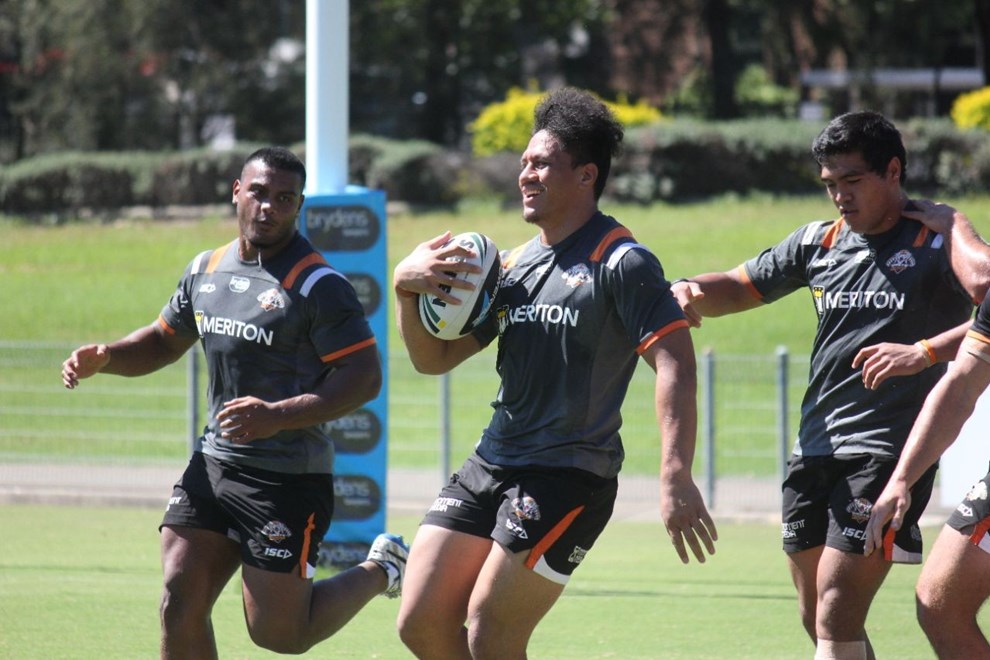 FOLLOWING another successful stint with Samoa in the 2014 Four Nations tournament, Wests Tigers interchange forward Sauaso Sue says he's ready to take on a new role and lead a young forward pack from the front in 2015.
One of just seven forwards at the Club to have played over 30 NRL games, the Macquarie Fields Hawks junior has quickly become an integral part of the Club's engine room — highlighted by his strong defensive technique and versatility to play anywhere in the forwards.
After starting the 2014 pre-season with a shoulder injury he picked up following his time with Samoa in the Rugby League World Cup, Sue will start the 2015 fully fit and ready to fire — full of confidence from his time on the international arena.
Unite. Commit. Achieve. Show your support in season 2015 by becoming a member today!
"It's good to be back from the Four Nations," reflected Sue.
"Last year I didn't really get a pre-season under my belt because I came back from the World Cup with an injury. It's been different, I guess, to actually be in full training and everything, but it's been really good. Playing for my country again gave me a lot of confidence.
"Playing the best teams in the world is obviously a nice boost which I can bring to training, but also playing against some international stars here at the Club in Woodsy [Aaron Woods], Marty [Martin Taupau] and [Robbie] Farah was also a good test for me."
Debuting for Wests Tigers in Round 6, 2013, Sue has quickly amassed 35 games in his short career — the majority of which saw him come off the interchange bench.
However, the off-season departure of forwards Adam Blair and Bodene Thompson could well open the door for the 22-year-old to slot his way into the starting team, with Sue aware of the important leadership role that lies ahead of him this year.
"With Bodene and Adam leaving, it does give me an opportunity to step up," he said.
"That's two starting spots up for grabs now, so it's about performing well at training and doing all the right things to be in contention for those spots.
"It's a good chance for me, in a way, to be a leader in the team also.
"I've never really looked at myself as a senior player – I'm only 22 – but with them [Bodene and Adam] gone, I know I've got to step up and lead some of the young guys that are coming through in the forwards now.
"I might not see myself as a senior player, but to some of those young 20's guys coming up and some of the other forwards and that, I am senior," he reflected.
"I've played for my country for two years now and have played more NRL than lots of them, so I've got to step up and be more of a leader around them."
"All the young guys are really impressing me — especially some of the young forwards that have come up from the under-20's. Salesi Funaki, Lamar Liolevave and Dallas Graham — those three in particular have been just so strong in the gym and they're also so explosive on the field too. They've certainly made a lot of people notice what they're doing."
"They've been really impressive, and they're made me really step up and make sure I'm not starting to slack off," Sue said with a cheeky laugh.
Sue also praised the Club's new coaching staff and Head Coach Jason Taylor, with the 22-year-old enjoying his first week of training under the new program.
"There's a lot of good energy with all the young boys coming up and the new coaching staff here at the Club, " he said. "It's been really good."
"Everyone's trying to get on the front foot and I guess, get that little bit better than the person next to you, but that's good to have now.
"Healthy challenges are good for a team, and for individually trying to get better.
"All the coaching staff have been pulling me aside and teaching me new skills, which I've been really grateful for. I know that if I'm going to be pushing for a starting spot this year, I need to be getting through more work and staying on for longer than if I was just coming off the bench.
"[He's] been really good for me, and I'm looking forward to it continuing."