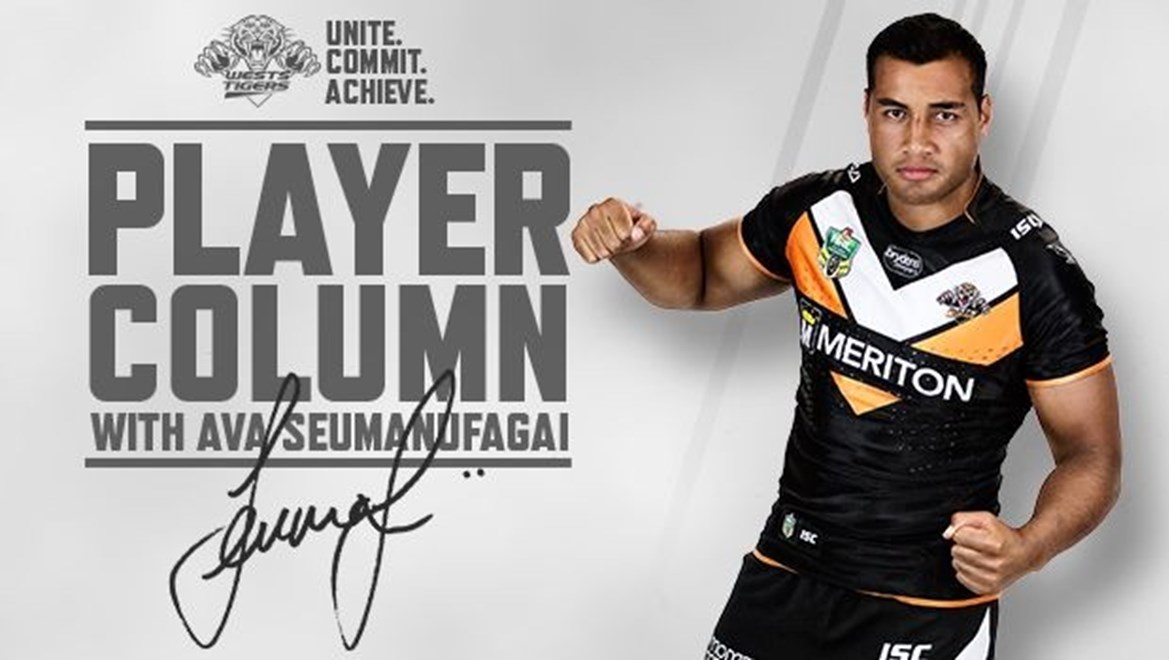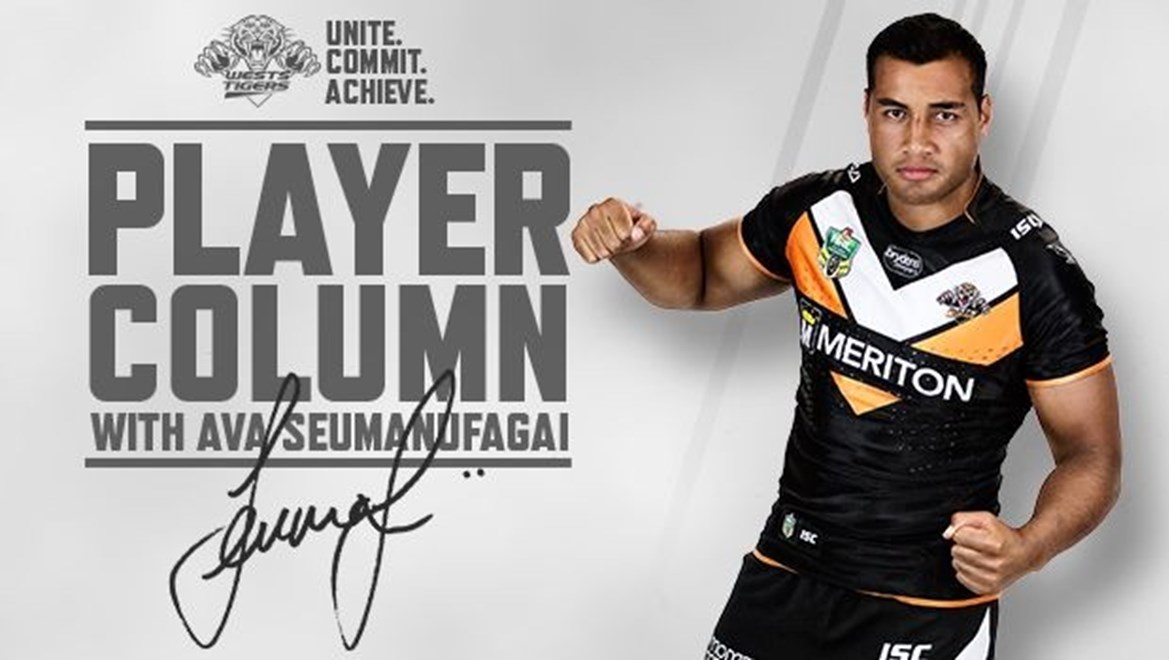 Each week, Wests Tigers forward Ava Seumanufagai will give a special inside look at his life in the NRL. Since making his debut early in the 2013 season, Ava has quickly amassed 40 NRL games for the Club, and will be looking for another big year in 2015.
* * * * *
Hi, I'm Ava Seumanufagai. This is my second column for 2015 — hopefully you liked my first one. If you missed it, you can read it by clicking here.
It's been a wet but exciting week this week as I'm getting ready to head to Auckland with some of the boys for the Auckland Nines. It's great to be included in the team this year.
I missed out last time; I came back from Christmas not in good form so I missed out last year, but it's good to be involved this year and get the season underway.
Unite. Commit. Achieve. Show your support in season 2015 by becoming a member today!
It's good to go back home and see some family as well, too.
Half of my is in Wellington and half is in Auckland, so half the family will be coming up to watch and I'll be doing all I can to get them tickets!
I tend not to think too much about being in front of my family, but it's always good to have them see me live. I like to keep myself accountable for how I play, but they pick up little things, I guess just knowing who I am and what I'm like.
Dad's always got some pointers for me. He's just being a Dad — always just pointing out a few things to work on every now and again.
But it's great — I love playing in front of them and getting the chance to see them.
I think when you don't play in front of them every week it makes it more special when you do, so I'm really looking forward to doing that this weekend.
It's definitely nice to be included in the team. This is the first team that Jason Taylor has picked since he's been here, so it's nice to be in that squad.
It'll be a cool experience and a lot faster than the regular game.
I watched it last year, and I thought it looked tiring but really fun.
The atmosphere was the biggest thing that stood out to me on the TV, so I'm excited to be over there and get into it firsthand. There's thousands of people there, all dressed up, and it's the first footy tournament of the year too, so even though it's just the Nines, people seem to get really into it and enjoy themselves. I've been thinking about doing a few extra curls and tricep exercises this week too given the sleeveless jersey. Just as long as I don't stand next to Kevin Naiqama or Salesi, I think I should be all right there!
One good thing is that there's unlimited interchange, so you can put your hand up whenever you get tired. May put my hand up after the first set!
In terms of tactics and how we're approaching the Nines, I think the biggest thing is just being a lot more aware of where the players are.
It's a bigger field and you've got less players to defend with, so you've really got to watch your spacing. The biggest thing I'm looking to work on is defence, that's all I'm focused on.
If I get a meat pie, though, I'm not going to complain at all!
It would have been good if some of the other boys were ready, but they're not, but it's still a really exciting and good squad we've got going.
The squad has a lot of energy, and these young boys certainly bring a lot to the table, so I'm sure it'll go all right even though we haven't done too much training for it.
Two guys you're going to want to watch out for at the Nines are Lamar Liolevave and Salesi Funaki. They've both come up from the 20's and they're both extremely powerful runners.
I've watched some of their games last year in the 20's and they're got raw power, and they've been working on it this pre-season, so they'll definitely be looking to start their year in big fashion and really impress all the coaching staff.
As far as the teams we're playing over there, I think the Warriors are looking really strong. They've got a lot of internationals playing, and I'll definitely have to watch out for those guys with quick footwork — Shaun Johnson in particular.
And in the other two teams, I think there's some really good guys going as well.
Big Dave Taylor is coming from the Titans and he is really quick for a big man, and they've got James Roberts too, who is one of the quickest players I think in the game.
So there's plenty of talent to watch out for from our point of view.
The biggest thing I think I'm trying to take out of the Nines is how to play faster.
I think when you're under the pump in an NRL game, you'll be confident that if you can play well in a nine-a-side, you can definitely keep up in 13-a-side.
That's a big one for me, anyway. I'm trying to work really hard on my fitness and being much fitter this year, so we'll see how good my pre-season has been when I'm trying to suck in the big ones sometime on Saturday afternoon!
Make sure you turn on the TV and cheer us on! See you next week.