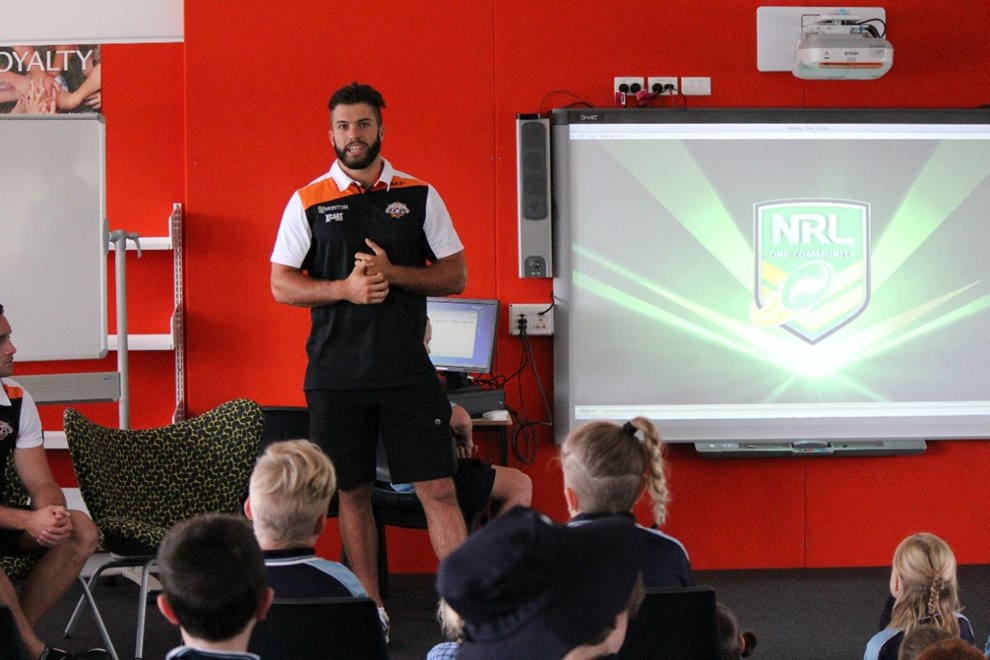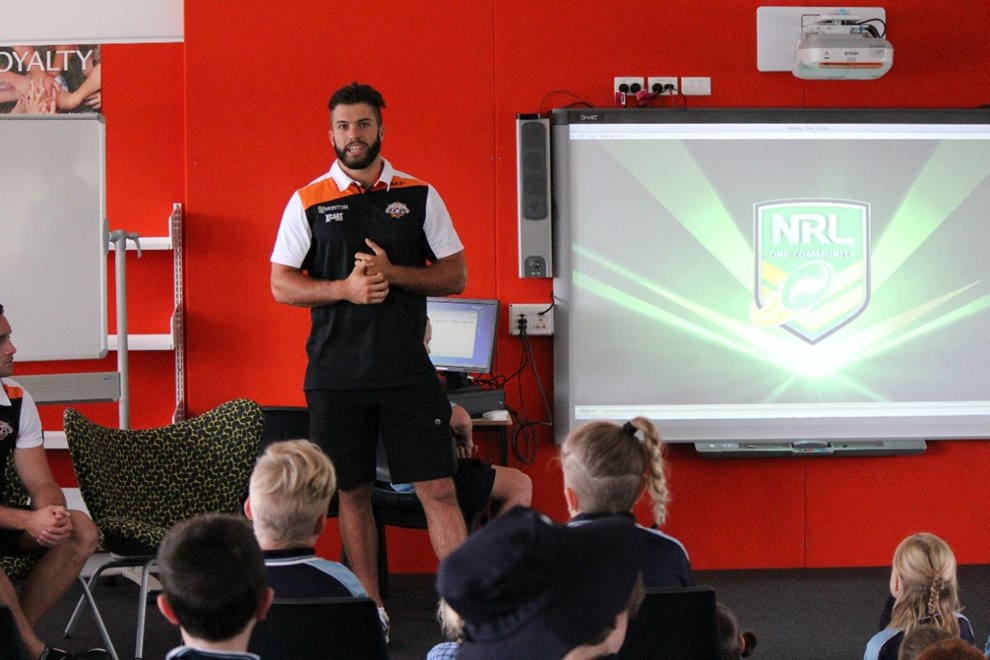 Wests Tigers have kicked off their Community Carnival for 2015, with five players heading to Port Macquarie to promote the NRL's Wellness campaign.
The players, including James Tedesco, Curtis Sironen, David Nofoaluma, Tim Moltzen and Keith Galloway, are spending three days in Port Macquarie as they visit over 8,000 school kids and many more at local rugby league training sessions.
Unite. Commit. Achieve. Show your support in season 2015 by becoming a member today!
Monday, February 2
Arriving safely in Port Macquarie, the players split into two groups as they began to visit schools in the greater Port Macquarie region. Schools visited included Laurieton Public School, Kendall Public School, Camden Haven High School, St. Joeys Laurieton, North Haven Public School and Lake Cathie Public School, before the team also visited local rugby league clubs — the Lake Cathie Raiders and the Camden Haven Eagles.
Over 2,000 kids were taught strong messages about healthy eating and lifestyle choices, and had plenty of fun meeting their favourite football players!
Fullback James Tedesco said that while the trip was one that he was uncertain about to begin with, it had been a really beneficial first day for all involved.
"To be honest," he said, "I didn't really know what to expect coming up to Port Macquarie.
"It's a bit of a different region to any kids that I've met before, but it was really great to meet these kids and see their faces light up when us boys arrived.
"We've had people stopping us in the street, at dinner, and it's great.
"It's great to be able to see so many people, and especially young guys, playing and enjoying rugby league, and it's good to be able to speak to them and try to encourage them to get into some good habits early about their eating and fitness.
"I know I can speak for all the boys when I say that it's been a really good first day."
The players will continue to visit local public and high schools on Tuesday — seeing eight schools in total — before helping out at a "Come and Try" clinic in the afternoon, designed to get more young kids involved in their local rugby league club.