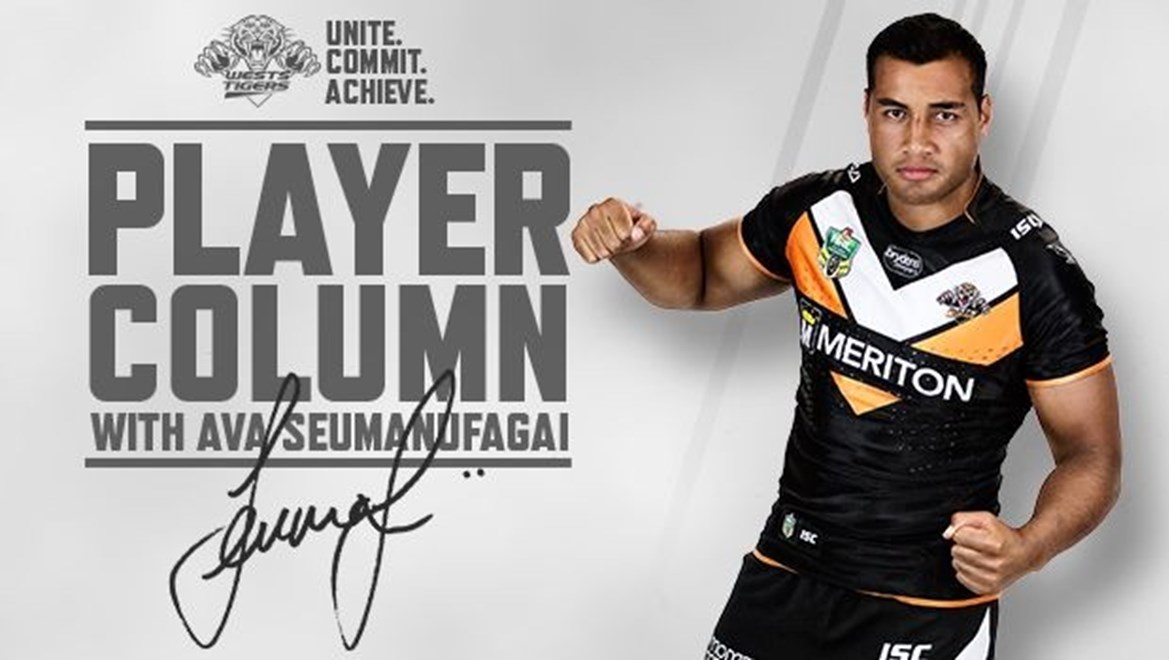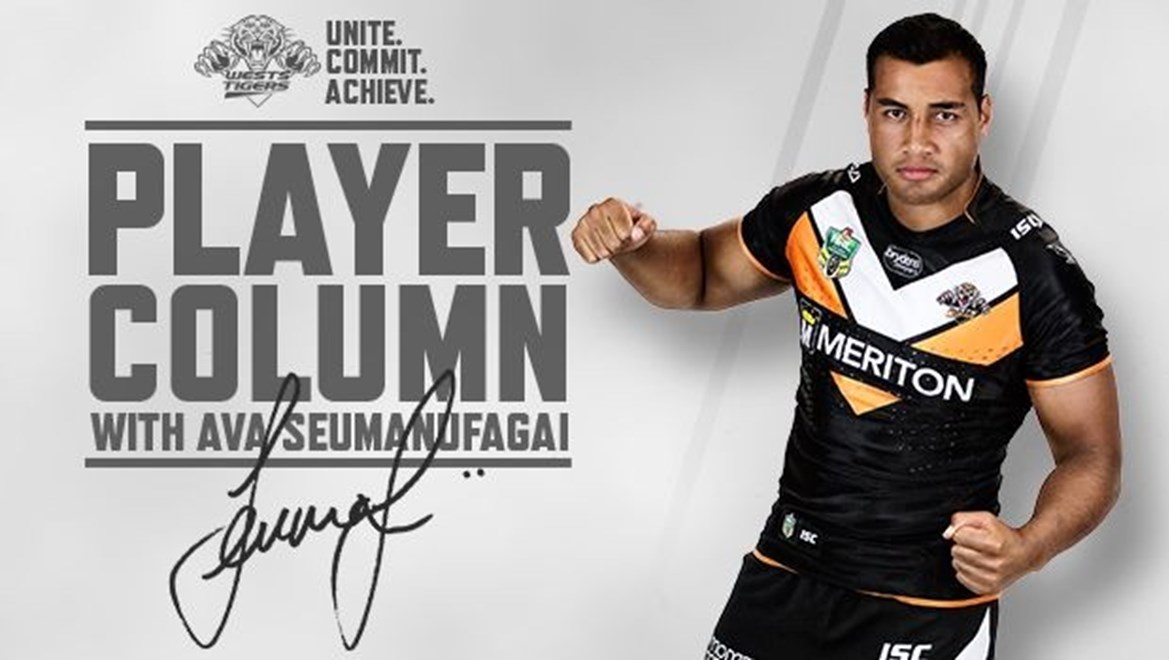 Each week, Wests Tigers forward Ava Seumanufagai will give a special inside look at his life in the NRL. Since making his debut early in the 2013 season, Ava has quickly amassed 40 NRL games for the Club, and will be looking for another big year in 2015.
* * * * *
Hey everyone! I'm back for another week here and getting ready to finish pre-season with a strong performance this Saturday night against the Cronulla Sharks.
It's a bit of a funny turnaround for us this week, having played against the Eels in Alice Springs on Friday night. It was a good result for us and I think the boys played really well on the night but it's made this week a really big week for us. I never noticed until JT brought it up, but the away trips really do rattle you a bit throughout the week. You don't really get the chance to catch up on sleep all week so I've just been a little conscious of that this week.
Unite. Commit. Achieve. Show your support in season 2015 by becoming a member today!
It's been a big week too. We've been in schools around the Macarthur area, which has been really good, but it's meant we're a bit rushed with that down-time that we normally have at Concord or something, so I'm just conscious of that.
To be honest, it's been a really busy few weeks since the Nines, so it'll be nice to get this trial done and have the weekend off to get completely ready for Round 1.
But I guess to close off that Parramatta game, it was a really good result for us.
I think what we took out most from the win was good feedback regarding what we've been practicing throughout pre-season. It's seeing those systems that have been put in place by JT and the coaching staff, and seeing them work well in the team, but also seeing the team come together with the systems and pull them off.
The coaching staff was really happy with the result.
There's always things they want us to work on and that kind of thing, but I think to be able to execute a lot of the things we worked on throughout pre-season was really pleasing to them.
The try that they scored was just off an error, but other than that, our defence was really good too, which is something we've spoken a lot about.
JT's said a lot that having one of the top few defences this year is a benchmark for us and nothing less, so that was a really good result for us on the night.
And that kind of leaves us with this week, which should be a big test for us.
Click here for all the details on how to watch a free live stream of Saturday's trial match!
Trials are funny matches to play in, in a way.
One of the biggest things that's important for us is having the team that will play in Round 1, or close to it, so we can apply some of the positives from the game.
If you have a different team to the one that's going to play in Round 1, it can be hard to do that so having that normal team really helps people know where they fit in and you can work on all the real combinations and things like that.
The Sharks have got almost a full strength team and so do we so it'll be good to see how we go and how the boys coming back from injury will go.
They've got a solid pack, so I'm just looking to make sure I do my job.
It's good to come up against the best players in your position so you can test yourself and see where you're at, so hopefully we'll go well with all the new changes again and deliver against a team that should be a lot stronger this year.
I'm looking forward to having the likes of Brooksy and Teddy back from injury this week; it's always good to have boys back from injury.
I think it'll just be good to see both of them back on the field playing together again; they're both great guys and I think they'll be fine once they settle into the swing of things.
There might be some rust but I'm sure they will be fine.
The big thing for us this week is to try and make us more of a solid team.
We don't want to leak easy points and that starts this week.
Now is the time to get those things right so we're all good for Round 1.
Bring on the Sharks!