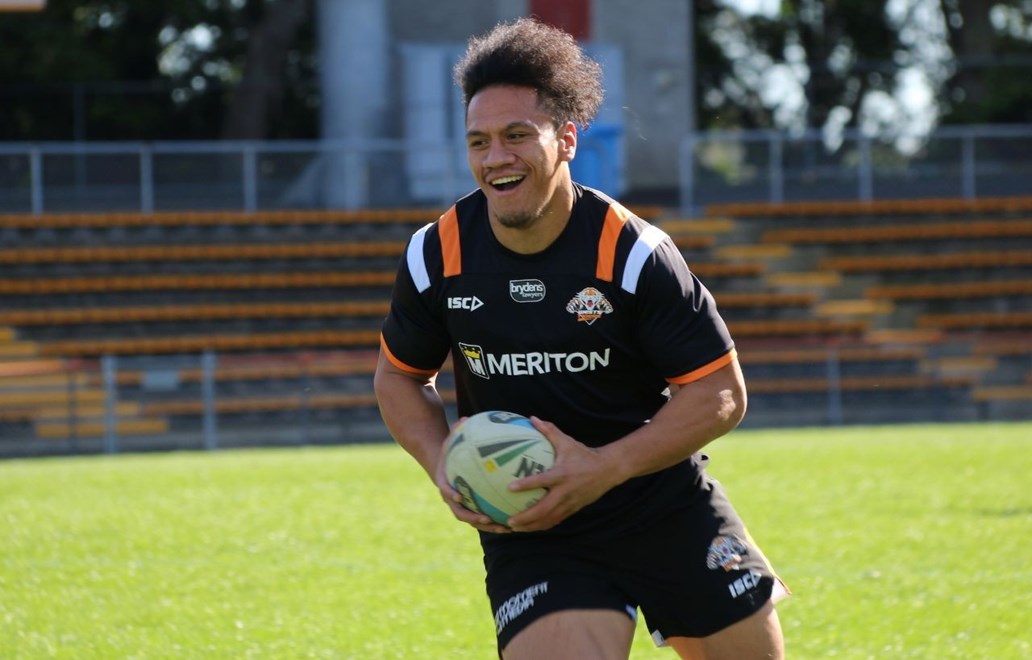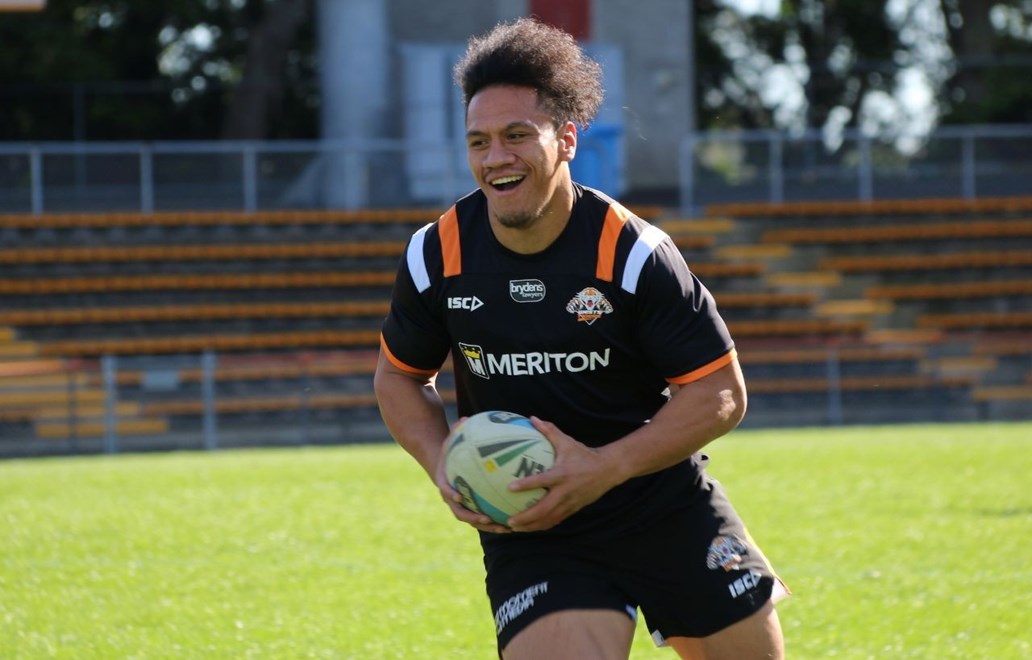 COMING into 2013 off the back of a Toyota Cup championship alongside the likes of David Nofoaluma, Kyle Lovett and Brenden Santi, the quietly-spoken Sauaso Sue knew that his first full NRL pre-season was going to be a tough adjustment to make.
He didn't expect it to be as tough as it was, though.
Nervous, shy and unsure of his place in the team, by his own admissions Sue wasn't quite sure how he'd make the transition from being a part-time teenage footballer to a full-time professional athlete, ready to stake his claim in the NRL. And it wasn't until then New Zealand international and teammate Adam Blair — who had made a high profile move from Melbourne to Wests Tigers just 12 months earlier — came over and introduced himself, that the Macquarie Fields Hawks junior began to feel that he belonged.
"I was pretty nervous my first day of pre-season, to be honest," Sue reflected.
"I didn't know many first-graders then and didn't want to be out of place, but Blairy [Adam Blair] was one of the first to come and say and introduce himself.
Be there to support the boys as they take on the Sydney Roosters on Friday, July 24!
"That really made me excited and blushed a bit because Blairy was this big-name and Kiwi Test player that I'd looked up to a lot when I was younger. He was like the big thing coming up from Melbourne, so it was nice of him to go out of his way and say hi to me.
"I looked up to him a lot when he was playing for Melbourne back in the days," he said.
"He was like the gun back-rower then, he did some freakish things on the field, and I really admired him as a player and a great role model for Poly's [Polynesian players]."
As pre-season ended and the 2013 NRL year rolled around, Sue continued to grow as a footballer and find his role in the Club's first-grade side — eventually making his debut alongside Blair in Round 6 — before quickly establishing a permanent spot in the final 17 each week. Sue would make his Test debut for Samoa at just 21 years of age at the end of the year as part of the Rugby League World Cup, and by the time he began his second full pre-season with the first-grade side in 2014, he had become an essential member of Wests Tigers' first-grade outfit, going on to play another 18 games that year.
In those two years that saw him move from fringe squad member to first-grade regular and Test representative, Sue says it was his idol, Blair, that helped him the most.
"I think having him [Blair] around really helped me to get to where I am now," Sue said. "Even though I know I still have plenty to improve on, he helped me come a long way.
"I think having him around really helped me to get to where I am now..."
"When he was here, he was playing the same position as me and he would always give me tips, and tips on things that I didn't always see as being that important.
"He helped me on my diet and that; he would always have lunch me; he taught me the importance of having sponsors and that rugby league is more than just playing NRL each week — [that] there's a reason to train hard all the time, no matter how you're going.
"He was always pulling me aside and teaching me things to work on, which helped.
"I got some dirty tips off him too," Sue laughed, "and I learned how to be a grub sometimes. I learned all the tricks of the trade from one of the best!
"No, but seriously," he continued, "he really did help me and I'm really grateful for him."
And so, while Sunday's showdown between the first-placed Brisbane Broncos and the fifteenth-placed Wests Tigers might have commentators previewing and anticipating a number of different storylines, for Sue, it's all about the opportunity to show the man that helped him become a first-grade player he is today, exactly how far he's come.
"I can't wait," said Sue.
"I know there's going to be a few words said out there; a few niggling elbows maybe, something here or there that he's taught me along the way," he laughed.
"But no, I really am looking forward to it. It'll be a good matchup.
"I still look up to him and idolise him in a lot of things, not just in football..."
"I still look up to him and idolise him [Blair] in a lot of things, not just in football.
"He's a good role model for us Islanders in how he holds himself in community and the charity work that he does, so he's still that idol for me and always will be
"I can't wait to I guess show him what I've achieved and how far I've come as a player since he came up and said hi to me in pre-season all those years ago."