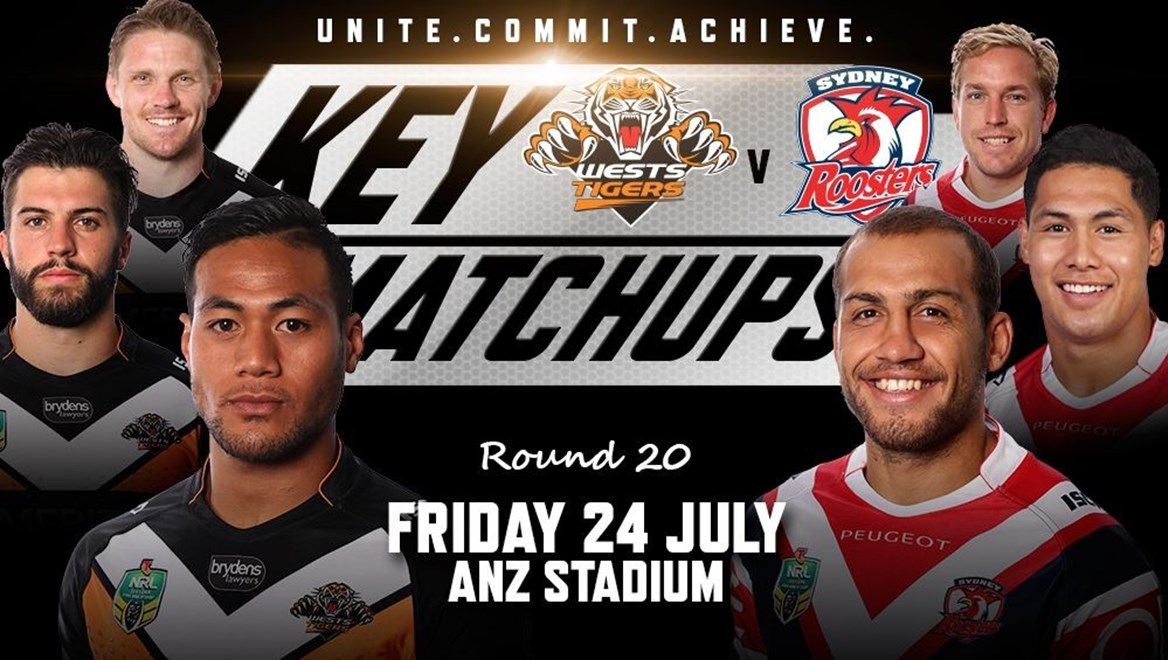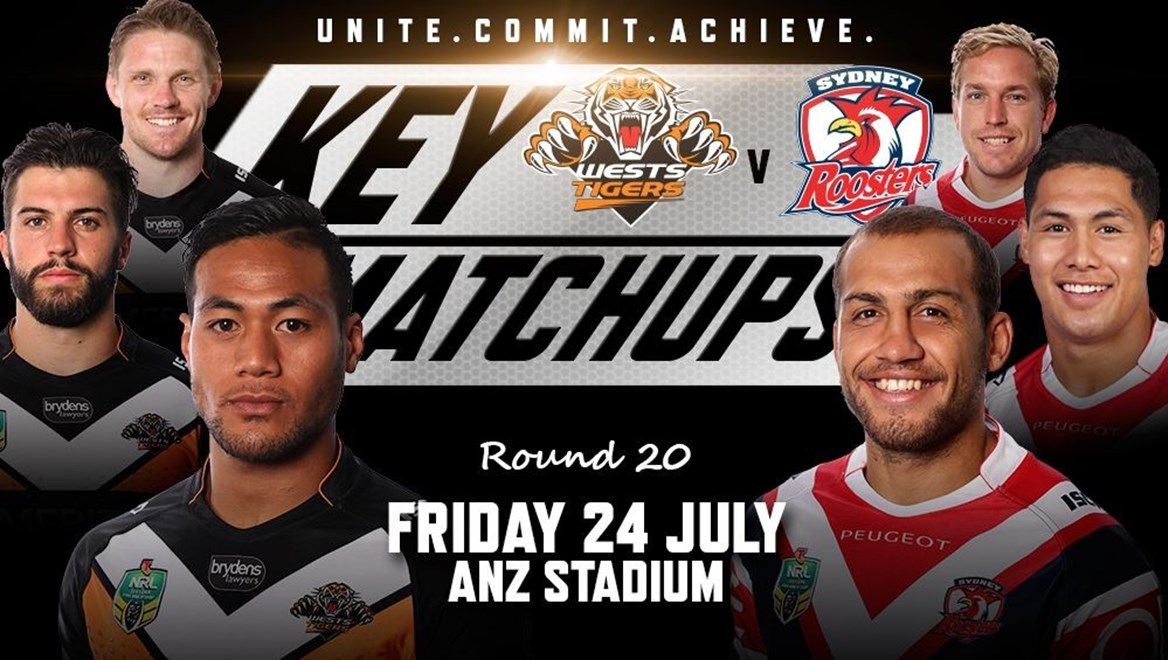 Tim Simona v Blake Ferguson
Tim Simona missed the earlier match between the two sides and has continued to struggle with an ankle injury in recent times. However, the Samoan International provides an important partnership with veteran winger Pat Richards on the left edge, with 13 tries between the pair this season.
Blake Ferguson has won just one of five games against Wests Tigers, however this is his first playing in a Sydney Roosters jersey. The former Raider has been in outstanding form in the past fortnight, making 215 metres (Round 18 v Panthers) and 238 metres (Round 19 v Warriors) consecutively.
Despite having over 150 NRL games between them, Simona and Ferguson will line-up against one another for the first time in their careers tonight. Look out for an electrifying battle between two of the game's speedsters.
Career Head-to-Head clashes: Yet to play at an NRL level
NRL Fantasy Prices: Simona $190,000 (Season: -$59,000; Average: 29.3), Ferguson $280,000 (Season: -$8,000; Average: 37.3)
Be there to support the boys as they take on the Sydney Roosters on Friday, July 24!
James Tedesco v Roger Tuivasa-Sheck
James Tedesco's comeback from a serious knee injury this year has been nothing short of outstanding, with the Camden Rams junior just one of four Wests Tigers players to have played every NRL match. The 22-year-old also played City Origin earlier this year and is fifth on the top running metres in the league with 2579 metres in 17 games.
Roger Tuivasa-Sheck has won five from five career games against Wests Tigers, however is yet to score a try against the Club. The New Zealand International is over 1000 metres clear of the next best on the running metres tally, with an astonishing 3927 in 17 games (average of 231 per game).
The fullback battle between Tedesco and Tuivasa-Sheck is set to light up ANZ Stadium tonight, with both players leading various statistical tallies and crucial to their respective team's chances.
Career Head-to-Head clashes: Played 2 – Tedesco 0, Tuivasa-Sheck 2
NRL Fantasy Prices: Tedesco $454,000 (Season: +$112,000; Average: 52.1), Tuivasa-Scheck $437,000 (Season: +$116,000; Average: 51.9)
Chris Lawrence v Mitchell Aubusson
Chris Lawrence's transformation in to the backrow has seen the Eaglevale St Andrews junior's involvement increase dramatically this year. The 26-year-old's defence this season has been a standout, making over 30 tackles in each of the past three games and an average of 23 per game in 2015.
Mitchell Aubusson's ability to cover a range of positions has seen him become a mainstay of the Roosters team since his debut in 2007. Despite being just 27-years of age, the utility has already played 176 NRL games and has a formidable career record of 12 wins and two losses against Wests Tigers.
While this may not be as 'exciting' as the Simona v Ferguson or Tedesco v Tuivasa-Scheck match-ups above, the Lawrence and Aubusson could be just as telling. Both players are leaders within their respective teams with a wealth of experience between them, sp look out for an intriguing battle on the edge tonight.
Career Head-to-Head clashes: Played 10 – Lawrence 1, Aubusson 9
NRL Fantasy Prices: Sue $263,000 (Season: +$45,000; Average: 36.8), Blair $298,000 (Season: -$1,000; Average: 34.9)