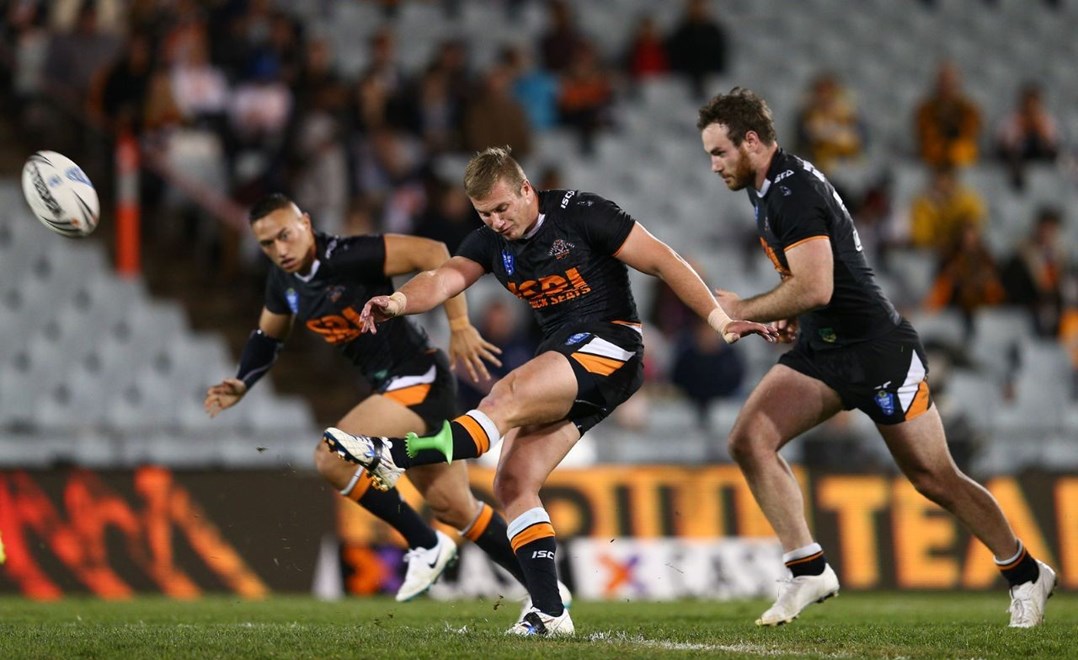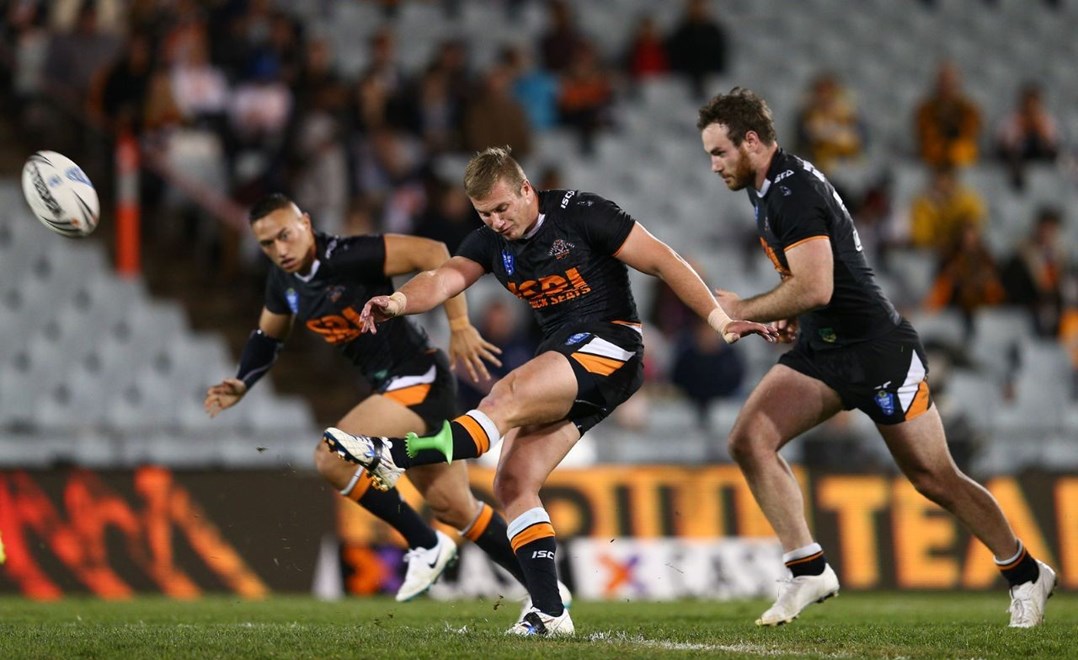 Wests Tigers' NSW Cup side ended their 2015 season with a disappointing 36-20 loss to the Canterbury-Bankstown Bulldogs on Friday night at Belmore.
The loss sees Wests Tigers finish the season in 11th position and out of the finals race.
See all the results and try-scorers from Wests Tigers' 2015 NSW Cup season below.
Get Dad something special for Father's Day! Spend more than $75 and get a FREE ISC Cap, valued at $30! Click here to shop!
Top Try-Scorers
20 tries — Kurtis Rowe
9 tries — John Sila and Chance Peni
8 tries — Delouise Hoeter
7 tries — Nathan Milone
2015 NSW Cup Results
Rd.1 — Wests Tigers 24 def. Newtown Jets 14
(Sila 3, Rowe, Funaki tries; Drinkwater 2/4 goals)
Rd.2 — Wests Tigers 31 def. Wentworthville Magpies 18
(Rowe 2, Hoeter, Lolo, McDonnell tries; Drinkwater 5/5 goals; Drinkwater field goal)
Rd.3 — Wests Tigers 34 def. Canterbury-Bankstown Bulldogs 22
(Lolo 2, Akauola, Peni, Hoeter, Drinkwater tries; Drinkwater 5/6 goals)
Rd.4 — Mounties RLFC 26 def. Wests Tigers 22
(Peni 2, Rowe, Drinkwater tries; Drinkwater 3/4 goals)
Rd.5 — Penrith Panthers 12 def. Wests Tigers 10
(McDonnell, Peni tries; Drinkwater 1/2 goals)
Rd.6 — New Zealand Warriors 28 def. Wests Tigers 16
(Rowe, Hoeter, Santi tries; Drinkwater 2/3 goals)
Rd.7 — Illawarra Cutters 24 def. Wests Tigers 14
(Moltzen, Rowe, Lodge tries; Drinkwater 1/3 goals)
Rd.8 — Wests Tigers 29 def. Wentworthville Magpies 28
(Rowe 2, Lulia, Milone, Drinkwater tries; Drinkwater 4/5 goals; Drinkwater field goal)
Rd.9 — Wests Tigers 28 def. Wyong Roos 24
(Sila, Grant, Liolevave, Lulia, Nofoaluma tries; Drinkwater 4/5 goals)
Rd.10 — Wests Tigers 20 def. Newcastle Knights 18
(Liolevave, Sila, Moltzen, Milone tries; Drinkwater 2/4 goals)
Rd.11 — Wyong Roos 26 def. Wests Tigers 14
(Sila, Rowe, Fiagatusa tries; Drinkwater 1/3 goals)
Rd.12 — North Sydney Bears 26 def. Wests Tigers 22
(Milone, Sila, Santi, Drinkwater tries; Drinkwater 3/4 goals)
Rd.13 — Illawarra Cutters 28 def. Wests Tigers 20
(Sila 2, Rowe, Funaki tries; Drinkwater 2/4 goals)
Rd.14 — Manly-Warringah Sea Eagles 34 def. Wests Tigers 18
(Hoeter 2, Rowe tries; Drinkwater 3/3 goals)
Rd.15 — Wests Tigers 36 def. Newcastle Knights 16
(Martin 2, Milone, Hoeter, Rowe, Liolevave tries; Woods 4/4, Rowe 2/2 goals)
Rd.16 — North Sydney Bears 26 def. Wests Tigers 8
(Lulia, Rowe tries; Drinkwater 0/2 goals)
Rd.17 — BYE
Rd.18 — Manly-Warringah Sea Eagles 40 def. Wests Tigers 18
(Hoeter, Akauola, Santi, Moltzen tries; Rowe 1/4 goals)
Rd.19 — BYE
Rd.20 — Penrith Panthers 34 def. Wests Tigers 20
(Rowe 2, Milone, Manumalealii tries; Drinkwater 2/4 goals)
Rd.21 — BYE
Rd.22 — Wests Tigers 22 drew Newtown Jets 22
(Peni 2, Milone, Rowe tries; Drinkwater 3/4 goals)
Rd.23 — New Zealand Warriors 20 def. Wests Tigers 16
(Hoeter, Peni, Rowe tries; Drinkwater 2/3 goals)
Rd.24 — Mounties RLFC 54 def. Wests Tigers 18
(Milone, Rowe, Manumalealii tries; Drinkwater 3/3 goals)
Rd.25 — Canterbury-Bankstown Bulldogs 36 def. Wests Tigers 20
(Rowe 2, Peni 2 tries; Drinkwater 2/4 goals)