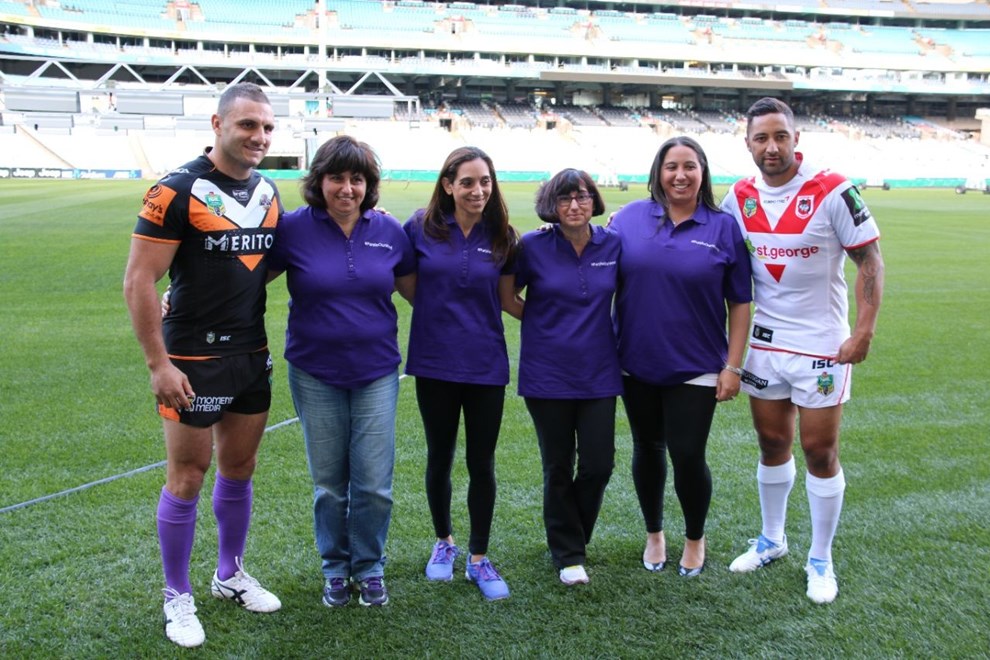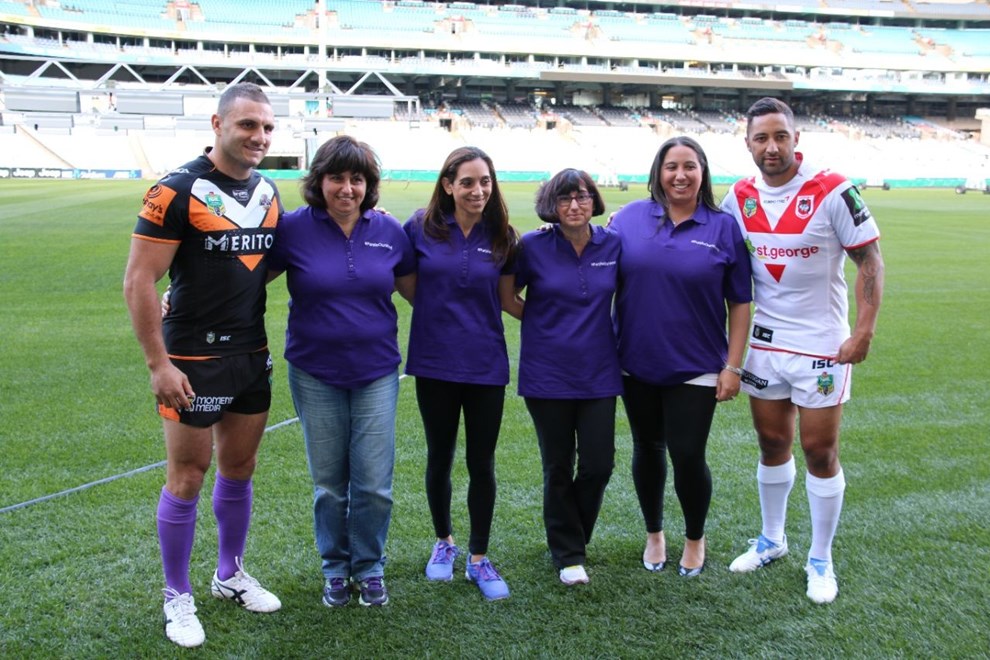 You'd be forgiven for thinking that come the afternoon of the final game of the year, there'd be a number of things running through the mind of Robbie Farah.
Yet for the 31-year-old, his focus will be on only one thing — honour.
Standing alongside former teammate Benji Marshall at ANZ Stadium on Thursday afternoon, both Farah and Marshall spoke passionately and eloquently about a cause close to the heart of both of them. Teammates for more than 10 years at Wests Tigers before Marshall left to pursue his rugby union dream, the pair were united in their desire to make a long-lasting impact when they face off Saturday, announcing their support for the Purple Our World campaign and the fight against pancreatic cancer that has personally affected them both.
Having lost his mother to the disease in 2012, Farah said he was incredibly proud and humbled to be able to support a cause so close to his heart this weekend.
"I'm really excited and proud that we've got this up and running," he said.
"It's going to be a great honour for me to pull these socks on and run out on Saturday.
"My mother and his [Benji's] father suffered because of this disease, so it sends a strong message when we can both stand here today to speak about this.
"Hopefully people can stand up now and take some notice.
"It's a terrible disease," he continued. "I don't think people realise the gravity of it.
"When you are diagnosed with it, you're next to no hope of surviving.
"I know there are other cruel cancers out there — the list goes on with that — but I think this is one where there's very little information out there and we need to raise awareness, because by the time you find out about it, you've got next to no chance.
"Hopefully we can really open up people's eyes to how terrible pancreatic cancer is."
Three years on from his mother's passing and an iconic day at Leichhardt Oval as Wests Tigers and Sydney Roosters players paused for an emotional moment's silence, it was clear even just looking back on that time was tough for the Wests Tigers captain.
But what was perhaps most clear was the desire and honour that Sonia had instilled in her son — spurring him on to help support those still suffering with the disease.
"Even being here talking about it is getting me a bit emotional," Farah reflected.
"I guess it hits very close to home for both of us.
"For me, that day [at Leichhardt Oval] was a difficult one but I've also never felt so proud.
"To see the reaction from the boys and the respect from the whole crowd in that minute's silence was really something that my family and I will never forget.
"It's been tough to speak about for the first couple of years, but I've alwas wanted to get involved and help raise awareness for such a terrible disease," he continued.
"I remember when I found out my mother was diagnosed with this cancer, I knew the harsh reality of how difficult it was going to be for her and my family.
"That's what this is all about — to help raise awareness and help someone in the future.
"It's the least that we can do."
And so, while Saturday's game will seemingly carry the storylines of a team desperate to avoid the wooden spoon and a side on the verge of an unlikely top eight finish, for Farah, there's only one thought that he'll be thinking about as he prepares to take the field.
"I've got no doubt that when I get dressed on Saturday and wear these socks, the thing and person that's going to be in the forefront of my mind is my mother," he said.
"I'm sure Benji is going to be thinking about his dad as well.
"So to know that we're playing for them gives me great honour, and it's a great privilege to represent our parents in this fashion this weekend."
Wests Tigers are encouraging all fans to wear something purple to the game this Saturday against the Dragons and help #PurpleOurWorld to raise awareness for pancreatic cancer.
You can learn more about Purple Our World and the work they do by clicking here.