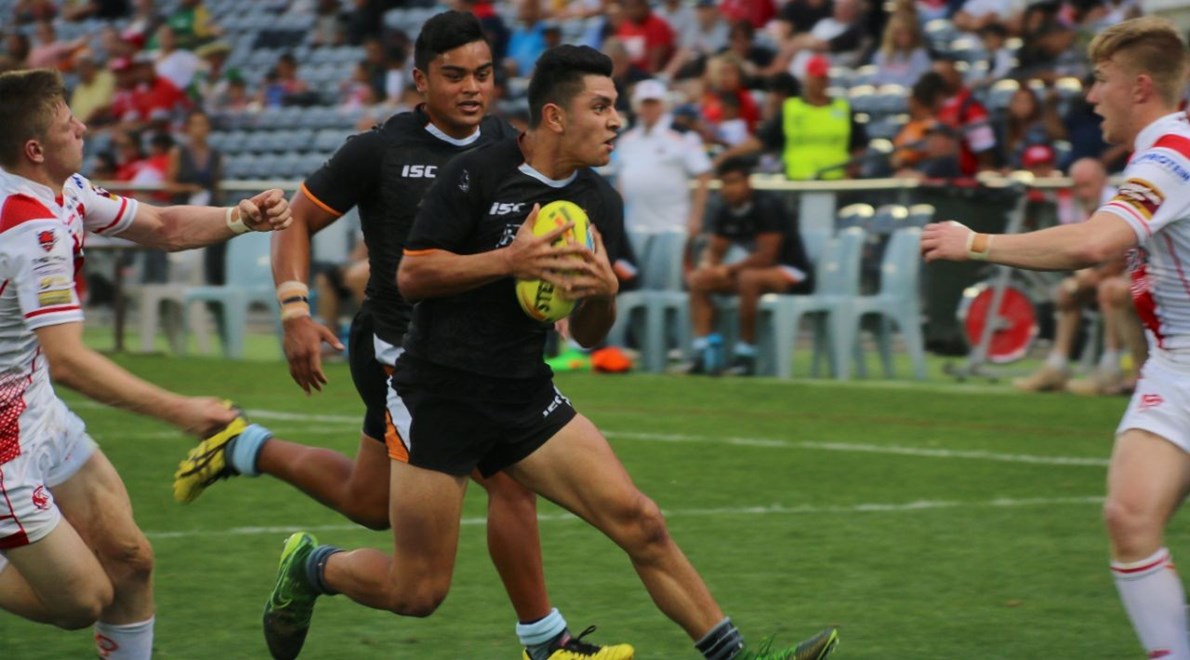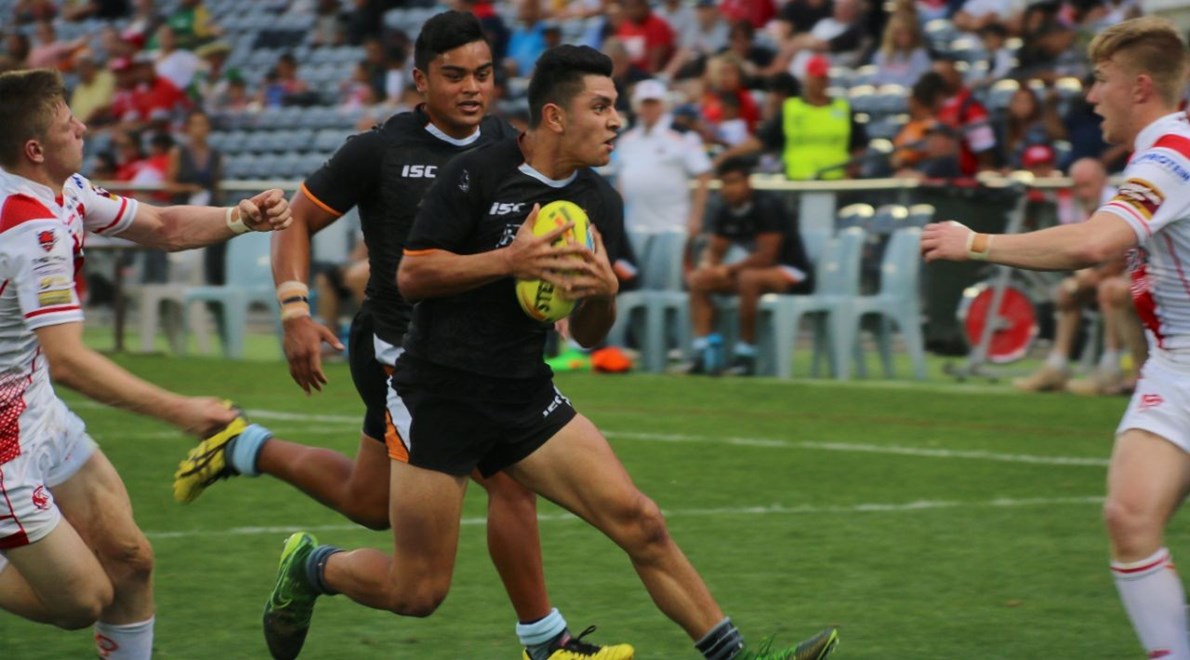 Wests Tigers Brydens Lawyers Academy have gone down to St. Helens Academy 22-18 in an entertaining contest on Saturday night at Campbelltown Stadium.
St. Helens Academy have rarely lost on Australian soil since they began taking touring matches in 2004 — losing just three of their 19 to date — and quickly found their rhythm when Levy Nzoungou cut back against the grain to score after just five minutes.
Jordan Gibbons converted to give St. Helens an early 6-0 lead.
Wests Tigers Academy looked to have hit back when a superb intercept from Abdalla Matar saw the winger sprint away down the left touchline, but he was unable to ground it cleanly in the in-goal courtesy of some desperate defence from the visitors.
The home side would finally cross for points after 12 months following a deft kick from Hosea Leuea, which saw fullback Ryan Papenhuyzen charge through the line to score.
Leuea was unable to convert, however, leaving the score 6-4 in favour of St. Helens, which is how it would read at the end of the first third of the special match.
Wests Tigers Academy would come out firing after the break, and quickly took the lead through Adam Rizk after 28 minutes. Adam Doueihi's successful conversion gave the home side a 10-6 lead, which is how it would remain for the next period of the match as a slew of attacking opportunities fell by the wayside for the home team.
After a superb individual effort in defence from Nathan Patolo stopped a certain try for St. Helens, Wests Tigers finally made their attacking advantage count when Hans Taala proved too strong close to the line and stretched out to score after 46 minutes.
Doueihi was unable to add the extras, leaving the score at 14-6.
Just before the end of the second third, St. Helens would cross for a crucial four-pointer as Chris Follin crashed over next to the posts — cutting the home side's lead to 14-12.
The traveling side would take the lead soon into the final third, with Jack Unsworth capping off a bit of enterprising play close to the line after 64 minutes.
Gibbons' successful conversion pushed the visitors' lead to 18-14 with 15 minutes to go.
After an intercept against the run of play put St. Helens in strong field position, the visitors further extended their lead on the 70th minute mark when Danny Edwards drew two defenders before sending hooker Alex Eckley over in the corner.
With an unsuccessful conversion, the scoreline remained at 22-14 in favour of St. Helens, before Wests Tigers quickly hit back through Abdalla Matar in the 75th minute.
That saw the lead cut to just 22-18 with under five minutes to play, but Wests Tigers Academy were unable to complete the comeback as St. Helens hung on for victory.
FULL TIME — St. Helens 22 def. Wests Tigers Brydens Lawyers Academy 18