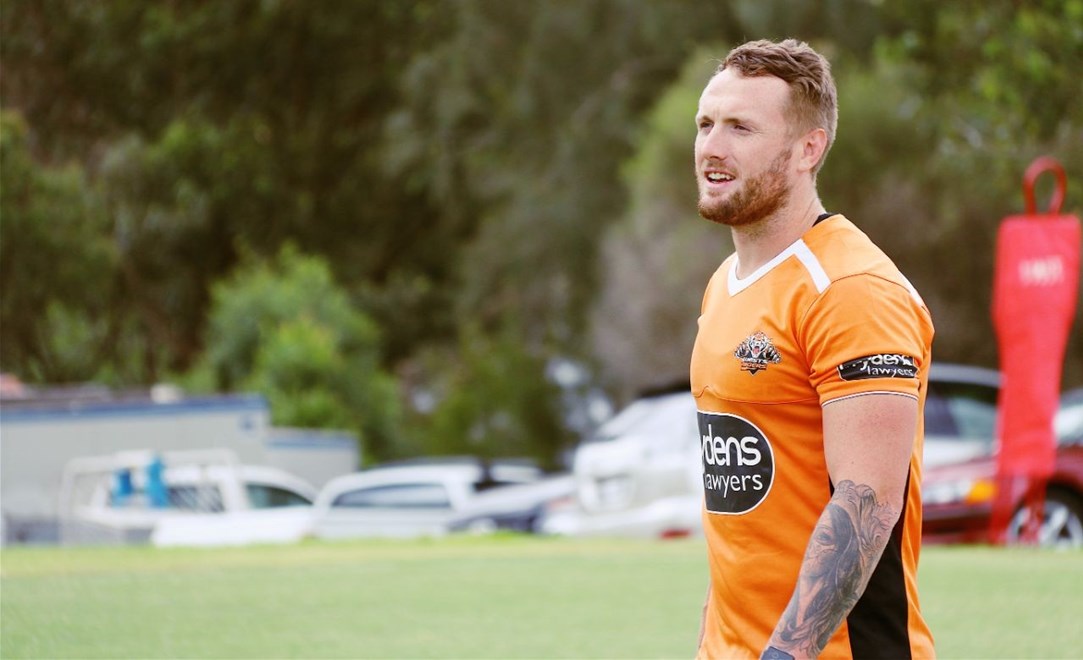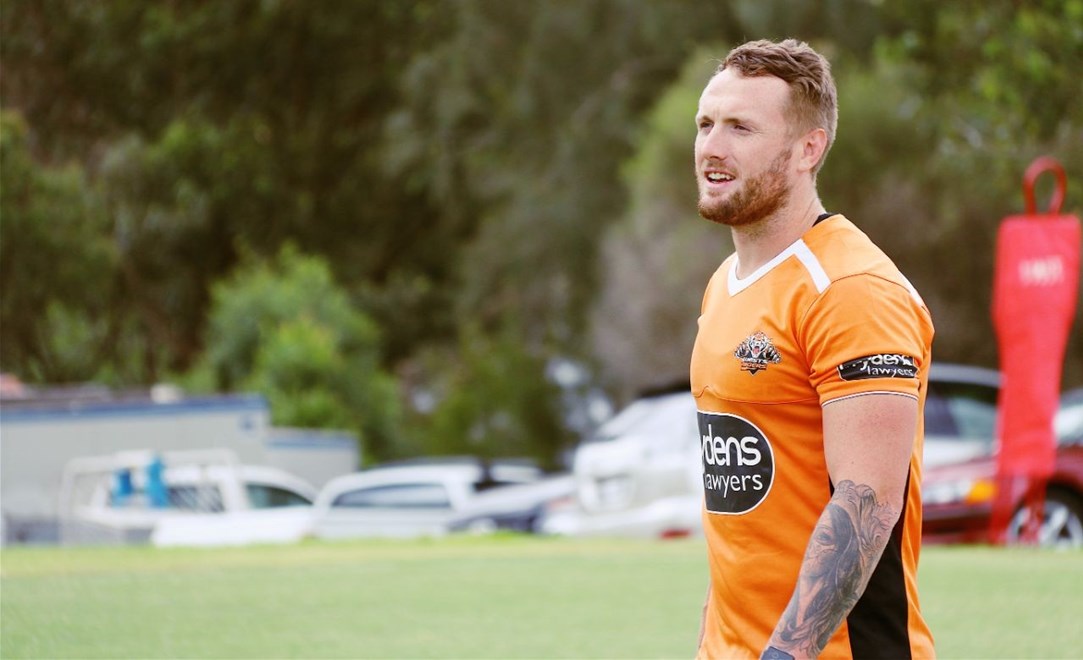 HE first appeared on the NRL stage as a bright-eyed 16-year-old, making what was, at the time, a shock first-grade debut for the Gold Coast Titans back in 2008.
Eight years later, with a handful of games for the Titans and two seasons with Hull FC under his belt, Jordan Rankin is back chasing his dream of playing in the NRL.
And this time, the now 23-year-old is adamant he's here to stay.
The youngest player to make his first-grade debut since Jack Arnold in 1936, Rankin would go on to play just 17 first-grade games in six years following his debut in 2008 — unable to lock down a permanent spot in the side as he made the transition out of the NYC competition.
Midway through 2013, he made the bold move to switch competitions and join Super League in the hope of regular first-grade appearances — something he soon achieved alongside former Wests Tigers legend Gareth Ellis at Hull FC.
Two long Super League seasons later, Rankin returned to Australian shores as he joined Wests Tigers — determined more than ever to make his name in the NRL.
"It's really good since I've been back," Rankin said. "It's a different environment to what I'm used to at the Titans and in England but coming back here has been really good.
"Starting at the Titans so young, and not playing as many games as I would have liked early on, was probably a bit detrimental at the start of my career," he admitted.
"I knew I had to go somewhere where I wasn't known and nobody had a pre-conceived idea of who I was and how I played, so I knew England was probably the best opportunity for me to do that. I had to go to a team where I was going to play first-grade.
"And I did that — I played 50-odd games or something like that in two seasons — and that was something I really needed to do. I really enjoyed my time over there."
On the field, Rankin found himself playing in a myriad of back-line positions for Hull FC — chalking up 21 tries and 51 goals from his 47 games in an impressive two-year stint. Missing less than a dozen games, Rankin seemingly fulfilled his goal of playing regular top-level football, but said that his biggest area of growth came off the field.
"Moving over there by myself at 21 was a big decision," he reflected.
"It made me grow up a lot faster and made me realise that I can't have things done for me like I did on the Gold Coast where I had my family. I had to grow up and do things by myself, and that changed me as a person and a footy player.
"I had to grow up and do things by myself and that changed me as a person and a player..."
"I train hard and I do all the one-percenters to get myself fit and ready to play each week in first-grade and it was over there that I learned to be a better professional.
"When you're younger, you don't really think about recovery and the little things to help your game — you tend to just trust your ability and do the things you've always done.
"But now, I think I do those one-percenters really well. I know I've got to be on my game all the time in order to put myself in the best possible position come game day.
"I'd like to think that I've come back a lot more experienced than when I left because of the experience, both football and life-related, that I gained over there."

* * * * *

Mid-way through his second year with Hull FC, Rankin's maturity would soon be tested as he began to weigh up his options for the end of the 2015 season.
Playing consistent football for the black and white, Rankin admitted he had the option of extending his time in Super League for another three years. An injury to Ellis had somewhat hampered Hull's hopes of a strong season, but he was still a vital part of the team's performances each week, whether that be at fullback, centre or in the halves.
The decision remained, though, where he wanted to play out the next part of his career.
"I had the opportunity to stay over there for another three years if I wanted to," he said, "but I felt like I had achieved everything over there I set out to do in the first place.
"I weighed up if it was the right time to come home, and I to be honest, I think coming back home to any other team, I probably would have stayed over there a little bit longer.
"But knowing that the Wests Tigers had a really young squad and some really good players, and having JT — I really rate JT as a coach — I thought coming to the Wests Tigers was an opportunity for me to play first-grade anywhere in the back-line.
"I knew that I wasn't coming back to play in reserve grade," he emphasised.
"If I was coming back, it was to cement a spot in first-grade, and I know now with the experience that I've gained over in England that I've got the opportunity to do that now.
"It all comes down to me training hard and working hard, and if the opportunity comes, I've got to make sure that I take it with both hands and enjoy the experience again."
"It all comes down to training hard, working hard... and enjoying the experience again..."
Rankin wasn't shy about his excitement to work under Head Coach Jason Taylor, a player who he says he watched a lot growing up as a young playmaker.
"For me, the biggest thing was that JT put faith in me and told me that there was an opportunity for me in first-grade if I knuckled down and worked hard," he said.
"I really do look forward to working under him. I spoke to a lot of people and heard really good things about him as a coach, and that excited me a lot about joining this Club.
"The media don't portray that enough," he continued.
"I've been here for five weeks now and I've got nothing but positive things to say about JT, and the entire coaching staff. Every conversation I've had shows how thoughtful he is about the game, and about making sure we keep improving going forward."

* * * * *

Finding a spot in the starting side, however, might not be as easy as it seems.
Most comfortable at fullback or in the halves, Rankin has plenty of competition — and highly-rated competition at that — in the likes of James Tedesco, Mitchell Moses and Luke Brooks, who have all come through the junior grades at Wests Tigers together.
But don't count out the motivated Rankin from finding a spot in the team just yet.
"Obviously Teddy and Mitch and Brooksy are fantastic players, and they're even younger than I am," he said with a smile. "They've shown that, going forward, they're individually going to be top-class players and together, a terrifically talented spine.
"I knew that, coming back here, it was always going to be hard to get a spot in the team and I'm not under any illusions that I'm going to come in here from the word go and put one of them in reserve grade or anything like that. But I've spoken to JT and there's a few other positions in the team this year that I've put my hand up for, and I'm working hard with the coaching staff to make sure that I'm ready to go for the start of the year.
"I didn't come back to play reserve grade..."
"I didn't come back here to play reserve grade, so if it means that I've got to play in the front row to play first-grade, I will. I'm happy to do whatever it takes to make it back."

* * * * *

From the moment he entered first-grade a shaggy-haired teenager from the Gold Coast, Rankin has always been clear about setting and achieving goals.
Those goals have certainly changed as Rankin too has changed — from his dream to make his debut on the Gold Coast to his dream to play regular first-grade football at Hull FC — but having a clear vision, and desire, to achieve those goals have never wavered.
And so now, returning to the NRL much smarter, wiser and more experienced than when he left, it's little surprise that Rankin's goals for the year ahead are all about him moving forward, both individually as a player and collectively within the team.
"I'd like to think I did come back here being able to take some sort of a leadership role in the team simply because I do have that little bit more experience than before," he said.
"I never had that experience before I went to England, but I think having that [now] has put me in good stead on and off the field to help myself, and this team.
"I gained a lot from players over there," Rankin said. "I played with Gareth Ellis and he is probably the best professional I've ever played with, and a legend here at this Club too. He put me in the right stead to be able to come here and play with Wests Tigers to begin with and learning off guys like that, you gain so much experience and learn so much.
"And if I could pass off anything to any of the players here, of course I would.
"I wouldn't say I'm above or below any of the players here — we're all on the same playing level — but if anyone would ask me for advice, I'd be happy to help.
"For me, it's more about modeling that leadership more than anything," he enthused.
"I'm still new here, so I just want to train hard, play hard and make sure that I'm putting my best foot forward for my teammates — whatever the situation might be.
"It's a bit scary to know I've got more experience than anyone in our back-line, but that's probably a good thing for me. I went over to England to get some experience and I did that, so it's a positive to have that coming back now, trying to crack the NRL again."
2016 Memberships are on sale! Click here to sign up and show your support this year!