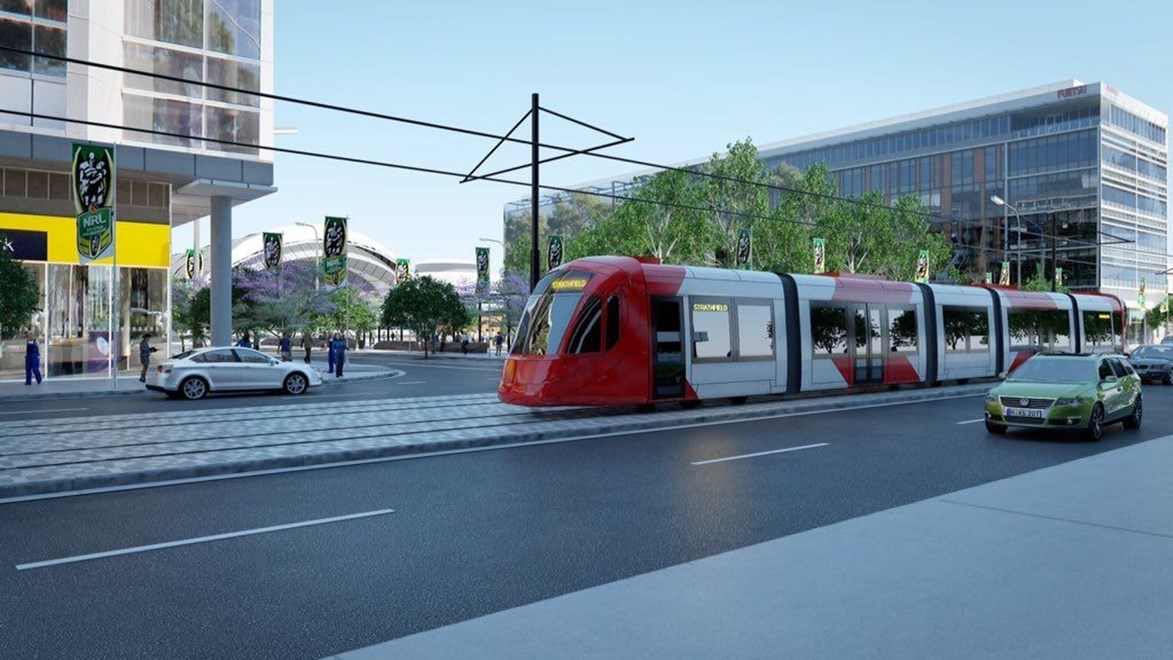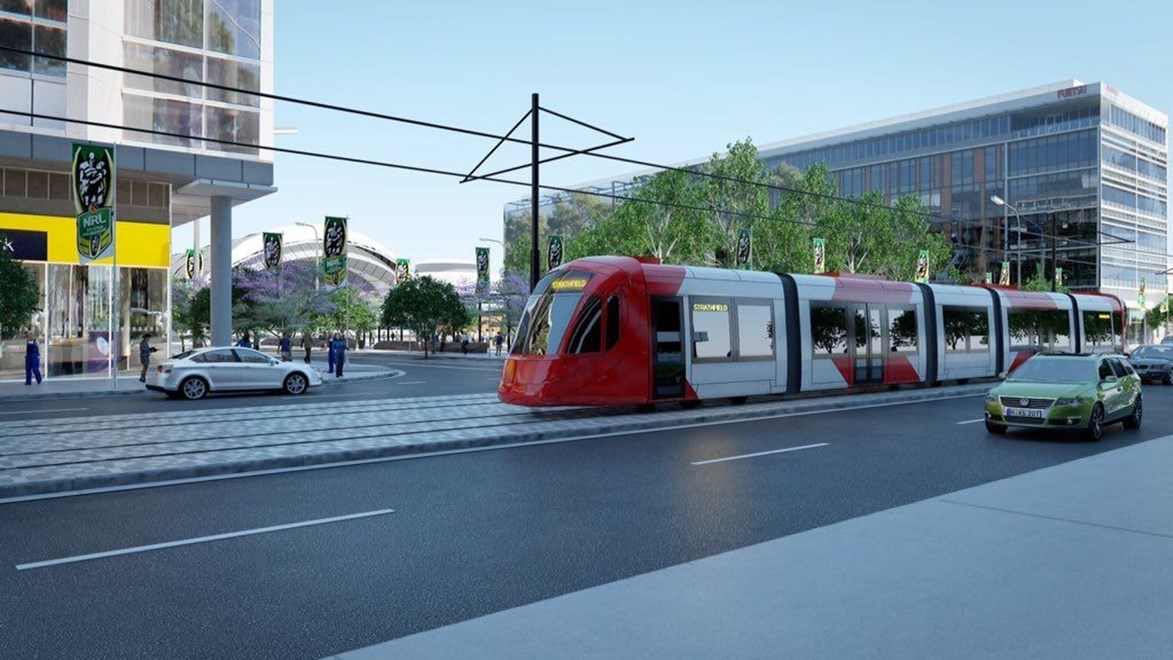 Sports and entertainment fans travelling to future events at ANZ Stadium will be the big winners following the NSW Government announcement that a light rail connection will be built through the Olympic Corridor, linking Sydney Olympic Park with Parramatta and Strathfield.
NSW Premier Mike Baird, Minister for Transport and Infrastructure Andrew Constance and Minister for Planning Rob Stokes have unveiled the Greater Western Sydney light rail network, which will drive urban growth and create new jobs along the 22km corridor.
"We're delivering a modern, efficient and reliable light rail network for Western Sydney," Mr Baird said.
The NSW Government investigated four short-listed corridors for light rail in Western Sydney and the preferred network includes a combination of two of these options.
The spine of the preferred route runs from Westmead to Strathfield via Parramatta CBD, and incorporating Camellia and Sydney Olympic Park. The light rail line will also branch to Carlingford, replacing the existing heavy rail shuttle.
Transport Minister Constance said the two new light rail lines would open up more of western Sydney and connect fans with Sydney Olympic Park.
"It's very pleasing to announce a network and not a route," he said. "From Westmead Hospital to the Sydney Olympic Stadium, this is a win for everybody.
"Light rail can move 10,000 passengers per hour. We have the benefit of linking it to the hospital, through the Parramatta CBD, and of course to other major development precincts along the network. We're going to see a major build happen very quickly."
Mr Baird said the new light rail project would be of great benefit to western Sydney residents.
"Today is a fantastic day for the people of Western Sydney," he said. "We are bringing the light rail revolution that is going across this great State, here to Parramatta, here to western Sydney."
Daryl Kerry, Managing Director of ANZ Stadium and President of Sydney Olympic Park Business Association, congratulated the NSW Government on its forward planning for Greater Sydney, adding that the light rail route was fantastic news for fans who attend events at ANZ Stadium each year, as well as businesses in Sydney Olympic Park and the fast-developing communities along the Olympic Corridor.
"The light rail connection is a transformational piece of infrastructure for Western Sydney and will be a boon for Sydney sports and entertainment fans who will be able to access Sydney's major events in faster time and with greater ease," Mr Kerry said.
"A light rail trip from Parramatta to Sydney Olympic Park is expected to be twice as fast as existing public transport – as will be the case for the trip from Strathfield to the precinct.
"With the NSW Government committed to the redevelopment of ANZ Stadium, linking the major events precinct of Sydney Olympic Park with the city of Parramatta, in particular, makes perfect sense.
"Crucially, the light rail connection to Sydney Olympic Park will also drive what is already one of the fastest growing commercial and residential precincts in the country."
Mr Kerry said Sydney Olympic Park had hosted 13 million visitors this year, with 1.6 million fans passing through the gates of ANZ Stadium for 52 events, while the precinct was poised to experience monumental residential and commercial growth over the next 10 years.
LIGHT RAIL, WESTCONNEX, NSW BLUES AND STADIUM REDEVELOPMENT
The light rail decision follows a NSW Government announcement that a new westbound off-ramp from the M4 will dramatically improve road access to and from the major car parking stations in Sydney Olympic Park.
Mr Kerry said the new light rail connection – combined with the WestConnex motorway and recently announced westbound offramp from the M4 – would transform the travelling experience to ANZ Stadium and Sydney Olympic Park.
The transport breakthrough in Greater Western Sydney complements the NSW Government's commitment to redevelop ANZ Stadium – enabling it to become a world-class rectangular stadium – as part of the biggest investment in sport and major event infrastructure in NSW since the Sydney Olympics.
The Government's stadia funding commitment includes a proposal to redevelop the 80,000-seat ANZ Stadium – bringing fans closer to the action and supercharging the game-day atmosphere.
The transport news also follows the announcement of a $20 million Centre of Excellence for the NSWRL next to ANZ Stadium, with the NSW Blues to benefit from a full-size training field and unprecedented access to their home ground via the same athletes tunnel used during the 2000 Sydney Olympics.
The light rail connection is exciting news for all sports and entertainment fans who attend events at ANZ Stadium and Sydney Olympic Park, and will help move the 80,000-plus crowds that pack in to the Stadium for major events like State of Origin.
The light rail route will also link directly to the local areas of NRL clubs the Canterbury-Bankstown Bulldogs and Wests Tigers on one side of ANZ Stadium, and Parramatta Eels fans to the north-west, while South Sydney Rabbitohs and St George Illawarra Dragons fans will also have exciting new transport options.
BUSINESS BACKS LIGHT RAIL DECISION
Influential business group the WestLine Partnership has welcomed the NSW Government's decision to establish a light rail connection through the Olympic Corridor, as part of the Western Sydney Light Rail Network, as it will create massive economic, social and urban renewal opportunities.
The WestLine Partnership, established in late 2014 with the aim of helping fast-track the delivery of a light rail route along Sydney's Olympic Corridor, comprises some of Sydney's leaders in business, government, sport and property, and believes that this "missing link" will not only improve accessibility, but importantly, support and drive future employment and residential growth.
WestLine Partnership Convenor, and Chair of the Western Sydney Leadership Dialogue, Christopher Brown AM, praised the NSW Government for its forward-thinking approach to infrastructure investment and said its decision would catalyse the development of one of the most significant precincts in the country.
"On behalf of the WestLine Partnership, I'd like to thank all of our partners and stakeholders who have played a key role in raising awareness and support for this transformational piece of infrastructure," Mr Brown said.
"We are proud that the Olympic Corridor light rail project will be used as the test case for how future infrastructure projects will be managed and funded, using a value-capture model, where those that benefit from its development, will also help to reduce the cost to the wider public.
"The NSW Government, and in particular Transport Minister Andrew Constance, should be commended for embracing innovative and inclusive methods of infrastructure funding and for providing a project model that will ultimately deliver a complete, and considered, light rail network in a shorter period and potentially cheaper cost to tax-payers.
"The Olympic Corridor has been an often over-looked region when it comes to transport infrastructure, but all of that is now set to change. Over the next 20 years, with the Government on board, you can expect this precinct to house more than one third of all new jobs and almost 20 per cent of new dwellings."
LIGHT RAIL TO MOVE 5000 FANS PER HOUR IN BOTH DIRECTIONS
The new light rail connection will be capable of moving 5000 passengers per hour in both directions through the Olympic Corridor – the equivalent to 40 light rail services in place of 200 buses.
ANZ Stadium already benefits from a heavy rail service that can move as many as 27,600 fans per hour.
Transport research shows that up to 76 per cent of all fans who attend major events at ANZ Stadium use public transport, with 62 per cent using the train service to Olympic Park.
More than 92,000 fans of the estimated 150,000 who packed Sydney Olympic Park for the Taylor Swift concert and three other major events on Saturday 28 November travelled by train to and from Olympic Park Station.
RE-ENERGISING THE STADIUM PRECINCT
The NSW Government has already identified and commenced work on new Urban Activation Precincts at Carter St (just behind the western gates of ANZ Stadium) and at Wentworth Point (near the Sydney Olympic Park ferry wharf), precincts that will bring thousands of new residents and new commercial and retail developments.
The Sydney Olympic Park Authority is currently reviewing its masterplan with a view to significantly increase commercial, retail and residential development in Sydney Olympic Park. This will include shops, cafes, bars, eateries and restaurants, which will reinvigorate the Sydney Olympic Park town centre and help create a lively Stadium precinct.