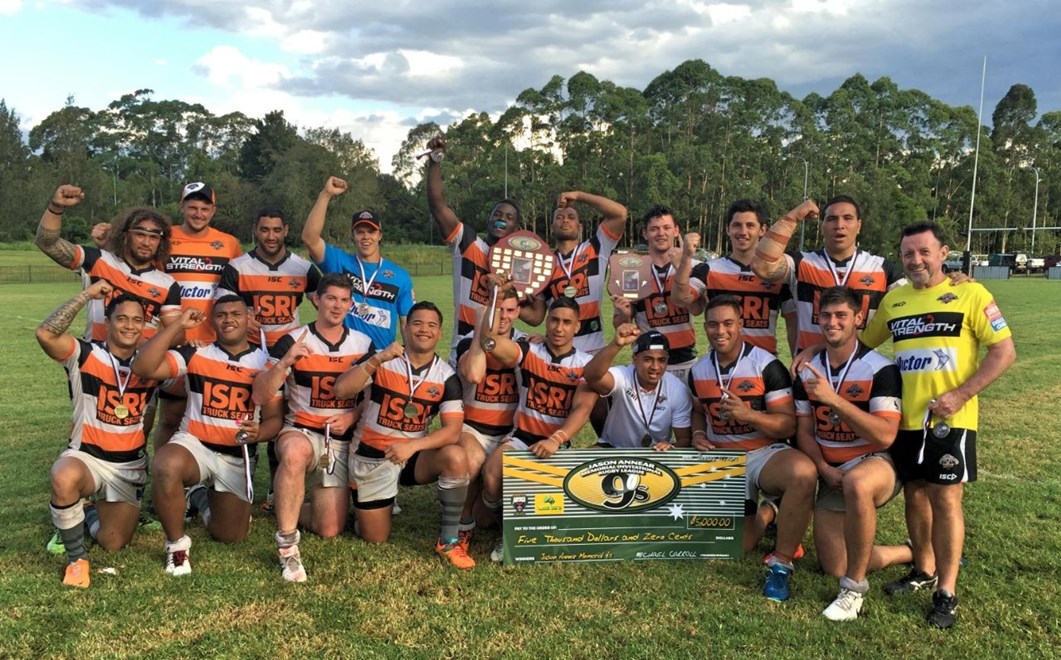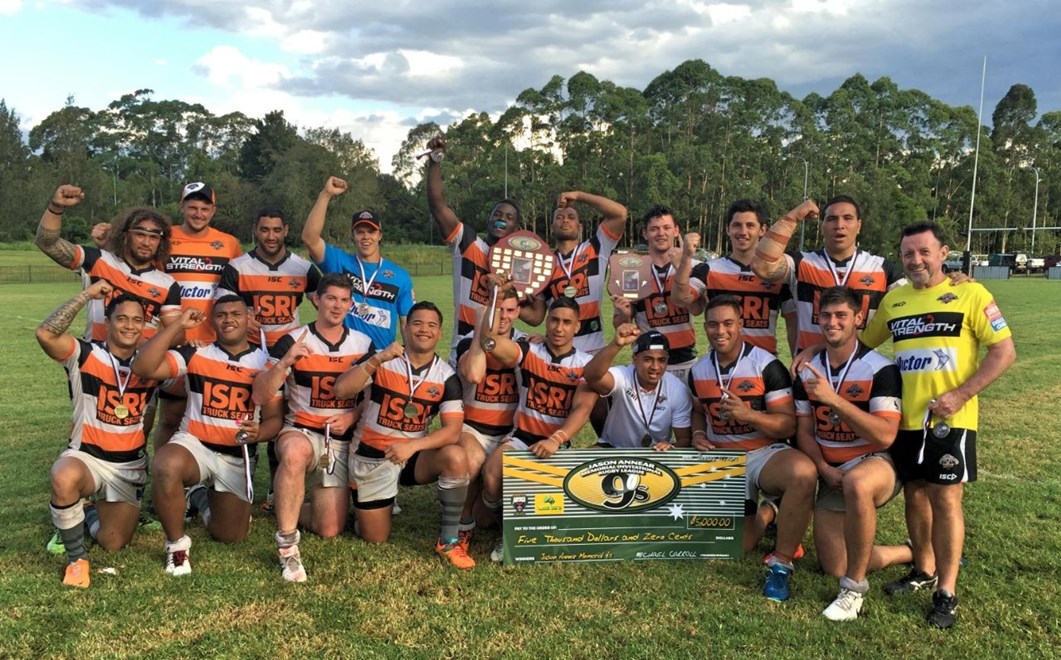 Wests Tigers have won the 2016 Jason Annear Memorial Nines tournament on Saturday in Berkeley Vale with a convincing 24-0 win over the Redfern All Blacks.
Wests Tigers NSW Cup Coach Paul Stringer put his side's victory down to a complete team performance, saying it was simply a case of everything going right on the day.
With a squad comprised of several new players to the Club and a number of players still eligible for the NYC U/20's competition in 2016, Wests Tigers stormed their way to victory in the tournament — conceding just 10 points in their final four games to emerge with a trophy, $5000 in prize money and a very happy first-time Coach.
"It was a pretty special day for a lot of these guys," Stringer said after the competition.
"Our team was really a lot of guys who had never played before, some of which had never even played for the Club before. But we had some good consistent players in there and, over the course of the tournament, we just grew together and started to gel.
"We came here looking to win the competition, and it's a great testament to the boys that they are able to achieve the goal that we had say out before the start of the day.
"And for me," he laughed. "It's a nice first win as the NSW Cup Coach of this Club!"
Led by players such as Billy McConnachie, Asipeli Fine and NYC Player of the Year Junior Tatola, Wests Tigers opened the tournament with a convincing 30-0 win over Gulargamborne Rovers in the group stage. They then dropped the next game 10-4 to Wyong Roos in a tight affair, before bouncing back in the final group stage game — defeating La Perouse Panthers 21-4 to book their spot in the knockout stages.
The win didn't come without cost, however, with Wests Tigers losing Veiru Mapesone to injury, forcing the remainder of the squad to step up and cover for his absence.
"To the boys' credit," Stringer said, "once we lost Veiru, they really did dig deep.
"I thought Asipeli Fine was the best player in the entire tournament, he just covered so well in the middle and everywhere for us, but really, they were all brilliant.
"We had a lot of middle edge forwards and some young outside backs, so it was hardly an ideal Nines team, but to their credit, they did their job and got us over the line."
Moving into the knockout stages, Wests Tigers simply charged their way to the final — defeating Marist Kelly Saints 31-0 and Newcastle All Blacks 17-6 — before taking out the competition with a dominant 24-0 Grand Final win over the Redfern All Blacks.
Stringer believed that the overall success of the tournament will not only be great for the experience of the players, but their combinations together at training going forward.
"As a whole, I think today is going to be a really helpful one for the guys here," he said.
"They've obviously got plenty of confidence from getting the win, but more than that, they've developed some combinations really well. Most of them had hardly played together before, and going into trial matches and the start of the season, having this experience of playing together under the belt is going to be really beneficial for us.
"It will help us a lot at training, and I'm really proud of the effort they showed today."
Wests Tigers will look to continue their Nines success next weekend in Eden Park when they feature as part of the 2016 Downer NRL Auckland Nines on February 6-7.
Wests Tigers Jason Annear Nines Squad
1. John Tohi 2. Jayden Wheelhouse 3. Ryland Jacobs 4. Veiru Mapesone 5. Esan Marsters 6. Asipeli Fine 7. Billy McConnachie 8. Jeremy Marshall-King 9. Wesley Lolo 10. Andy Fiagatusa 11. Matt Eisenhuth 12. Jesse Maxwell-Offen 13. Billy Tsikrikas 14. Jackson Williams 15. Obed Karwhin 16. Junior Tatola 17. Pio Sokobalava (Coach: Paul Stringer)
Wests Tigers Jason Annear Nines Results
Game 1 — Wests Tigers 30 def. Gulargambone Rovers 0
Game 2 — Wyong Roos 10 def. Wests Tigers 4
Game 3 — Wests Tigers 21 def. La Perouse Panthers 4
Quarter Final — Wests Tigers 31 def. Maree Kelly All Stars 0
Semi Final — Wests Tigers 17 def. Newcastle All Blacks 6
Grand Final — Wests Tigers 24 def. Redfern All Blacks 0