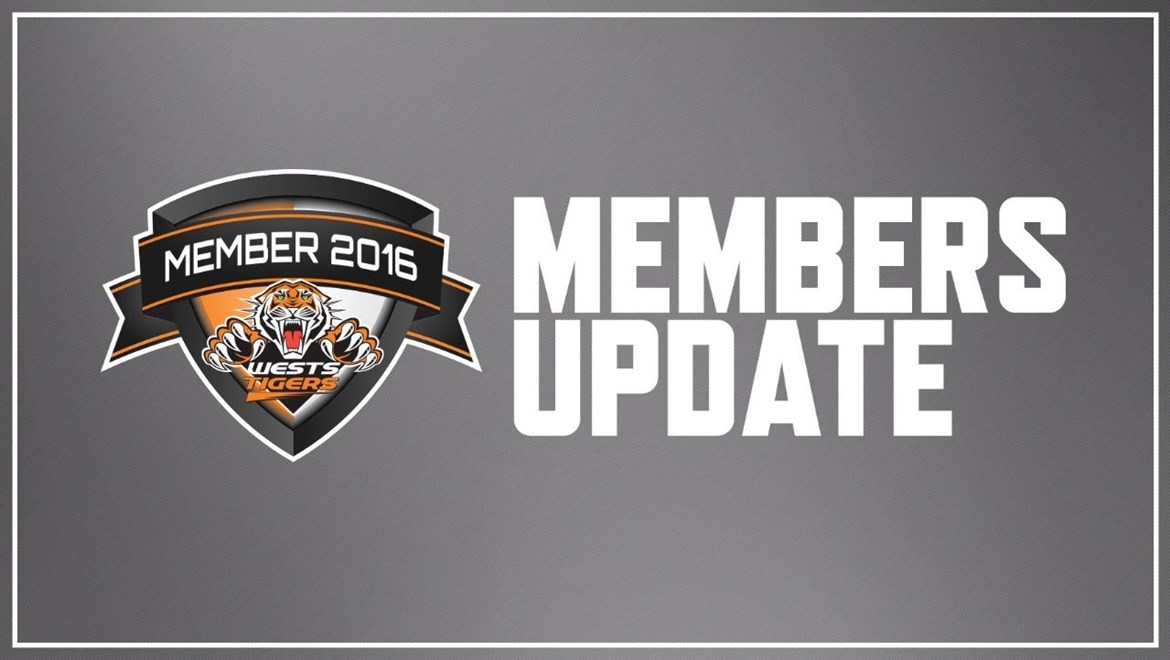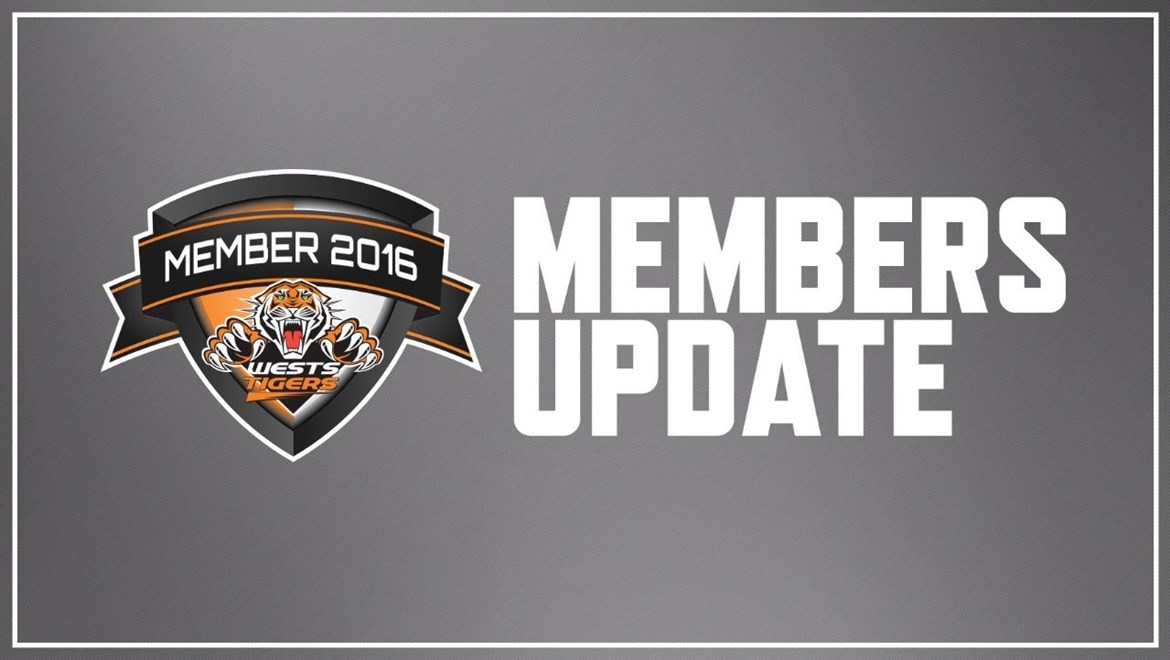 All the news, details and special offers for Wests Tigers Members heading into the Club's Round 9 clash against the South Sydney Rabbitohs at ANZ Stadium.
Match Details
Date — Thursday, April 28, 2016
Time — 7:50pm AEDT (Gates Open at 5:30pm)
Venue — ANZ Stadium, Sydney Olympic Park
Event Details
5:30pm — Gates Open
5:35pm — NYC: South Sydney Rabbitohs vs. Wests Tigers
7:50pm — NRL: South Sydney Rabbitohs vs. Wests Tigers
While this match is a Rabbitohs home game, Wests Tigers Members have not been forgotten and will enjoy reciprocal member rights for this game.
Wests Tigers Premium Reserved Members with access to ANZ Stadium, will access via Gate C/D with General Admission Seating available on Level 4 East.
Wests Tigers General Admission Members with access to ANZ Stadium, will access via Gate B with General Admission Seating available on Level 1 in Aisles 146 and 101.
If you do not have ANZ stadium as part of your package, add it today (click here)!
Benefits include:
• Access to nominated reciprocal away matches at ANZ Stadium
• Access to Member's Only Terrace at ANZ Stadium (for Wests Tigers home matches only)
• Discounted parking and food and beverage at ANZ Stadium home matches (discounted parking available for Wests Tigers home matches only)
• Return train transport to all home matches at ANZ Stadium... and more!
TRANSPORT INFORMATION
Trains
The closest station to ANZ Stadium is Olympic Park Station.
Two special supporter trains will run from Central to Olympic Park at 5:07pm and 6:30pm, stopping at Redfern and Strathfield. An additional supporter train will run from Campbelltown at 6.07pm, stopping all stations via Granville to Olympic Park.
Trains to Olympic Park depart Lidcombe every 10 minutes until midnight.
To plan your trip, visit the Transport for NSW Game Day Event page or use Trip planner.
Trackwork will take place on the Central Coast & Newcastle Line. Buses will replace trains between Wyong and Hamilton then continue to Newcastle.
For the latest information, check Trackwork Service Updates.
Buses
Sydney Buses will operate to a normal weekday timetable.
· Route 525 operates between Parramatta and Burwood via Sydney Olympic Park.
· Route 526 runs from the Sydney Olympic Park Ferry Wharf to Olympic Park.
· Route X25 runs regularly to Sydney Olympic Park from Strathfield Station during the afternoon peak period on weekdays.
Use the Transport NSW Trip Planner to help plan your journey. It will give you up-to-date train and bus timetable information. Click here for more information.
Parking
For those who plan to drive, pre-booking your parking space is recommended. You can pre-book parking via:
· Sydney Olympic Park Authority: Print your ticket at home by clicking here. Please note: pre-booked parking tickets cannot be booked on the day of the event.
· Ticketek: Order your tickets by clicking here or calling 132 849. Please note: These can only be collected from Ticketek agencies.
TRAFFIC
If you decide to drive, the below routes are advised and can help minimise traffic issues:
o From the NORTH: Through Top Ryde, take Victoria Rd and then Silverwater Rd and Holker Street to Sydney Olympic Park.
o From the SOUTH: Turn onto Parramatta Road then Hill Road to Sydney Olympic Park.
o From the EAST: Take Parramatta Road then Bernie Avenue or Hill Road. If you are driving along Victoria Road, consider taking Silverwater Road then Holker Street.
o From the WEST: Turn onto Silverwater Road then Holker Street or turn onto Hill Road, and then to Sydney Olympic Park.
Please Note: When leaving the precinct, patrons are advised that changed traffic conditions are in place for the M4 westbound on-ramp at Hill Road. Patrons will be diverted to the Silverwater Road on-ramp via Parramatta Road.
Wests Tigers Round 9 Members Only Ticket Offer!
Receive a 25 percent discount on your game day ticket and sit amongst Wests Tigers Members and Supporters! Simply enter the below password to receive your discount:
Reserved Level 4: Brooks
General Admission: Tedesco
Click here to buy — http://premier.ticketek.com.au/shows/show.aspx?sh=RAB0916
Membership Enquiries
Wests Tigers Membership will have a marquee setup outside Gates A/B (located in the eastern Sydney Olympic Park precinct opposite the train station).
Have you purchased a Membership inclusive of ANZ Stadium and are yet to receive your membership card? Don't worry you will still have access to the match.
Contact Wests Tigers Membership team on (02) 8741 3300 before Thursday, April 28th 4:00pm and a representative will issue you an electronic ticket for the match.
Please ensure you don't forget your Membership card on the day if you have received it!
Woodsy's Wolf Pack
Woodsy's Wolf Pack is available all season! Click here to join the Wolf Pack for just $45!
Package includes:
• 1 x General Admission Ticket to ANY Wests Tigers Home Match
• Standard 2016 Member Benefits
• Limited Edition Aaron Woods T-Shirt
* T-shirts can be collected on match day from the Membership Marquee. Sizes will be provided on a first-in-best-dressed basis, ranging from Small to 3XL. At the checkout, select which match you would like to attend and confirm payment details. Once processed you will automatically receive an electronic ticket to your selected match.
Members Only Discounted Tickets
ALL Wests Tigers Members have access to 'Flexi Tickets' – 2x General Admission Tickets for $30.00, which can be used at any home game in 2016.
These can be bought online by visiting www.weststigersmembership.com.au, by calling Wests Tigers on (02) 8741 3300 or at the Membership Marquee on Game Day!
2016 Membership Loyalty Program
Wests Tigers continue with our loyalty program in 2016, make sure that your details are up to date so that you can receive all communication from us include post, email and phone.
Members Only Merchandise Discount
Wests Tigers Members receive a 10% discount on all Wests Tigers Merchandise.
Purchase your Official Wests Tigers Merchandise today at RoarStore (click here)!
To access your Members discount, simply enter your promo code at the checkout. Alternatively, present your 2016 Membership card at GearZone Campbelltown, Concord Roar Store or at either Merchandise outlet at this Thursday's game.
On-Field Jersey Unveil
As part of a new Wests Tigers Member tradition, 10 lucky Members will be selected at random from their seat to participate in a large jersey unveil on field for every home game!
They will also have access to the field to watch the team warm up!