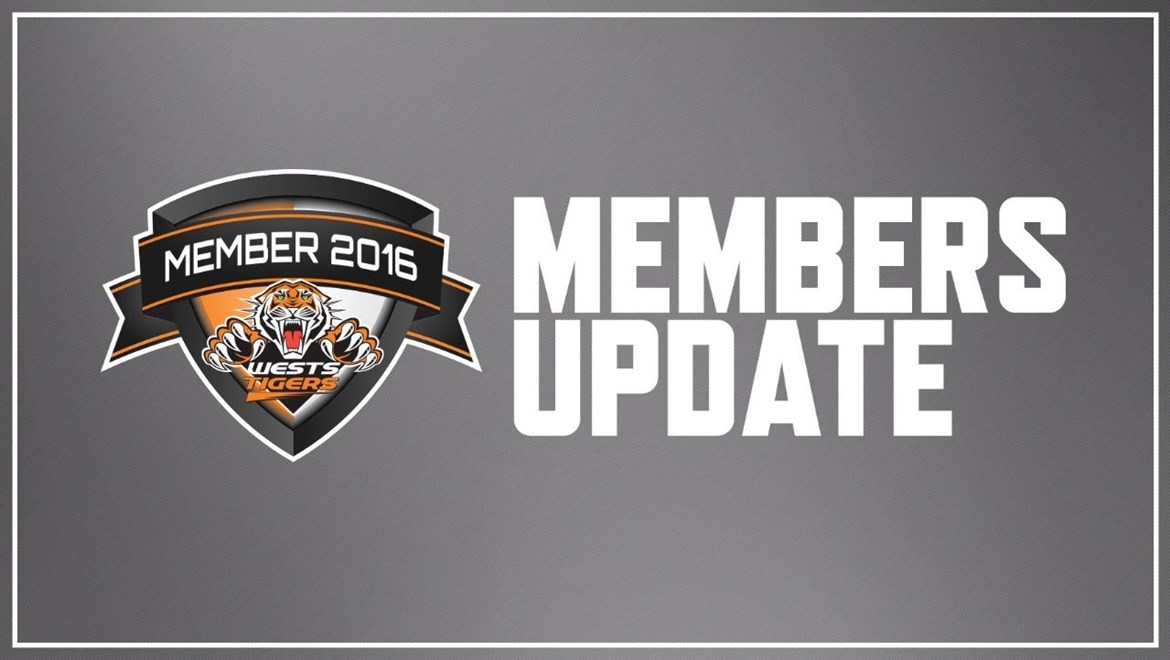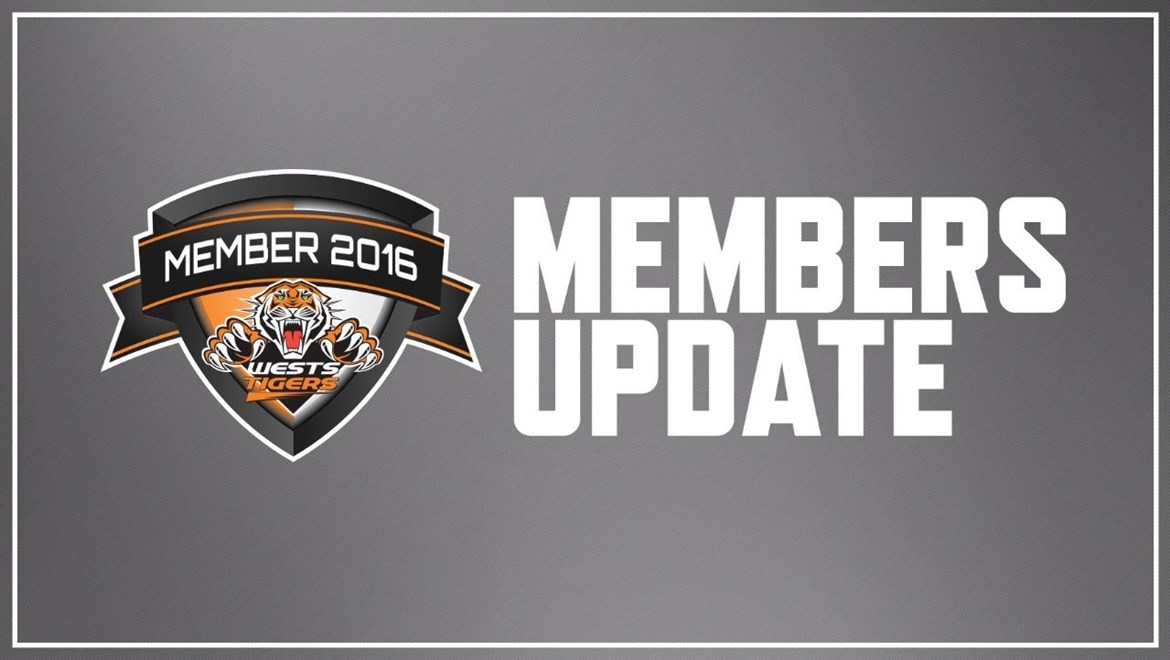 Round 10 — Wests Tigers vs. Bulldogs
Match Details
Date — Sunday, May 15
Time — 4:00pm AEDT
Venue — ANZ Stadium, Sydney Olympic Park
Event Details
1:40pm — Gates Open
1:45pm — NYC: Wests Tigers vs. Bulldogs
4:00pm — NRL: Wests Tigers vs. Bulldogs
Membership Enquiries
Wests Tigers Membership will have a marquee set up outside Gates A/B (located in the Eastern Sydney Olympic Park precinct opposite the train station) on Game Day.
Have you purchased a Membership inclusive of ANZ Stadium and are yet to receive your membership card? Don't worry you will still have access to the match.
Contact Wests Tigers Membership team on (02) 8741 3300 before Friday, May 13th 4:00pm and a representative will issue you an electronic ticket for the match.
Please ensure you don't forget your Membership card on the day if you have received it!
ANZ Stadium Membership
If you do not have ANZ Stadium as part of your package, add it today (click here)!
Benefits include:
• Access to nominated reciprocal away matches at ANZ Stadium
• Access to Member's Only Terrace at ANZ Stadium (for Wests Tigers home matches only)
• Discounted parking and food and beverage at ANZ Stadium home matches (discounted parking available for Wests Tigers home matches only)
• Return train transport to all home matches at ANZ Stadium... and more!
Transport Information — Round 10
By Train
The closest train station to ANZ Stadium is Olympic Park Station.
Two (2) special supporter trains will also be running direct to Olympic Park departing:
Campbelltown at 2:00pm and stopping all stations to Granville via Liverpool and Fairfield
Sydenham at 1:58pm and stopping all stations to Berala via Belmore and Bankstown.
For further timetable information, click here.
For the most up-to-date information on trackwork and replacement services, please click here.
By Bus
Sydney Buses will operate to a regular Sunday timetable.
Route 525 operates between Parramatta and Burwood via Sydney Olympic Park.
Route 526 runs from the Sydney Olympic Park Ferry Wharf to Olympic Park
Please check timetable for last trips departing Sydney Olympic Park.
By Car
Casual parking is available in the precinct however fans are encouraged to take advantage of the direct train services in operation for the event. You can pre-book parking via:
Sydney Olympic Park Authority: Print your ticket at home by clicking here. Please note: pre-booked parking tickets cannot be booked on the day of the event.
Ticketek: Order your tickets by clicking here or calling 132 849. Please note: These can only be mailed out to customers or collected from Ticketek agencies.
Those driving and who have pre-booked their parking space should allow plenty of time to get to Sydney Olympic Park, find their space and get to their seat for the game.
Wests Tigers Members Discounted Parking
Simply present your Wests Tigers Membership Card to the teller at the P1 parking station and any other overflow carparks that you are directed too by the signage in the precinct to receive a flat rate of $15 for each home game.
Please note: Discounted parking does not apply to reciprocal games (i.e. when the Wests Tigers are the 'away' team). The discount is only available to Members at a staffed car park where a manual cashier is in attendance. Based on the level of demand for any given event, SOPA will staff parking stations (in addition to P1) as required. Those parking stations being utilised for an event will be advertised on signage upon entry to the park, or can be obtained by calling Sydney Olympic Park on 9714 7077 (the day before the event), and these are the only places the discounts are able to be redeemed. Unfortunately if the car park is not staffed there is no way for SOPA to cite a membership card and therefore offer the discount.
Special Ticket Offer
Wests Tigers and ANZ Stadium have launched a special ticket offer ahead of the Round 10 clash with the Bulldogs.
For the Indigenous Round game at ANZ Stadium fans can purchase reserved seats for the price of general admission.
This offer is only available for a limited time so make sure you grab yours and be there for what should be a great celebration on and off the field.
For just $22 for adults, $17 for juniors and concessions and $50 for families fans can secure a reserved seat for the Sunday afternoon game. Buy yours today here.
Other Membership Offers, News
Join Aaron Woods Woodsy's Wolf Pack
Woodsy's Wolf Pack is available all season! Click here to join the Wolf Pack for just $45!
Package includes:
• 1 x General Admission Ticket to ANY Wests Tigers Home Match
• Standard 2016 Member Benefits
• Limited Edition Aaron Woods T-Shirt

* T-shirts can be collected on match day from the Membership Marquee. Sizes will be provided on a first-in-best-dressed basis, ranging from Small to 3XL. At the checkout, select which match you would like to attend and confirm payment details. Once processed you will automatically receive an electronic ticket to your selected match.
Post Match Function
Wests Tigers will be holding a special Members only post match function at Round 10. Held on the North West Members Terrace this event is a great opportunity to meet the players and hear from them, along with the chance to win prizes and spend time with fellow Wests Tigers Members.
Make sure you head to the North West Members Terrace after full time for this event.
Please note that you will need to show your Membership card or proof of purchase to gain access to this exclusive Members only function, with the event to begin approximately 20 minutes after full time.
Members Only Discounted Tickets
ALL Wests Tigers Members have access to 'Flexi Tickets' – 2x General Admission Tickets for $30.00, which can be used at any home game in 2016.
These can be bought online by visiting www.weststigersmembership.com.au, by calling Wests Tigers on (02) 8741 3300 or at the Membership Marquee on Game Day!
On-Field Jersey Unveil
As part of a new Wests Tigers Member tradition, 10 lucky Members will be selected at random from their seat to participate in a large jersey unveil on field for every home game!
They will also have access to the field to watch the team warm up!
Seating Upgrades
Wests Tigers will be picking out Members from their seat at random to be upgraded to Centreline Seating for the match!
Wests Tigers Members Bar
All Wests Tigers Members will have access to the Members bar, located at the North West Terrace before, and throughout the match. Avoid the queues for food and beverage, without missing a minute of the game.
2016 Membership Loyalty Program
Wests Tigers continue with our loyalty program in 2016, make sure that your details are up to date so that you can receive all communication from us include. We're after your postal address, email and phone number.
First Year Members Event
Wests Tigers are inviting all first year Members to join us for a special post-match function after our clash with the Bulldogs at ANZ Stadium on Sunday 15 May.
This post-match function will be held after the 4pm game in the North-West Members Terrace on Level 2 of ANZ Stadium. Come along for an introduction to Membership at the Wests Tigers and collect your first year pin, as well as your chance to meet your favourite players.
Do you have access to ANZ Stadium within your membership package?
If you do not have access to ANZ stadium within your package, please email membership@weststigers.com.au to receive further information on how to access the match.
If you believe you are not in your first year of Membership, please contact Wests Tigers on the above email address to ensure your account details are up to date. This will be a members only function so please be sure to bring your membership card or proof of purchase for entry.
Members Only Merchandise Discount
Wests Tigers Members receive a 10% discount on all Wests Tigers Merchandise.
Purchase your Official Wests Tigers Merchandise today at RoarStore (click here)!
To access your Members discount, simply enter your promo code at the checkout. Alternatively, present your 2016 Membership card at GearZone Campbelltown, Concord Roar Store or at any Merchandise outlet on game day.