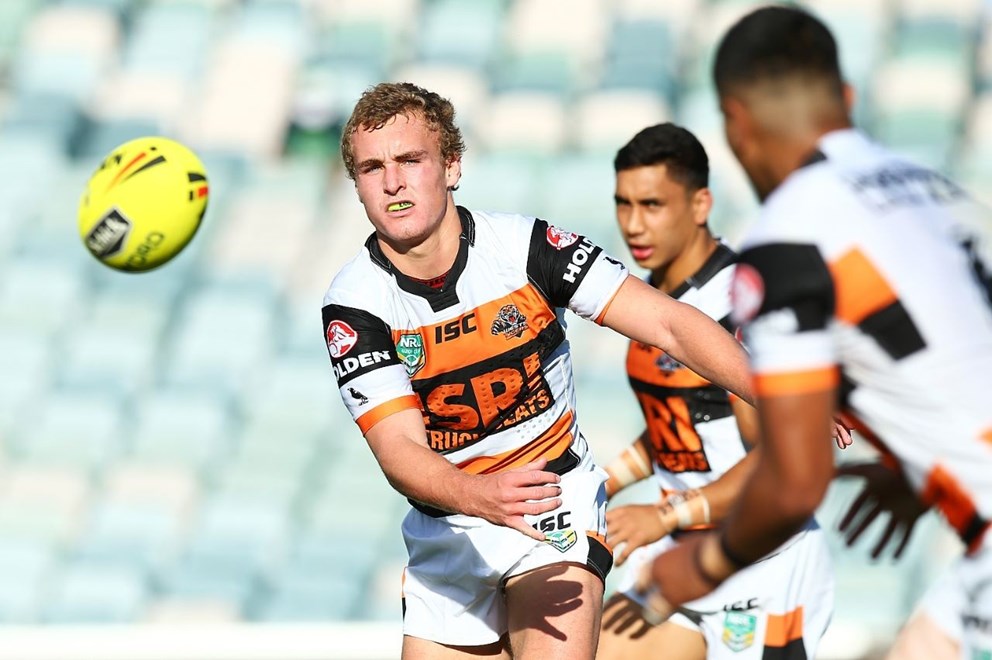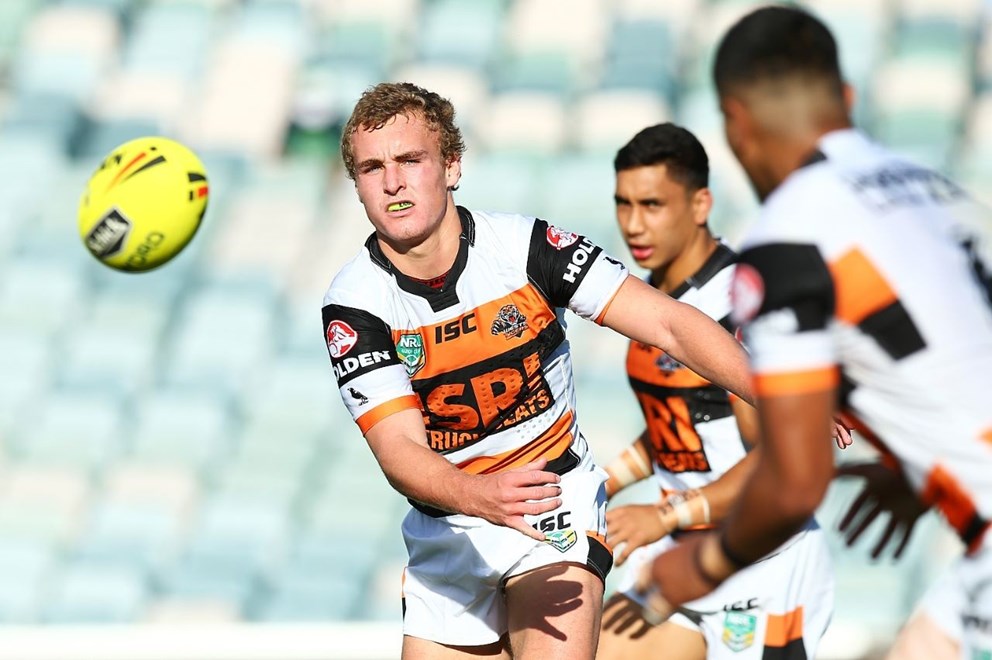 HIS side might be undefeated since March, but Wests Tigers Holden Cup Coach Willie Peters says Sunday's clash against the Canterbury-Bankstown Bulldogs is a real danger game as his team look to extend their unbeaten run to six matches.
Sitting second on the Holden Cup ladder heading into the game against the 13th-placed Bulldogs, Wests Tigers will certainly enter the contest as firm favourites, but more than wary of the Ben Anderson-coached Bulldogs, who have had several tight defeats of late.
"To be honest, I think Bulldogs are a real danger side," Coach Peters said.
"They're a spoiling kind of side and can really get to teams. They're going to run hard and tackle hard, and sometimes teams can back away from that if it gets tough.
"But that won't be us. We just need to be doing things better than they do, and make sure that we're ticking off all our goals with completions and defensive efforts."
Fielding arguably the strongest front three in the Holden Cup with Junior Kangaroo prop forwards Junior Tatola and JJ Felise along with in-form hooker Jacob Liddle, Peters is looking for the trio to lead the way on Sunday given their strong recent performances.
"JJ and Junior obviously gained a lot of confidence [from playing Junior Kangaroos] and the experience they had last week will definitely help both them and us too," he said.
"Someone like JJ has had a huge month playing first-grade and then playing an important role with the Junior Kangaroos, so we're hopeful that he's going to bring that belief back to us this week. Like JT [Jason Taylor] said earlier in the week, the coaching staff now know they can call on him when he's needed in first-grade and believe that he will do a job — which is a huge thing for JJ to know about himself, that he has that kind of reputation now.
"And for Jacob, I personally thought he was really unlucky not to make the Junior Kangaroos because he's probably been the most in-form hooker of the last two years.
"They picked someone out of position ahead of him, so I think he's really hard done by there, but all Jacob has to do is what he's been doing already. He's come back to us in the last month from playing reserve-grade, and it's no coincidence that we've really kicked up a gear with our performances and our completions since he's been back in the team."
Peters also praised the under-the-radar performances of forwards Mark McCormack, Jakob Giles and Taniela Paseka in recent weeks, emphasising their importance to the team as they look to consolidate on their strong ladder position this Sunday afternoon.
"There's a couple of guys who are really doing some good stuff lately," Peters enthused.
"I've been really happy with Mark McCormack lately. He's been in the Holden Cup system here for a while now — last year he was probably a little bit up and down.
"He had a fairly good pre-season, but just in the last five or six weeks, he's really gone up another level. And for him, it starts at training. His energy at training is something we can see a massive difference in, and it's easy to see then why that flows into his game.
"Another two would be Jakob Giles and young Taniela Paseka, both first year players.
"They've both had a lot asked of them in the last few weeks with a couple of injuries in the forwards, but they've really stepped up and enjoyed that extra responsibility.
"You don't always seem the way they tidy up or make some tough carries, but they make runs and efforts that players don't always want to make, which is really pleasing for me.
"That's why they're in the final 17 each week, and while they might not have the recognition from others, they've definitely got it from me and from their teammates."
Wests Tigers kick off against the Bulldogs at ANZ Stadium on Sunday, May 15 at 1:45pm.
Be there as Wests Tigers wear their first ever Indigenous Jersey against the Bulldogs!
WESTS TIGERS HOLDEN CUP
1. Luke Sharpe
2. Ryan Papenhuyzen
3. Ryland Jacobs
4. Sam DeFiddes
5. Obed Karwhin
6. Veiru Mapesone
7. Thomas Bartley
8. JJ Felise
9. Jacob Liddle
10. Junior Tatola (capt.)
11. Jakob Giles
12. Esan Marsters
13. Jakob Giles
Interchange:
14. Daniel Peck
15. Mark McCormack
16. Trent Pye
17. Taniela Paseka
Coach: Willie Peters