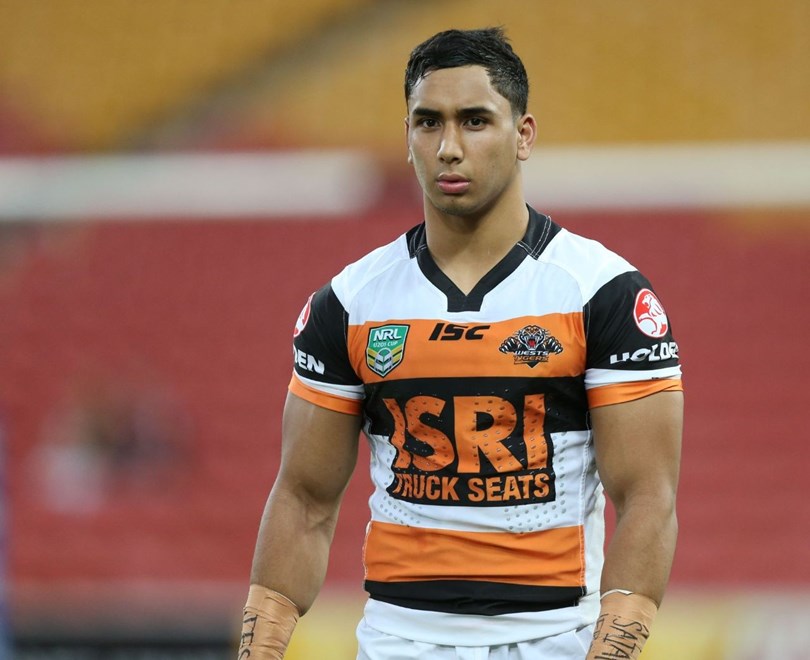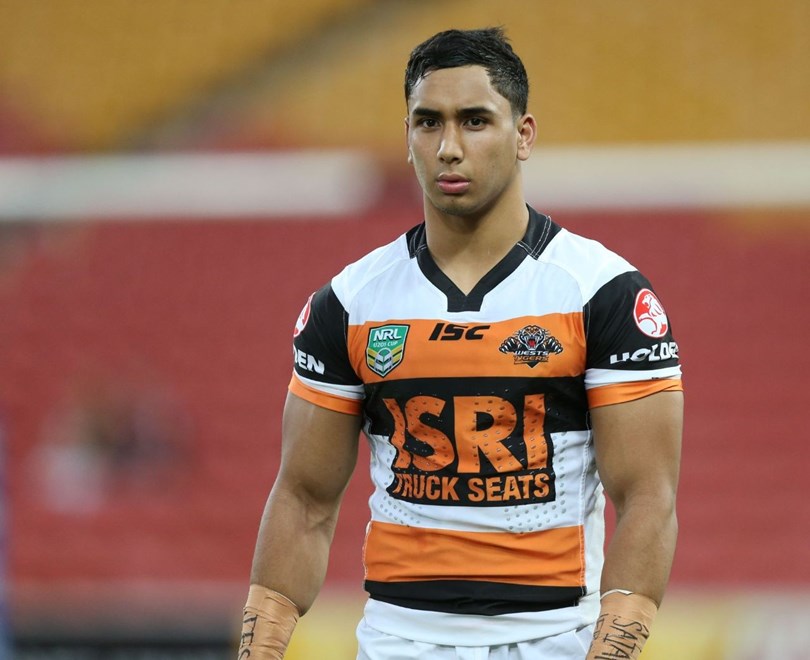 It's not the easiest transition to make.
Every year, the country's most brightest and promising rugby league talent look to make the step up from the U/20's Holden Cup program to full-time training and extended NRL squads in the hope of becoming one of first-grade stars they looked up to as a kid.
In 2017, seven Wests Tigers players will look to make that leap.

* * * * *

Ryland Jacobs has never not run for as long as this before.
Sure, it's only been a few months, but for the livewire 20-year-old who lives and breathes fitness, it's felt like an eternity following his first serious injury.
Starting 2016 as one of the most dynamic outside backs in the Holden Cup competition, Jacobs had his season cut short with a cartlidge tear in his left knee that required a microfracture and extensive recovery — something that wasn't at all familiar to him.
"Yeah, it's been a bit weird as it's my first major injury," Jacobs reflected.
"I don't really get injured, and never have before, so when they told me what the injury was and what the recovery process would be, it was really a bit of a shock.
"But so far, it's been good. I'm travelling really well and not behind schedule at all. I've just had to keep the weight off it in recovery, but I'm starting to get the strength back into it now and it's coping well, so I'm really not far away from being 100 percent."
He's not lying, either, about the work that's going into his recovery.
It's late in the afternoon on the first hot day of October and Jacobs, who's already worked all day as a Teacher's Aide, now turns up to begin work of his own.
Hours in the gym with Club Physiotherapists monitoring and helping him.
Hours more on the weights, ensuring that he's not dropping off with his body.
Hours, hours more to go.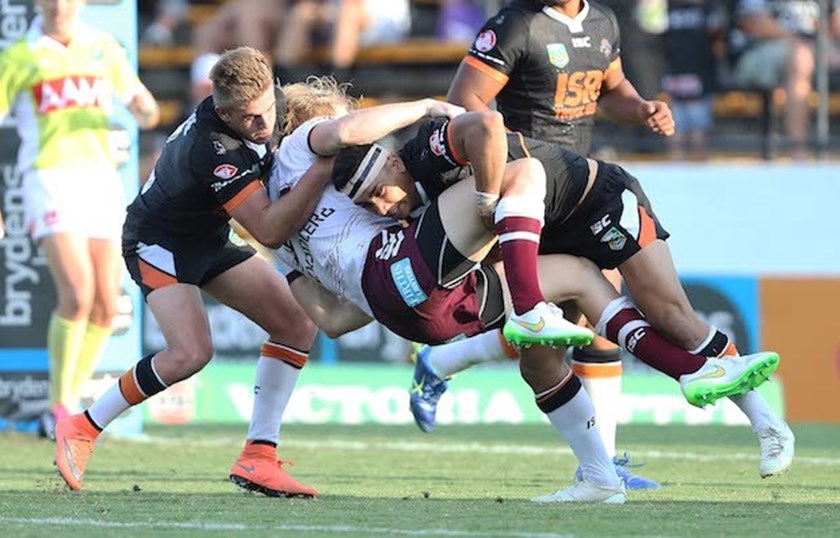 "The coaching staff have been really clear to me about getting my knee right and listening to what the physios want from me in my recovery," Jacobs said.
"They've been really helpful, but the coaches let me know that if I'm not completely listening to them or carrying out what they need, then a lot of the work goes to waste.
"So even when I'm in rehab, I'm trying to just make sure I'm keeping my eye out on what's happening on the field and also around the place."
Several months post operation and close to the end of his rehabilitation process, Jacobs knows he's in a much better place with the injury than he was in the early days.
"I was really happy with my form at the start of the year," he reveals, "so when I couldn't keep going and had to have the operation, it was really pretty hard to deal with.
"It was tough watching from the sidelines and I was gutted that I couldn't be out there with the boys. We had a lot of injuries in the 20's and had lots of players go down as the year kept going, and you just want to be able to step in there and help out.
"The feet were definitely itching to be out there," he laughed, "but in the end, it was for the best. I learned that my body isn't invincible — which I thought I was — and that I can't get complacent at all with the little things I put in to get right for each game."
Watching a two-minute highlights tape or seeing him one afternoon, it's easy to put Jacobs down as another fleet-footed, athletic outside back who can find the try-line.
That assessment wouldn't be far from the mark, but there's much more to Jacobs' game than meets the eye — particularly when it comes to his repeated efforts in the game.
In his 12 games in 2016, only once did Jacobs take less than 15 out-and-out hit-ups.
He took 14.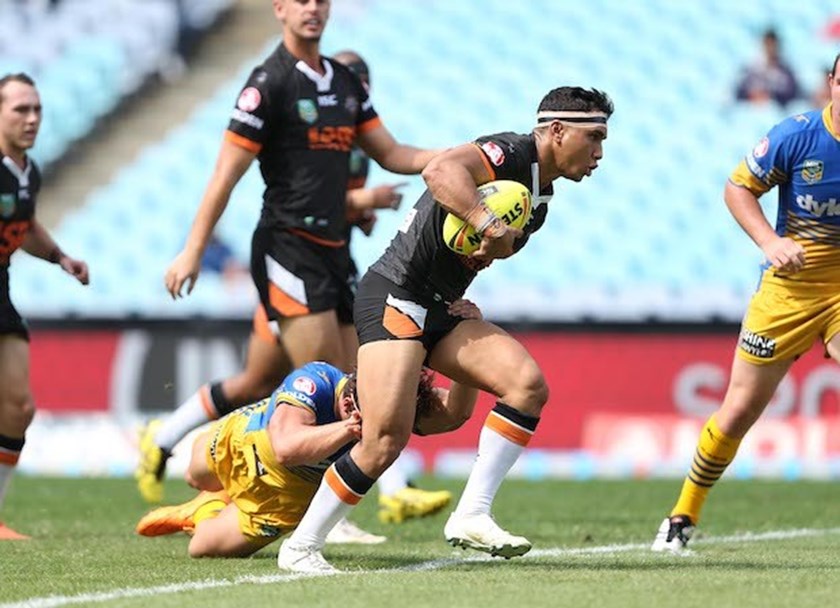 A month into the year, Jacobs' numbers had risen, with the centre averaging 180 metres from close to 20 runs per game. He wasn't always breaking the line, either.
These were just tough carries, coming off his line, set after set.
"I've always had that running as a part of my game," he said. "It's important.
"I just wanted to give the forwards break, and when I was running, I just wanted to go as hard as I could and get as many runs in there before someone else carried it.
"I really enjoy those runs too. It's a good challenge.

"You look at the NRL backs these days and so much of what they do is about those runs. There's lots of tries and passes and that kind of thing, but those carries are really important and something that I really want to keep working on in my game."
He'll have to wait a few more weeks before he can truly start working on it, with the 20-year-old to join the extended NRL squad from his rehab group shortly into pre-season.
For Jacobs, having that goal has been paramount in keeping him on track.
"I remember it being a bit surreal when I got told I was going to be training full-time," he smiled. "When I think about, that's when it starts to get like 'Wow, this is happening'"
"It was my goal to come up through the 20's system here when I made the move from Keebra, and I guess I've done the first part of that now. But there's a long way to go.
"I know I need to give it my all every time and not get complacent with what I can do — to keep pushing for better and better, and having consistency in what I do.
"The professionalism and how the NRL players train is something I can't want to learn. The discipline they have and how the train — I'm excited to give that a go.
"I'm just really thankful and humbled to have the opportunity to do it at this Club."
2017 Wests Tigers Memberships are on sale! Show your support and sign up today!
RYLAND JACOBS 2016 HIGHLIGHTS