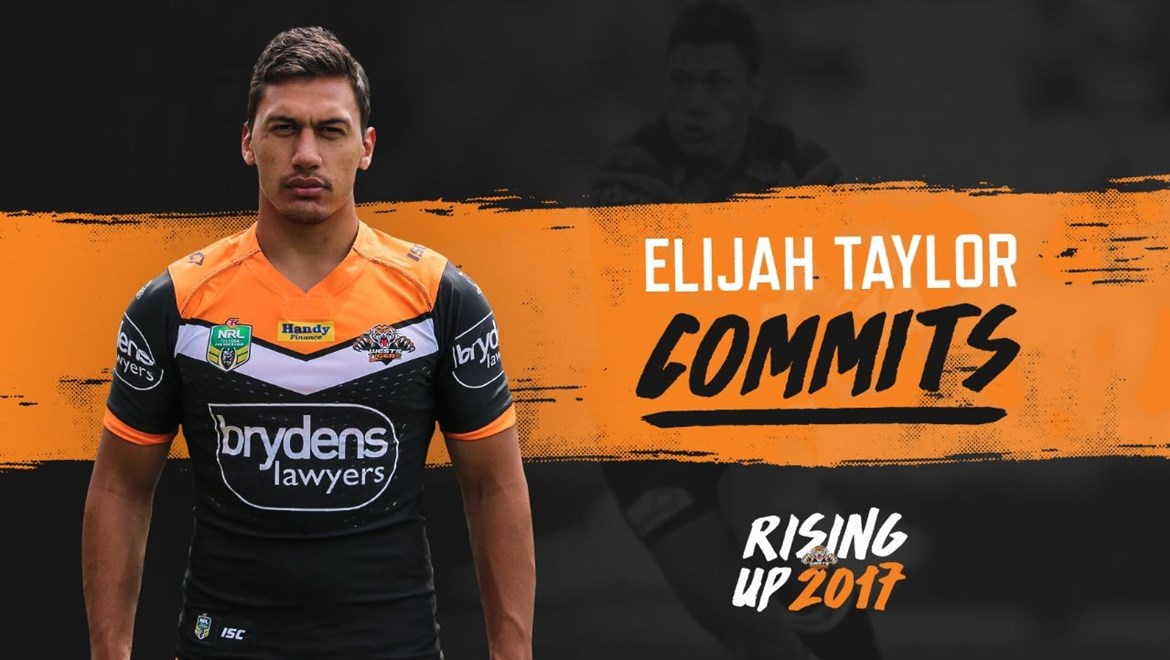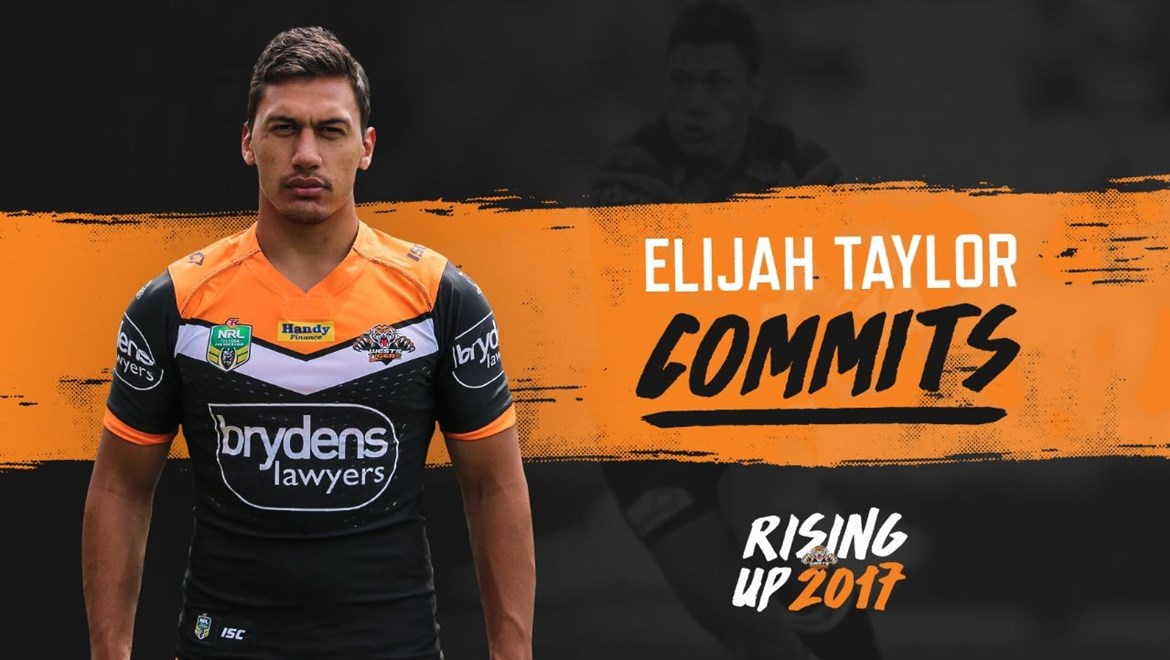 Wests Tigers are pleased to announce the re-signing of experienced lock forward Elijah Taylor for a further two seasons.
The 26-year-old joined the Club mid-year from the Penrith Panthers and was integral part of the Wests Tigers' strong finish to the 2016 season.
Taylor has played a total of 121 NRL games since making his debut for the New Zealand Warriors in 2011, including 15 games for Wests Tigers after joining the Club in May.
The Otahuhu Leopards junior has also represented New Zealand on 10 occasions and was named in the Kiwis' Four Nations train-on squad after an impressive finish to 2016.
Taylor said he was pleased to have his immediate future finalised and expressed his excitement in securing his contract through until the end of the 2018 season.
"I'm really happy to have extended my contract with Wests Tigers," Taylor said. "It's a great Club, there's a lot of potential and some really great young players here.
"Staying at Wests Tigers was something that I'd wanted to do for a while, so it's good to have that all sorted now.
"It didn't take me too long to settle in here at the Club, the boys were all really welcoming and the coaching staff really believed in me and supported me.
"I really enjoyed that aspect and it made my transition so much easier, so to now get a pre-season under my belt with the team will really help going into 2017," he said.
"It's been really eye-opening to play with some of these young guys, they have a lot of confidence and their enthusiasm really rubs off on you as an older player.
"It's really important for us to get the hard work done now, roll up the sleeves and prepare well for the upcoming season," he said.
Wests Tigers CEO Justin Pascoe said Taylor has been a great addition to the Club and was pleased to have him commit for a further two seasons.
"As our Members and fans witnessed during the back half of the 2016 season, Elijah considerably strengthened our roster and we are really excited to have him extend his time with the Club.
"Elijah is a player of high calibre and a real asset to our Club – he has represented his country on a number of occasions and possesses the attributes, both on and off the field, that we value at Wests Tigers.
"I'm sure that Wests Tigers Members and fans will be excited by the retention of Elijah, which is another strong indication that the Club is moving in a positive direction," he said.
The re-signing is a huge boost for Wests Tigers leading into 2017, with Head Coach Jason Taylor excited to have the experienced forward on board.
"We are all very happy that Elijah has re-signed with the Club," he said.
"It's something that we have been working on for a long while and we've been really keen to ensure that we were able to get it sorted. We've done that now and Elijah is really happy about it, so we are all really excited about him having a full pre-season with us.
"I think a lot of people forget that he only joined us mid-season, so to have this pre-season with us and really get a deep understanding of what we are doing is really going to add to his contribution on the field. Allowing him to work really closely with the guys over the pre-season is going to mean that he is going to be more comfortable when we get out there for Round 1, and so are the guys around him.
"The way he developed those combinations within the group in a short period was really impressive, but to get a pre-season to work on it is going to make it even better, so we couldn't be happier," he said.
2017 Wests Tigers Memberships are on sale! Show your support and sign up today!
ELIJAH TAYLOR: PLAYER PROFILE
Date of Birth — 27th February, 1990
Height — 184cm
Weight — 101kg
Position — Lock, Second Row
Junior Club — Patea Rugby Club (Rugby Union)/Otahuhu Leopards
Rep. Honours — 10 Tests for New Zealand (2011-13)
Previous Clubs — New Zealand Warriors (2011-13), Penrith Panthers (2014-16)
NRL Debut — New Zealand Warriors v Cronulla, Owen Delaney Park Taupo, 03/04/2011 (Rd.4)
Club Debut — Wests Tigers v Canterbury-Bankstown, ANZ Stadium, 15/5/2016 (Rd.10)