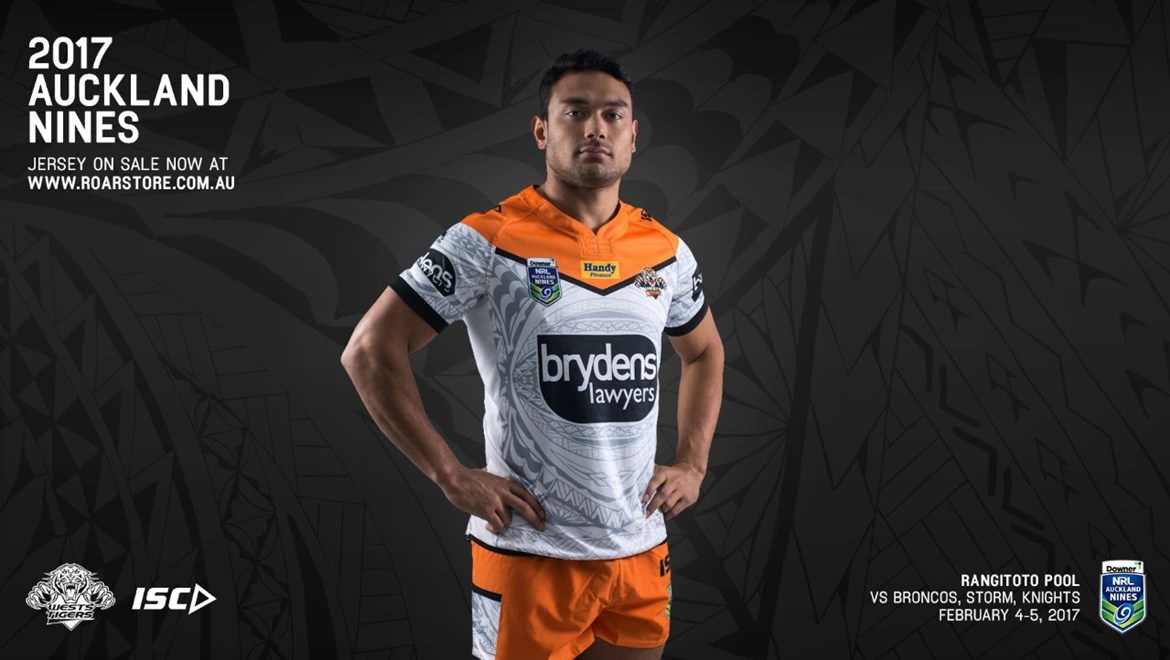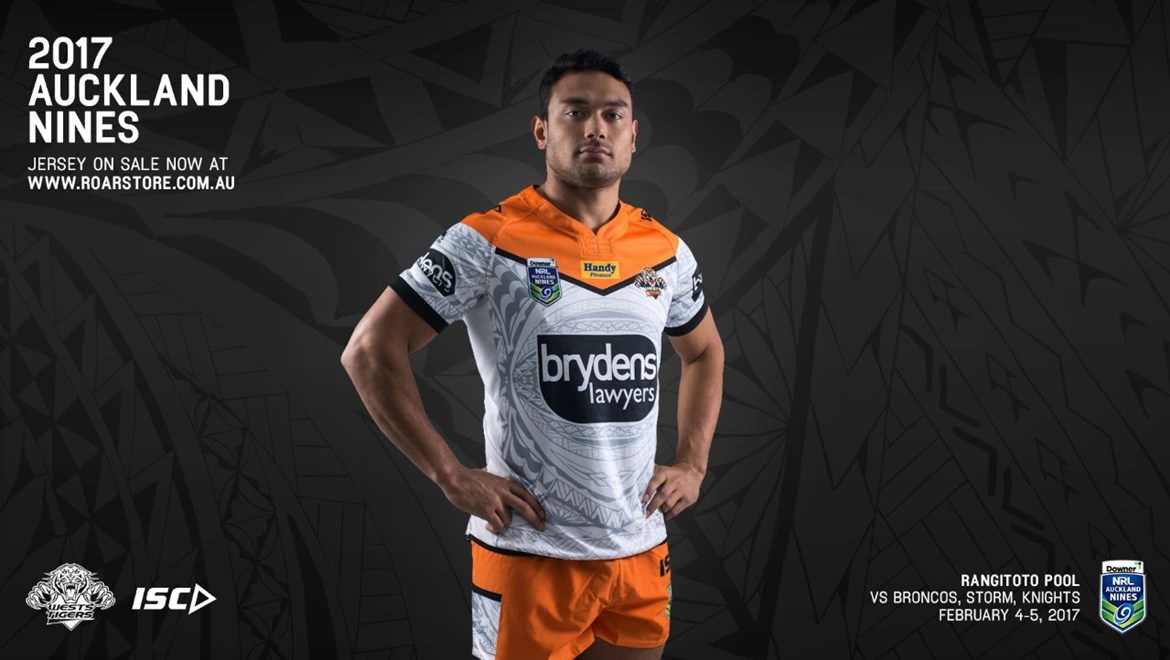 Wests Tigers have today revealed the Club's playing jersey for the 2017 NRL Downer Auckland Nines tournament to be held at Eden Park on February 4-5.
In a unique and proud moment for the Club, the jersey was designed by NRL squad member Wes Lolo, who incorporated a number of patterns and symbols into the strip.
Lolo joined the extended NRL squad this year after two impressive seasons with the Intrust Super Premiership side, having joined the Club from the Dragons in 2015.
The distinctive jersey contains a vast array of Polynesian designs, as well as special symbols for Women in League and the journey undertaken by all rugby league players.
"The biggest thing I wanted to display was the culture here at Wests Tigers," Lolo said.
"One of the big things at this Club is unity. Not only for us as footy players, but for the Club as a whole. We know that we're one unit, and I tried to show that in my design.
"I really wanted to unite the many cultures we have at this Club, because we have players who come from all different backgrounds. I'm Tongan by nationality, so there's that in the design, but I pushed a lot of other cultures in there to represent the Pacific Islands and the players here whose families are from the different parts of the world.
"I also threw in flower patterns to represent the females behind the scenes that do the hard yards. I know that Women in League Round is a big thing in rugby league and it has plenty of support, so I thought it was important to recognise that within this design.
"There's also many things in the design that represent us as footy players," Lolo said.
"I put in turtle tracks because, as a footy player, it's not a fast journey to get to where we want to get to. We know we go through our ups and downs and get a bit unlucky with injury; there's things that can set us back but we know that if we're like a turtle — being steady and patient — we know we'll make that journey and eventually get there."
Lolo said producing the final design took months of work, but enthused his happiness and pride in seeing the final product displayed in the Club's Auckland Nines jersey.
"I haven't been here at this Club for many years, but when I first came here, I felt it," he said. "Feeling united at this Club was massive and I knowing that unity really impacted me as a footy player when I put on the Wests Tigers jersey.
"It was a huge privilege and honour to be asked to design this jersey. It took a lot of pieces in the paper that went into the bin but eventually the design came together.
"At first, I felt like I didn't know why I was being asked to design the jersey, but it was a huge privilege and I hope that it is something that can bring everyone together."
The jersey is available for immediate pre-sale via Wests Tigers online store, with stock to arrive in-store within the month and delivery to be arrive in time for Christmas.
Have YOU got your Auckland Nines jersey yet? Click here to get your hands on one today!