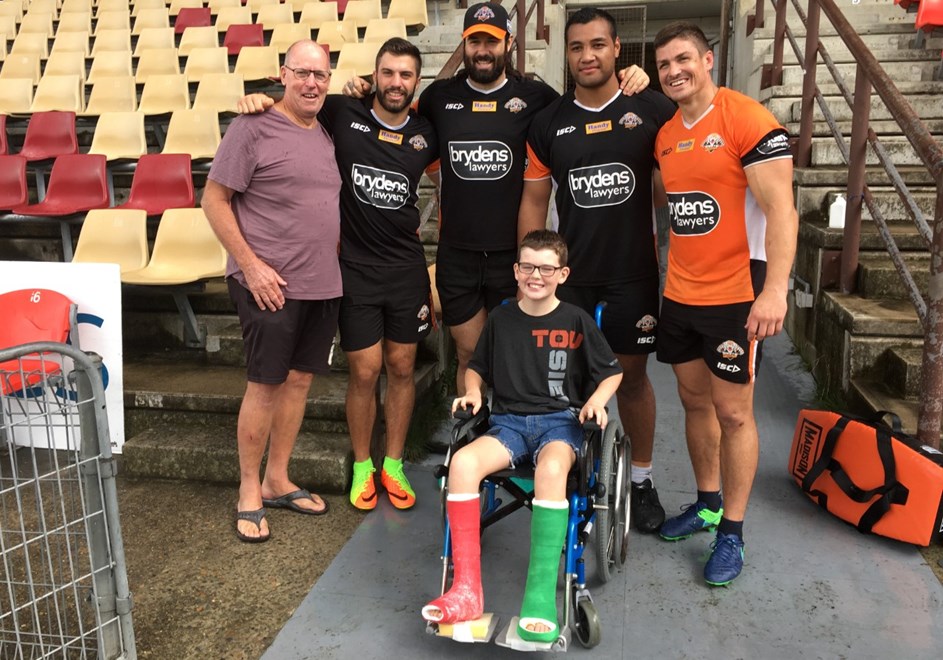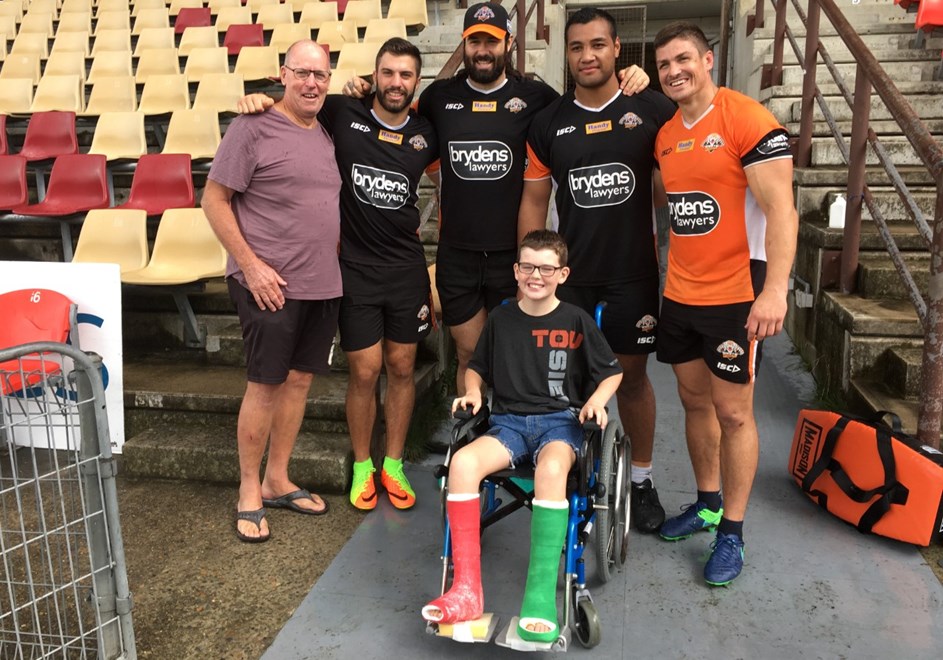 Wests Tigers players had a special visitor drop in for this morning's training session, with Jackson Fleeton coming along to meet the team.
The 11-year-old is a huge Wests Tigers fan and has been in hospital recently to undergo a rebalancing operation on both of his legs.
Jackson was born in Australia but now lives in Wellington with his family and was thrilled to meet the Wests Tigers squad after training today.
Wests Tigers vice-captain Chris Lawrence organised the visit through a mutual friend of his family and presented Jackson with a signed jersey.
Jackson's mother Cher said the visit was something that he will remember for a very long time.
"He cried when we pulled into the Concord Oval carpark this morning when he worked out where we were going," she said. "It was really beautiful."
"His grandpa and dad are massive Wests Tigers fans, so his love of the Club has just rolled on from there; everything is orange and it's all about the Tigers.
"We have a mutual friend of Chris (Lawrence) and they organised this for us."
Unfortunately it's a long road to recovery for Jackson, but he was in great spirits during the visit and couldn't stop smiling.
"He had the operation a week ago and we won't know if it has worked until we hit about the three-month mark," Cher said. "So he is in a wheelchair for at least three months."
Jackson spent time with his favourite Wests Tigers players after training, chatting to players such as Lawrence, Luke Brooks, Mitch Moses, James Tedesco and skipper Aaron Woods.
Jackson will return to Wellington in the coming days, however he hopes to attend a game on his next trip to Sydney.
Wests Tigers wish Jackson all the best in recovery from surgery and thank him for coming along to training this morning.