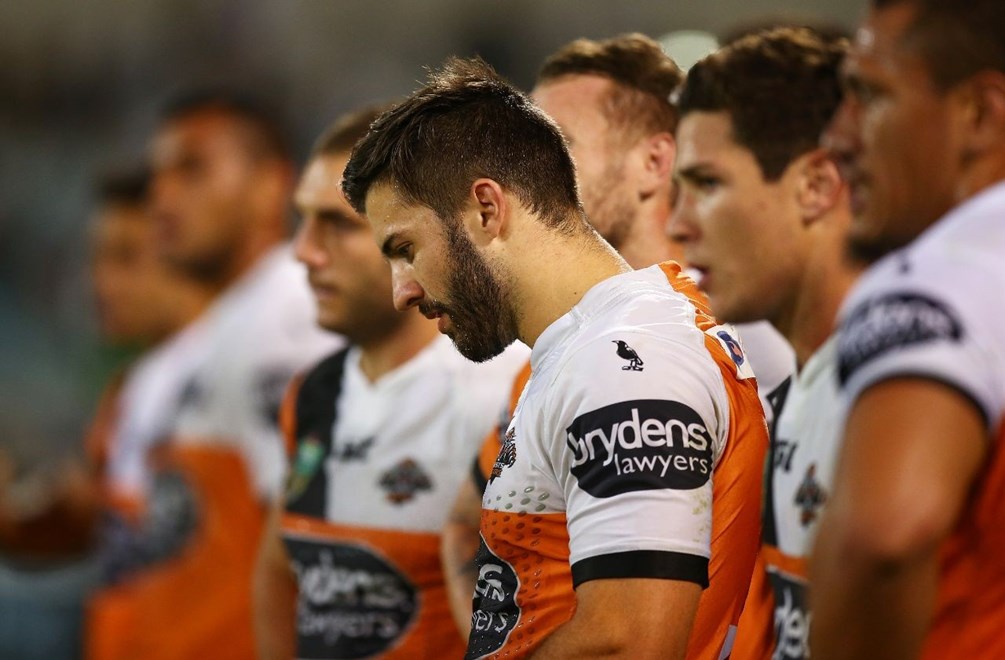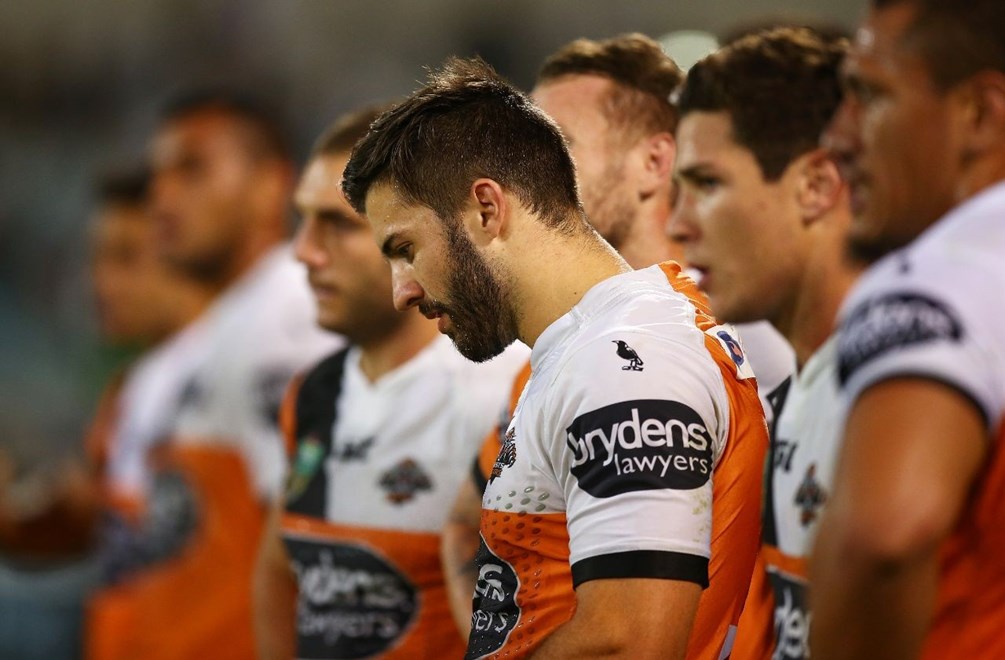 There's no hiding for Wests Tigers from what happened last year at GIO Stadium.
Blown away by the Raiders in the final 15 minutes of the first half, Canberra would run in 38 second-half points to emerge with an emphatic 60-6 victory — the first of two dominant wins they would have over Jason Taylor's men in season 2016.
For Wests Tigers, there's also no hiding from what happened last week against Penrith with a myriad of missed opportunities in attack coming back to haunt the home side.
Defensively, Taylor's men were better than a 34-2 scoreline suggests — holding firm with strong periods of goal-line defence — but ultimately still not consistent enough in key situations. 42 missed tackles and 16 errors for a 63 percent completion rate shows that improvements are needed, but perhaps that's exactly what this team will do.
While many will label Wests Tigers as an "inconsistent" side over the past few seasons, what they have shown is a tremendous ability to bounce back from a poor result with a forceful performance the following week. It's certainly not ideal — fans, coaches and players alike would love for the results to be there each and every week — but the capacity to turn results around instantly is somewhat of an underrated skill to possess.
Josh Aloiai alluded to it as much when speaking to the media during the week.
Yet to miss a game since his debut in the opening game of 2016, Aloiai spoke about the way the team is remaining focused despite a tough result against the Panthers last week.
"Something that JT talks about a lot, and that we're really buying in to, is positivity and belief, and that's something we're really taking upon ourselves this week," he said.
"We've really taken that as part of our culture as a team."
That might just seem like clichéd talk from the forward, but the numbers over the past few years suggest that he might not be as far from the mark as first seen.
On each of the last six times that Wests Tigers have beaten by 20+ points (dating back to midway through season 2016), they've come out and won the following week.
In 2016, the 60-6 defeat to the Raiders was met with a 30-22 win over the South Sydney Rabbitohs the following week, despite a five-day turnaround. A 40-10 loss to the Panthers in Round 24 was followed by a 36-24 win away to the New Zealand Warriors in Round 25, despite missing key playmakers Luke Brooks and James Tedesco.
A 36-4 defeat to the Bulldogs in Round 10 was rectified with a 20-12 win in Round 11.
As stated earlier, it's certainly not an ideal situation to be in — losing heavily and then responding emphatically — but that's the situation they find themselves in this week.
Desperate to ensure that last year's success isn't followed by an early-season hangover, Canberra will no doubt be desperate to turn their form around today— knowing that an 0-3 start to the year will severely hamper any premiership aspirations they have.
The inclusions of Jarrod Croker and Dave Taylor will certainly help, but as we've seen before, if there's any team capable of defying what the script suggests, it's Wests Tigers.
Key Times to Note
1:30pm — Gates Open at GIO Stadium
1:45pm — NYC, Canberra Raiders vs. Wests Tigers
4:00pm — NRL, Canberra Raiders vs. Wests Tigers
New Look Left Edge
With Jamal Idris (foot) not named in this week's team, Wests Tigers new left-edge combination of Michael Chee Kam and Moses Suli seems set to play the full 80 minutes on Sunday. And if last year is anything to go by, they'll need to be on their toes, with Jordan Rapana and Joey Leilua crossing for nine tries combined in the two matches. Canberra did look vulnerable defensively on the right in the opening two weeks, but the return of captain Jarrod Croker — which pushes Elliot Whitehead back into the second row on the right edge — is a huge boost for the Raiders. Still, with Luke Brooks and James Tedesco roaming down the left, the threat is definitely still there for the visitors.
Weather Update
Early forecasts had a sunny and somewhat hot afternoon in the nation's capital, but now it appears that Canberra won't be spared from the downpour that's been affecting the east coast of Australia for the past week. Heavy rain yesterday could lead to conditions being a little bit tough underfoot, but the day itself is expected to be mostly free from rain, with an overcast 24 degrees now predicted for kickoff.
Elijah Taylor
After playing such an important role in the opening two games, Wests Tigers will certainly miss the former New Zealand international's attack and defence today as he deals with a serious and ongoing family issue. With limited additional forwards in the squad, Coach Jason Taylor will have to move some bodies around to cover for the lock forward during the match, with the likes of Josh Aloiai, Joel Edwards and Sauaso Sue all potential candidates to fill in the number 13 jersey. As he is unable to play, the thoughts of the entire team and Club are with Elijah Taylor and his family during this time.
TV — Live via Channel 9 and Fox Sports League from 3:30pm AEDT (2:30pm QLD)
Radio — Live via FM 104.9 Triple M, AM 702 ABC Grandstand and AM 2GB 873
Don't miss our first game of the year at Leichhardt Oval on Sunday, March 26!