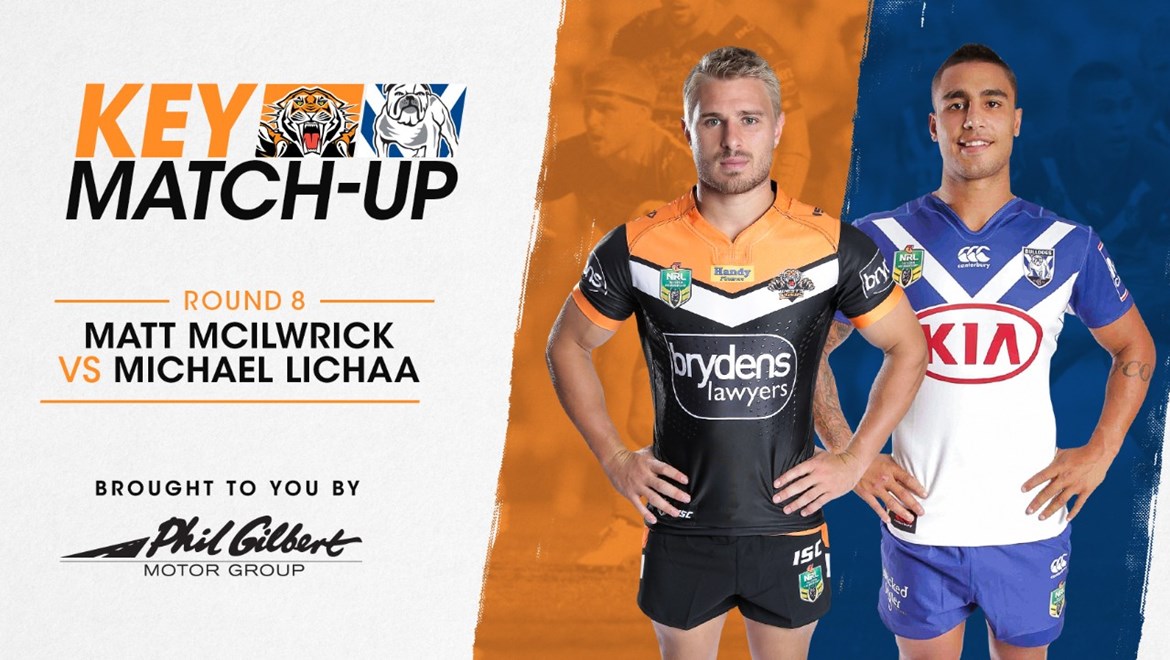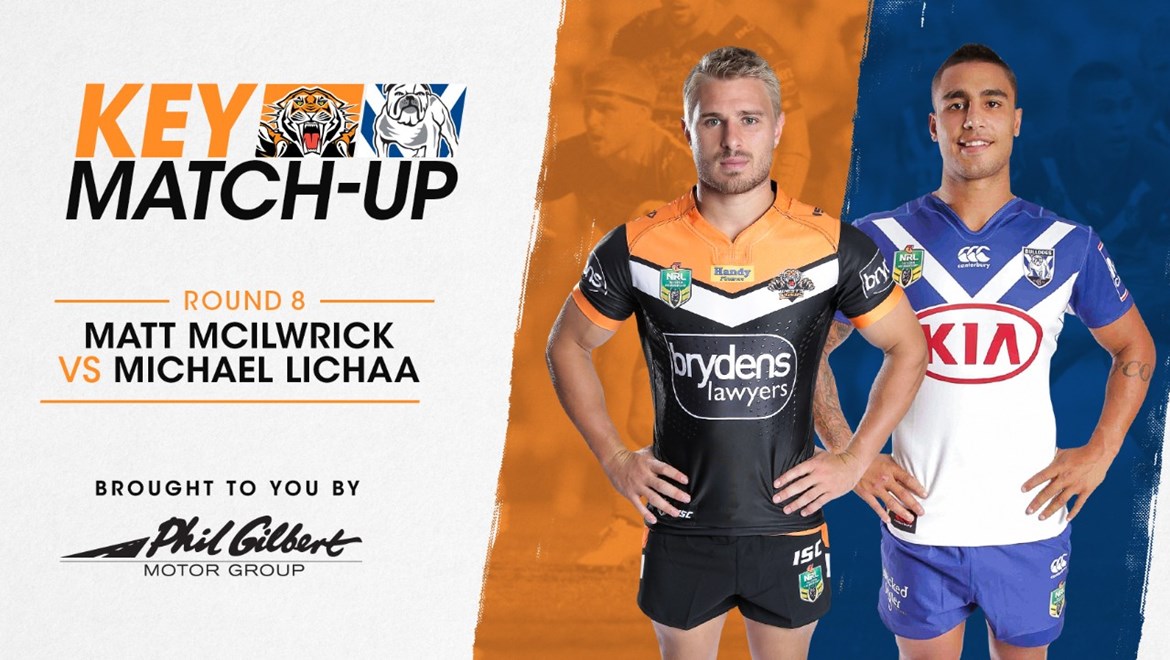 Two underrated number nines will battle it out this Sunday afternoon at ANZ Stadium as Wests Tigers' Matt McIlwrick and Canterbury-Bankstown's Michael Lichaa go head-to-head in this week's Phil Gilbert Motor Group Key Matchup.
Both relatively new faces at their respective clubs, McIlwrick and Lichaa have enjoyed strong individual starts to the year, with their ability to get their respective forward pack on the front foot no doubt a key factor to watch for in Sunday's game.
Coming off a successful 2016 season as part of the Sharks' premiership-winning squad, McIlwrick has been a shining light for Ivan Cleary's side so far in 2017 — winning the battle throughout pre-season to secure the starting hooking role in Round 1 ahead of Matt Ballin and Jacob Liddle. Since then, McIlwrick has made the role his own, and is proving to be one of the best underrated signings throughout the 2017 season.
Always a strong presence in defence, it's in fact been McIlwrick's attacking game that has particularly come to the fore in recent weeks — adding a new element of attack for Wests Tigers near the line with two tries and three linebreaks in the last fortnight.
Lichaa has similarly been a robust part of Des Hasler's side since his move to the club in 2015 — playing the best part of 80 minutes in all bar one game this year.
Like most hookers, the 23-year-old plays well above his weight — making more than 40 tackles in four separate games this year, including an impressive 52 tackles in his side's embarrassing 36-0 loss to the Sea Eagles back in Round 4. His role has changed over the last few weeks as Hasler tries to include Matt Frawley, and we'll touch more on how that might look later on, but Lichaa is still first and foremost the go-to number nine.
Other notable positional match-ups to watch this week include Aaron Woods v James Graham, Mitchell Moses v Josh Reynolds and Elijah Taylor v David Klemmer.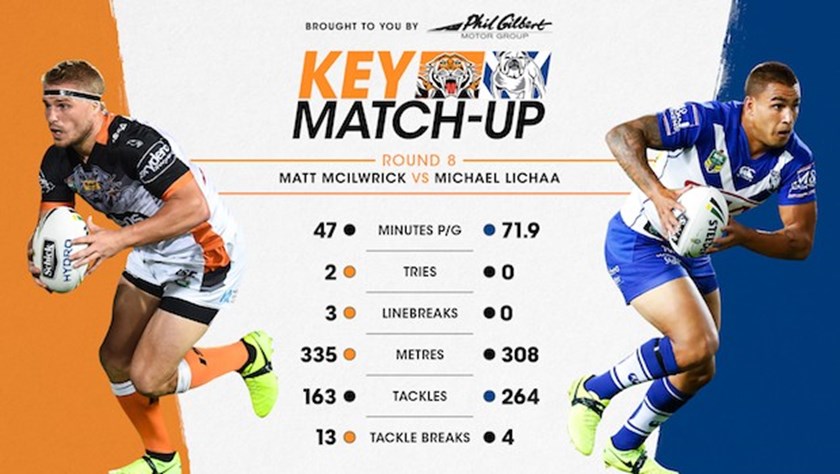 All the Numbers
With both players featuring in every game so far this year, McIlwrick has the slight edge on Lichaa when it comes to attacking involvement — chalking up two tries and three linebreaks compared to any attacking stats from the Bulldogs' rake, as well as 13 tackle breaks compared to Lichaa's four. However, whatever Lichaa might trail with in terms of attack he certainly makes up for in defence, with an impressive 264 tackles in eight games so far this year — a number that could have been closer to 300 had the hooker played more than just 26 minutes against the South Sydney Rabbitohs on Good Friday.

History
Despite McIlwrick being in the NRL since 2012 and Lichaa since 2014, the pair have never started a match against each other prior to Sunday's encounter. Their only clash came in Round 24, 2014 with Lichaa starting for the Sharks and McIlwrick coming off the bench for the Raiders. And not only did McIlwrick's Raiders get the win that day with a 22-12 victory away from home, the rake also scored his first NRL try — the only four-pointer of his career prior to his arrival to Wests Tigers at the start of 2017.
This week's Key Match-Up is brought to you by Phil Gilbert Motor Group — click here to check out their latest offers and more!
Cronulla connection
A Junior Kiwi in 2010 and Junior Kangaroo in 2012 respectively, McIlwrick and Lichaa share an interesting connection through Cronulla despite never playing in the same team together. Following Lichaa's debut for the Sharks in Round 2, 2014, the youngster announced he had signed for the Bulldogs for the 2015 season — prompting the Sharks to demote the hooker to reserve-grade before recalling him later on that year. With John Morris retiring at the end of the year, the Sharks needed to find a replacement for Lichaa to add to their squad in 2015 and reportedly came close to signing McIlwrick, before the then Raider signed with the Sydney Roosters. However, the Sharks would get their man 12 months later — signing McIlwrick for what was to be a memorable 2016 season.

What role will they play?
One of the more intriguing storylines to follow for both players is to what capacity they will be used in Sunday's game. Last week, McIlwrick was replaced midway through the second half by Jacob Liddle, although Wests Tigers' bench rotation is seemingly still up in the air with Brooks in the reserves. Should Brooks be named to start or on the bench, then the question becomes how that affects Jack Littlejohn (who played at hooker off the bench in the opening few weeks) and then in turn whether that affects Liddle at all. Similar questions also remain for Lichaa at the Bulldogs. Frawley has been named outside of the 17, but did come into the side last week on the bench — replacing Lichaa essentially after 25 minutes as he shifted into the halves and Moses Mbye to hooker. Alternatively, Mbye could shift to the centres as he has done previously to accommodate for the halfback — something which would allow Lichaa to play big minutes. Given Frawley's impressive start to the year it's hard to ignore his claims for selection in the team; how that impacts the Bulldogs and Lichaa still remains to be seen on Sunday.

What he said...
"Ivan has been pretty clear with what he wants from us so the future is bright. I'm sure over the next few weeks and months he will start to have [even] more of an influence on us. He's getting to know us just as much as we're learning about him. Footy is a funny game; when you're down you're down, but all it takes is one win to get back up there again and we need to start winning games." — Wests Tigers hooker Matt McIlwrick on the arrival of Ivan Cleary